Cetinje, Montenegro
As the old royal capital of Montenegro, Cetinje has an elegance to it that makes the city worth a visit to explore the heritage.
Jump to practical info for visiting Cetinje
The streets are quiet, but it's the heat of the day that's keeping many of the locals away. The smattering of tourists in the wide pedestrian areas and shaded parks gives the city of Cetinje some life, though.
Every block has something to see – and old royal palace, a grand embassy building, an intricately-designed church.
Why, when Montenegro had such a nice capital like this, would it have traded it all in for the hole that is Podogrica?
Cetinje was founded in the 15th century and became the centre of the Montenegrin culture. Its fortunes rose and fell for hundreds of years but from the 1800s a lot of effort was put into the architecture and grandeur of the city.
It officially became the capital of an independent Montenegro in 1878.
It was after the Second World War, in 1946, that the capital was moved from Cetinje to Podgorica (then known as Titograd) and placed under communist rule. The old royal capital was left with just 9,000 residents.
Visiting it today, it feels like not much has changed since then. The population has grown slightly to about 14,000 people but the buildings and the streets don't look too different.
The political capital may have moved but culture and history are harder to migrate. Cetinje was preserved almost as it was left.
The political capital may have moved but culture and history are harder to migrate. Cetinje was preserved almost as it was left.
The city is not very big and you can walk the streets yourself and explore the various things to do in Cetinje. Although, if you would like to learn more about it, there is this city tour by a local guide. Or, you can combine a visit to Cetinje and Lovcen National Park with this tour from the coast.
As you might expect from the old capital of Montenegro, there are lots of things to do in Cetinje. I've marked them on a map here.
Let me run you through the details of some of them.
Cetinje Monastery
The most important of the sights in Cetinje is the Cetinje Monastery, also known as the Monastery of Saint Peter.
Cetinje Monastery was built in 1484 by Ivan Crnojevic, a duke who moved his capital to Cetinje because it was easier to defend (effectively founding the city). But the buildings have been destroyed and rebuilt several times over the centuries.
It's one of Montenegro's most significant sites and is seen as a symbol of the country's spirituality. It holds the relics of one of Montenegro's great historical rulers, St Peter of Cetinje, whose name is now associated with the monastery.
You can visit Cetinje Monastery and see the modest church at its centre, as well as the various artworks throughout the complex. The tombs and other graves of Montenegrin leaders are also here.
And you'll find a little museum that gives you some more information about the significance of the site.
The Cetinje Monastery is open every day from 08:00 – 18:00.
There is no entrance fee for the Cetinje Monastery.
Photography is forbidden inside the monastery complex.
The National Museum of Montenegro
It may seem a bit confusing at first, but the National Museum of Montenegro is made up of a four different locations, some of which have more than one institution within them.
You can visit however many you like and pay the entrance fee for each one, of you can get a combined ticket for €12 to see them all.
National Museum of Montenegro
Although this building across from the monastery is usually just called the National Museum of Montenegro, it actually houses several different parts of the institution, including art galleries.
You'll get to see an interesting collection of artworks and learn a bit more about the cultural heritage of the country if you visit all the different parts of the building.
Njegos Museum Biljarda (Billiard Palace)
Although in a separate building, the Njegos Museum Biljarda is also part of the National Museum of Montenegro.
The building was the residence of a famous Montenegrin poet, Peter II Petrovic Njegos. The museum shows his personal belongings and furniture, which is probably more of interest to locals.
What is rather cool, though, is the enormous map relief of Montenegro created in 1917 that is now housed here.
Museum of King Nikola
Across the street from the Billiard Palace is another part of the National Museum of Montenegro – the Museum of King Nikola. This palace was home to the last royal ruler of Montenegro, King Nikola, who it's now named after.
Construction of the palace finished in 1867 and gives you a good impression of how the country's elite lived in the 19th century.
You'll need to do a guided tour of the palace, which is a combination of museum exhibitions and recreated rooms.
Ethnographic Museum of Montenegro
This final part of the National Museum of Montenegro is just across the road from the Museum of King Nikola. It's called the Ethnographic Museum and has a collection of items related to the folk history of the country.
I would suggest that this is a site you could skip unless you have a particular interest in national costumes, traditional ornaments, or embroidery.
From April to October, the National Museum of Montenegro is open every day from 09:00 – 17:00.
From November to March, the museum is open from 09:00 – 16:00 every day except Sunday, when it's closed.
A combined ticket for all the institutions within the museum is €12 for adults and €6 for concessions.
You can see the prices for the individual institutions here.
Other things to do in Cetinje
Aside from the monastery and the museums, there are quite a few other things to do in Cetinje. The city is full of small sights that you can visit to easily fill much of the day.
As you walk the streets, you'll see the old embassies with their faded elegance, as well as other grand houses.
But have a look out for these particular landmarks.
Blue Palace
The Castle Church
Monument to Ivan Crnojevic
Royal Theatre Zetski Dom
Vlaska Church
And, of course, you can just spend some time in the main street of Cetinje, called Njegoseva ulica.
Much of it is pedestrianised and there are lovely little cafes and restaurants where you can have a break from all the other things to do in Cetinje.
How do you get to Cetinje?
Cetinje is well-connected and it's an easy place to get to from the coastal resort towns of Montenegro.
If you're driving, there are good roads from Budva or Podgorica (although it's a bit windy coming up from the coast). There's lots of parking in the city.
It's quite easy to get to Cetinje by public transport. There are regular buses from Budva, Kotor, and Podgorica. It will be less than an hour and cost just a few euros each way.
I recommend checking the timetables at either GetByBus or BusTicket4Me.
Are there tours to Cetinje?
A visit to Cetinje is often combined with a tour to Lovcen National Park. They are close to each other and tours to Lovcen National Park from Budva or Kotor have to pass through Cetinje.
I would recommend either this excellent combination tour or, if you're just interested in the city, this tour of the sights by a local guide.
Unless you want to spend the whole day seeing the heritage of Cetinje, a tour including transport could be your best option.
Although Cetinje is not too far from the tourist centres on the coast, it seems not many people bother to leave the water and make the journey inland to see this time capsule of history.
It's not that surprising, I suppose. After all, most of the people at the beach are from Montenegro or nearby countries and they've seen enough examples of power shifting between cities, countries and leaders in their lifetimes.
But for a foreigner, it's an interesting glimpse at Balkan life before the First World War began the game of thrones that lasted in the region for almost a hundred years.
The architecture is the most striking thing about Cetinje and it doesn't take too long to walk through the city and see it all for yourself.
This is not a reason to come to Montenegro, it is not going to be a highlight, but it will be worth the half day you spend there. Especially when you compare it to where the capital was moved to.
THE BEST ACCOMMODATION IN CETINJE
Although you can visit Cetinje as a day trip, you might like to consider staying overnight to see a different side of Montenegro
BACKPACKER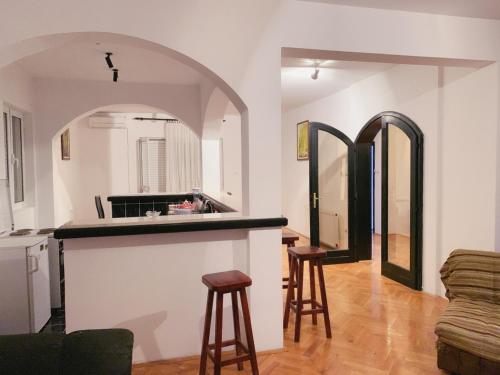 BUDGET
Although it's very affordable, Apartments Gruda is a very comfortable and modern space.
LOCATION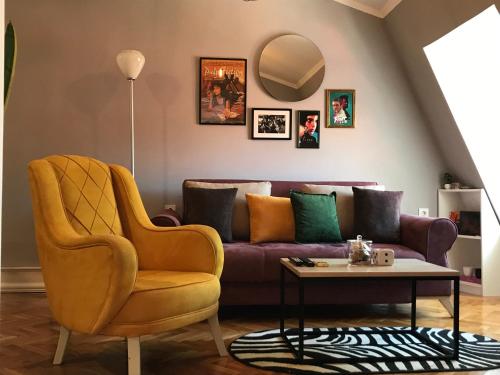 BUNGALOW
And for a rustic bungalow just on the edge of town, have a look at Brvnara Borovik.
WANT TO KNOW MORE ABOUT MONTENEGRO?
Let someone else do the work for you:
You may also want to consider taking a tour of Montenegro, rather than organising everything on your own. It's also a nice way to have company if you are travelling solo.
I am a 'Wanderer' with G Adventures and they have great tours in Montenegro.
You could consider:
When I travel internationally, I always get insurance. It's not worth the risk, in case there's a medical emergency or another serious incident. I recommend you should use World Nomads for your trip.