Six day trips from Naples, Italy
Some of the best things about staying in Naples are not in the city itself but are easily accessible as a day trip.
With more than two thousands years of history, Naples has a lot to see. You can easily spend a few days – even a week – in Naples and still not feel like you've done everything you want to do.
It's not just that there are a lot of sights to see in Naples, it's also a city where you can spend your time walking the streets and absorbing the beautiful chaos that's going on around you.
And don't even get me started on how much time you can spend trying the pizza at different pizzerias around Naples (here's a hint – each one will be delicious!).
I've written previously about my impressions of Naples and why I came to love the good, despite the bad.
I have also put together a guide of how to spend one day in the Historic Centre of Naples that I would recommend if you're spending some time there.
But in this story, I want to talk about things that you can do outside Naples.
I really enjoyed spending a couple of weeks based in the city because it is a perfect base to do day trips from Naples to other sites in the area. And, believe me, there are a lot of incredible places to visit nearby!
Let me give you suggestions for six day trips from Naples that I would recommend. I've marked each of them on the map below so you can get a sense of how far away they are.
Each of them is special in its own way and I don't think you'll be disappointed if you do all of them.
That what I did and it made my time in Naples all the more enjoyable.
The Royal Palace of Caserta
I'm really not sure why Caserta Palace is not more famous because it's an incredible building and is, in fact, the world's largest palace by volume.
The main palace building was built in the 18th century by the Bourbon Kings of Naples, who wanted something that would rival Versailles in France.
As soon as you arrive, you'll get a sense of the size of Caserta Palace, which is shaped like a grid with four other wings and two inner wings creating four large courtyards. It's when you go inside to see the Royal Apartments that you'll realise the scale and grandeur continues with the interior as well.
The other important part of the Royal Palace of Caserta is the park. It stretches out from the back of the palace for more than three kilometres, until it hits the slope of a nearby hill. There are carefully-maintained lawns and light forests in the park, but the main element is the long water feature that stretches for most of the length.
Caserta is about 30 kilometres from central Naples and it can be easily reached with a direct train within about an hour. It will take a few hours to look through the Royal Apartments and explore the park. There's also a small town around the palace, which has some nice places for a meal or a drink when you need a break!
If you're interested in a guided tour, I would recommend one of the following.
Otherwise, I have more information about how to visit Caserta Palace independently in my story about the site.
Pompeii
One of the most famous archaeological sites in Italy – if not the world – is just on the doorstep and makes a great day trip from Naples. Of course, I'm talking about Pompeii.
When Mount Vesuvius erupted in 79 AD and killed much of the Pompeii, it also had the effect of preserving this Ancient Roman city. What you can now explore is amazing.
Although the city is in ruins in some senses, the urban layout has not been destroyed as it has in almost every other ancient city from that period. There are also incredibly well-protected statues, frescoes, and mosaics.
You could easily spend all day at Pompeii – in fact, you could probably spend a couple of days and still not feel like you've seen everything. Or you could spend just a few hours and get a decent impression of what is there.
It's easy to get to Pompeii by direct train from Naples, on either the Circumvesuviana line or on Trenitalia (which I would recommend as the better option). You may want to do a guided tour to make the most of what you're seeing and there are some good options here:
But, if you want to see Pompeii by yourself, I have also put together a suggested itinerary with information about the highlights. I hope it's useful.
Mount Vesuvius
While we're talking about Pompeii, it would be foolish not to mention another option for a day trip from Naples – and that's Mount Vesuvius, the volcano that caused such devastation.
The eruption in 79 AD that destroyed Pompeii was certainly not the last time it erupted. It's estimated that Mount Vesuvius has blown up about 40 times since then. In fact, it's the only volcano to have erupted in Europe in the past century and it's still active.
You can hike up to the top of Mount Vesuvius, which I think is a really rewarding experience. The walk from the carpark is about 30 minutes uphill along a dirt track and it's quite steep. (It's not clear that you can easily hike from the very bottom of the mountain and I wouldn't recommend it).
At the top of Mount Vesuvius, you can walk around the edge and look down into the crater. There are also great views of Naples, along the coastline, and across the Bay of Naples.
The best to get to Mount Vesuvius is by bus from the Ercolano Scavi station of the Circumvesuviana – but it's a bit of a hassle. You may also want to take a tour straight from Naples or combine the day trip with Pompeii with some of these options:
I have a bit more information about visiting independently and what to expect at the top in my story about hiking Mount Vesuvius.
Paestum
Another option for a day trip from Naples that I would recommend is Paestum, which is about 90 kilometres to the southeast. It's not one of the most famous places in the area, but it is surprisingly interesting.
Paestum is an ancient city that was founded by Greek settlers in about 600 BC. The city grew over the following centuries and became an important and wealthy centre in this part of the world. Today, you can see some of the remains of the city – but the real highlights are the three temples that remain.
The three large temples are considered to be the best-preserved Ancient Greek temples in the world… and that includes in Greece! What's even more incredible is that you can walk inside the two largest ones to get a real sense of the scale and design of the structures.
Paestum also has a very good museum with artefacts that have been found in the area, including the famous 'Tomb of the Diver', which is a masterpiece in its own way. The whole area of Paestum has been designated as a World Heritage Site because of its significance.
You can get a direct train from Naples to Paestum, although there are only a few in each direction each day, so I would recommend planning your timings carefully. The small town around the site has some nice restaurants, so it usually makes sense to have lunch there.
There are some options for guided tours and I would recommend one of the following.
Or you can find out a bit more about visiting Paestum in my full story.
Capri
After so many sights focused on history, perhaps it's time for relaxation. From Naples, there is nowhere more luxurious or glamorous than Capri.
The island in the Bay of Naples may be known as a holiday spot for the rich and famous, but that doesn't mean you can't enjoy it too. You don't even need to stay overnight on Capri to see some of the best of it.
The coastline is beautiful and the first taste of it will be the Marina Grande, with restaurants and cafes along the promenade. Up the hill is the town of Capri, where historical landmarks mix with boutique shops. The views from here across the island and across to the mountain are stunning.
Further along, the town of Anacapri is much quieter and a good base for any hikes you may want to do during the day.
Along the coast, there are beach clubs where you can relax and there will be plenty of offers for boat tours – including to the famous (but probably overrated) Blue Grotto.
The ferry from Naples to Capri takes about 50 minutes and you can easily go in the morning and then come back in the afternoon. During busy periods, I would recommend booking your tickets in advance here to guarantee a spot.
For more information on what you can see in Capri, you can read my full story.
Amalfi Coast
The final day trip I want to recommend is to the stunning Amalfi Coast. From Naples, it is very quick and easy to get to a couple of the towns on the peninsula by either train or ferry.
I will make the comment, however, that I actually think the Amalfi Coast deserves longer than just a day. If you have the time, you might want to consider spending a few nights in one of the cities or towns on the coast and do a bit more exploring or relaxing.
If you want to see a few of the different spots on the coast in one day, then the easiest way might be with one of these tours, that will save you spending hours on public transport:
My suggestion for just one day is to focus on the town of Sorrento. It's a beautiful place and you can spend a couple of hours exploring the historic centre, go for a hike in the hills above the town for incredible views along the coast, and then relax at a clifftop bar, a cafe in one of the piazzas, or at a beach club by the water.
I've got details on how to do all of those things in my full story.
It would be a shame if you spent some time in this region and only focused on one particular city or series of landmarks. The true pleasure of Naples is the variety of rich experiences you can have with very limited travel each day.
But, as I said, Naples is a perfect place to base yourself. If you're looking for accommodation in Naples, I have some suggestions here:
THE BEST ACCOMMODATION IN NAPLES
It's easy to find your own bit of heritage in the beautiful accommodation options in historic Naples.
BACKPACKER
If you're looking for a budget option, I would suggest the really fun Hostel of the Sun.
BUDGET
BOUTIQUE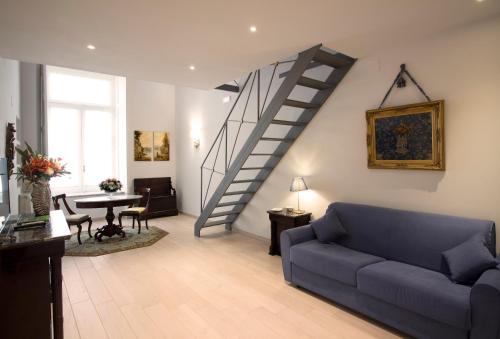 LUXURY
I hope these suggestions of day trips from Naples have helped. Please let me know in the comments if you have any other ideas you would like to share.
WANT TO KNOW MORE ABOUT NAPLES?
Let someone else do the work for you:
You may also want to consider taking a Italy tour that includes Naples, rather than organising everything on your own. It's also a nice way to have company if you are travelling solo.
I am a 'Wanderer' with G Adventures and they have great tours in Italy.
You could consider:
When I travel internationally, I always get insurance. It's not worth the risk, in case there's a medical emergency or another serious incident. I recommend you should use World Nomads for your trip.