Last Updated on
The Val d'Orcia, Tuscany, Italy
I set off by foot through this undulating landscape. The hills are gentle and well-cultivated. Divided into plots by farmers, broken by small charming towns, tracks crossing them in various directions.
This is the Val d'Orcia in Italy's Tuscany region.
The valley region south of Siena came into its own during the Renaissance period. In many ways, the landscape was rewritten in the 14th and 15th centuries to fit the new ideals of good governance that took hold after the land became part of the city-state of Siena.
But, remember, the Renaissance was also the time of beauty and art. With the Val d'Orcia, people saw the potential for a masterpiece that could be created from hills and valleys and trees and grass.
The whole area was thus laid out in a way to make it aesthetically-pleasing when viewed from the fortified towns atop the region's hills.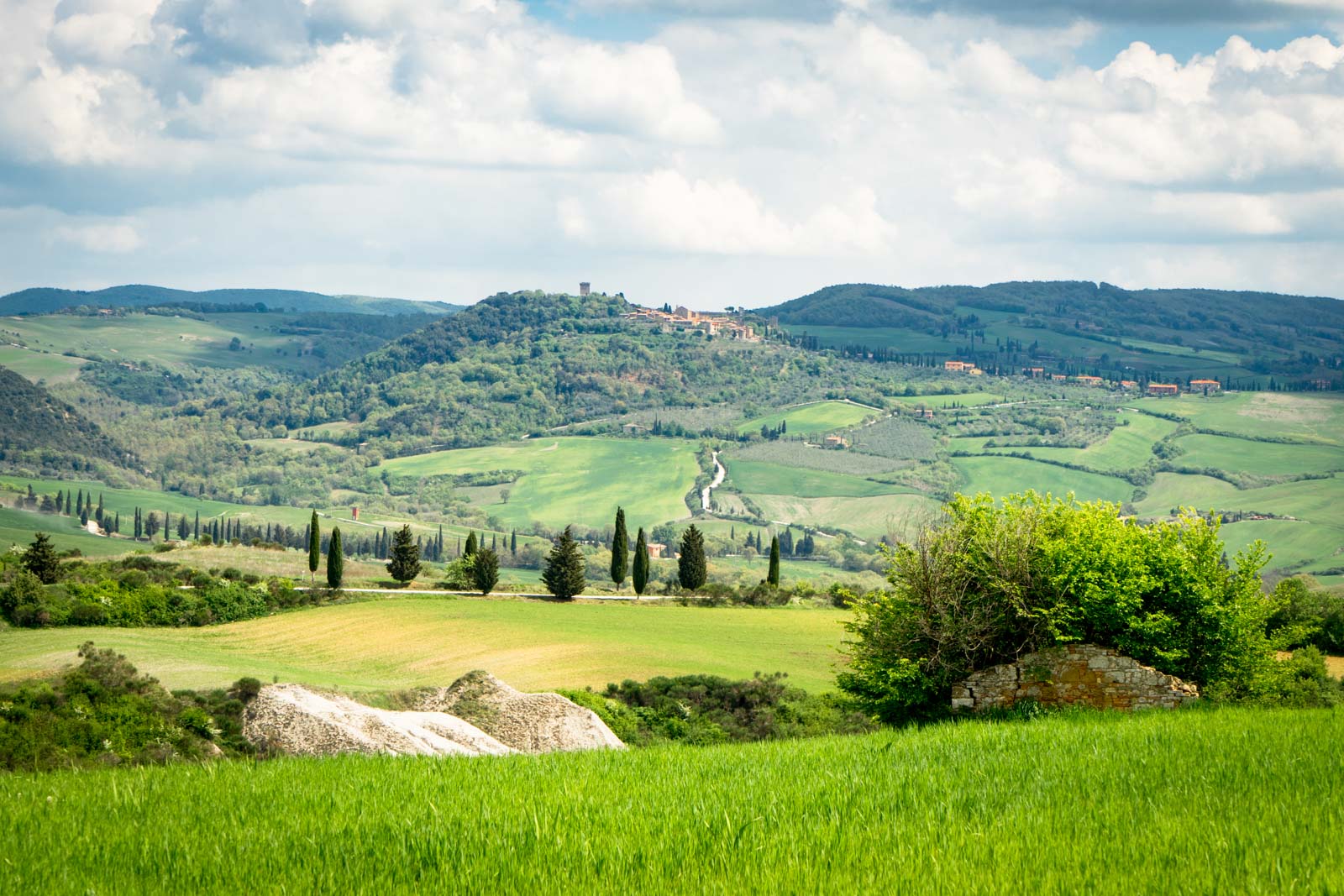 It's this that has brought me to the Val d'Orcia. I have been to the museums of Florence to see the great artworks there.
I have stood inside St Peter's Basilica at the Vatican and admired what man can build.
Now it is time to see a different kind of mastery – the craft of turning an enormous tract of land into art.
How do the Renaissance principles sit with an agricultural industry and nature's will?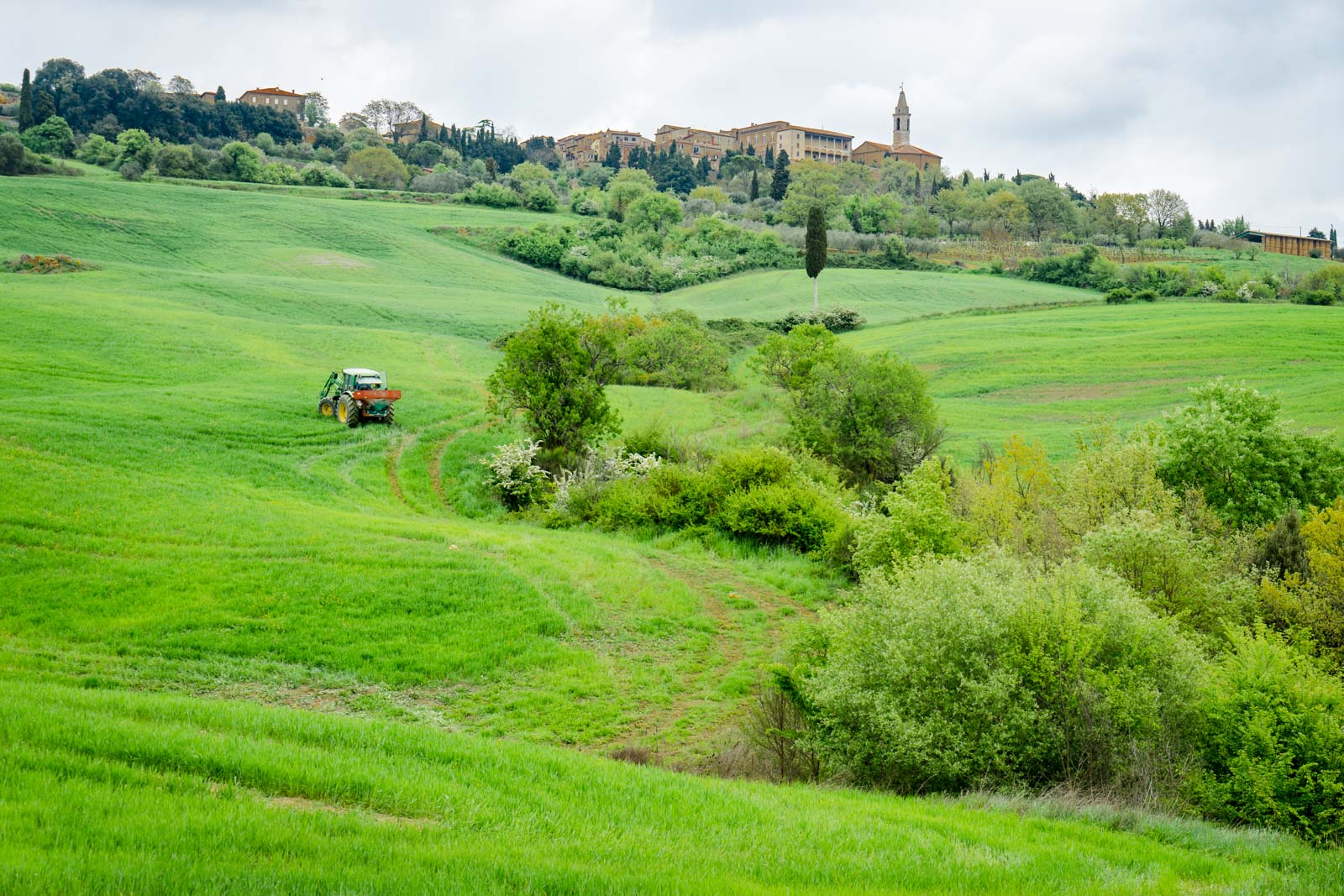 Seeing the Val d'Orcia
During the Renaissance, the beauty of the Val d'Orcia brought a never-ending procession of artists to the region who wanted to capture the scenes in their paintings, drawings and poetry.
Most people in Europe weren't able to see this Tuscan wonder for themselves but they knew what it looked like from the pieces the artists brought back home with them.
Now it is easy to visit and I plan my day in advance. The valley is famous for its landscapes, so I want to see a variety of them.
My route will take me through fields, into gardens, past vineyards, and to the centre of some towns.
What strikes me as I go along is how natural everything feels. I don't mean 'wild' because it is anything but. However, it doesn't feel too forced, too manicured, too stylised.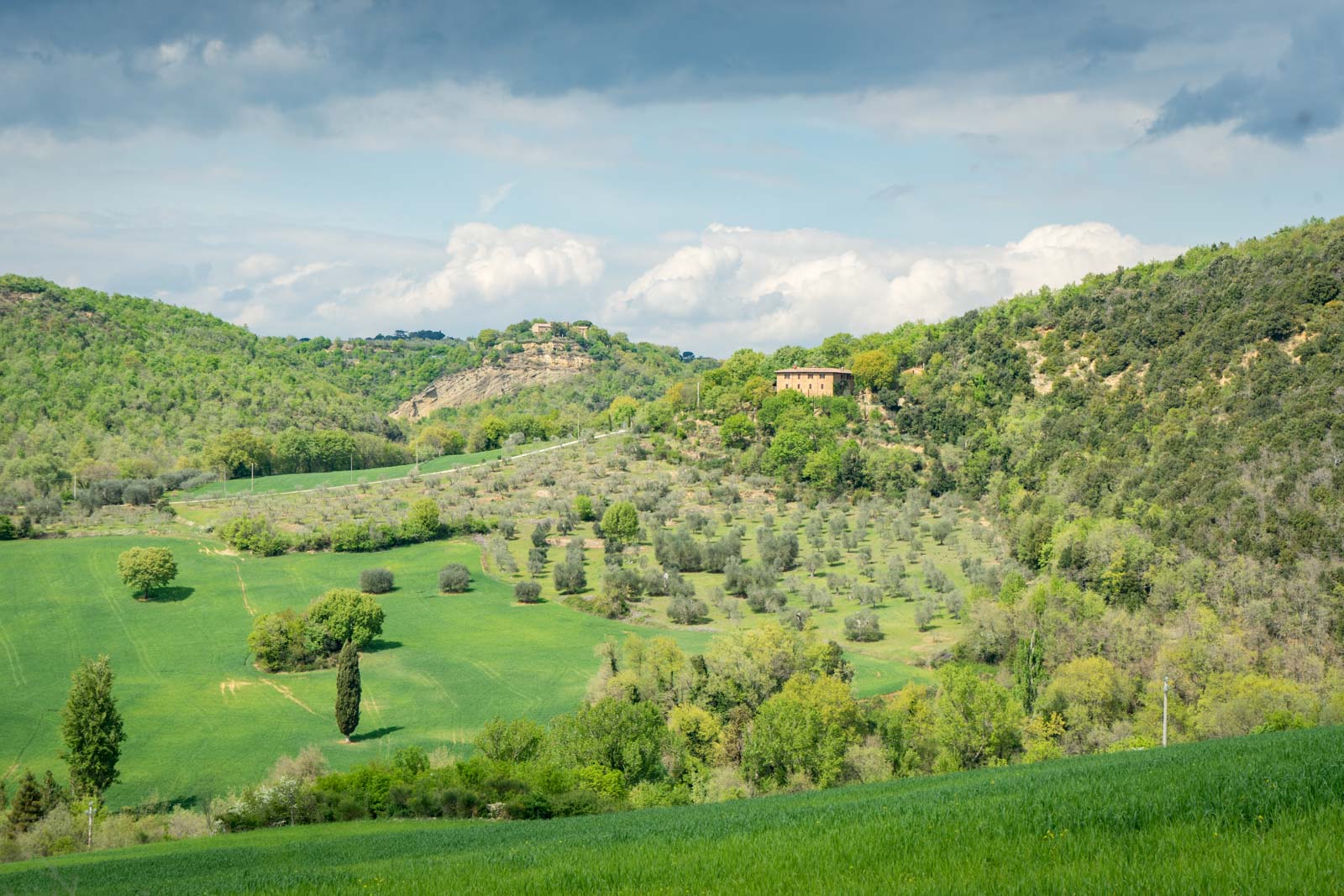 Through each of the different areas I walk – and I walk through a lot, as I will explain shortly – I can see something beautiful but I can't see the hand behind it.
Things seem to have a reason for being in their place… a reason that goes beyond aesthetics.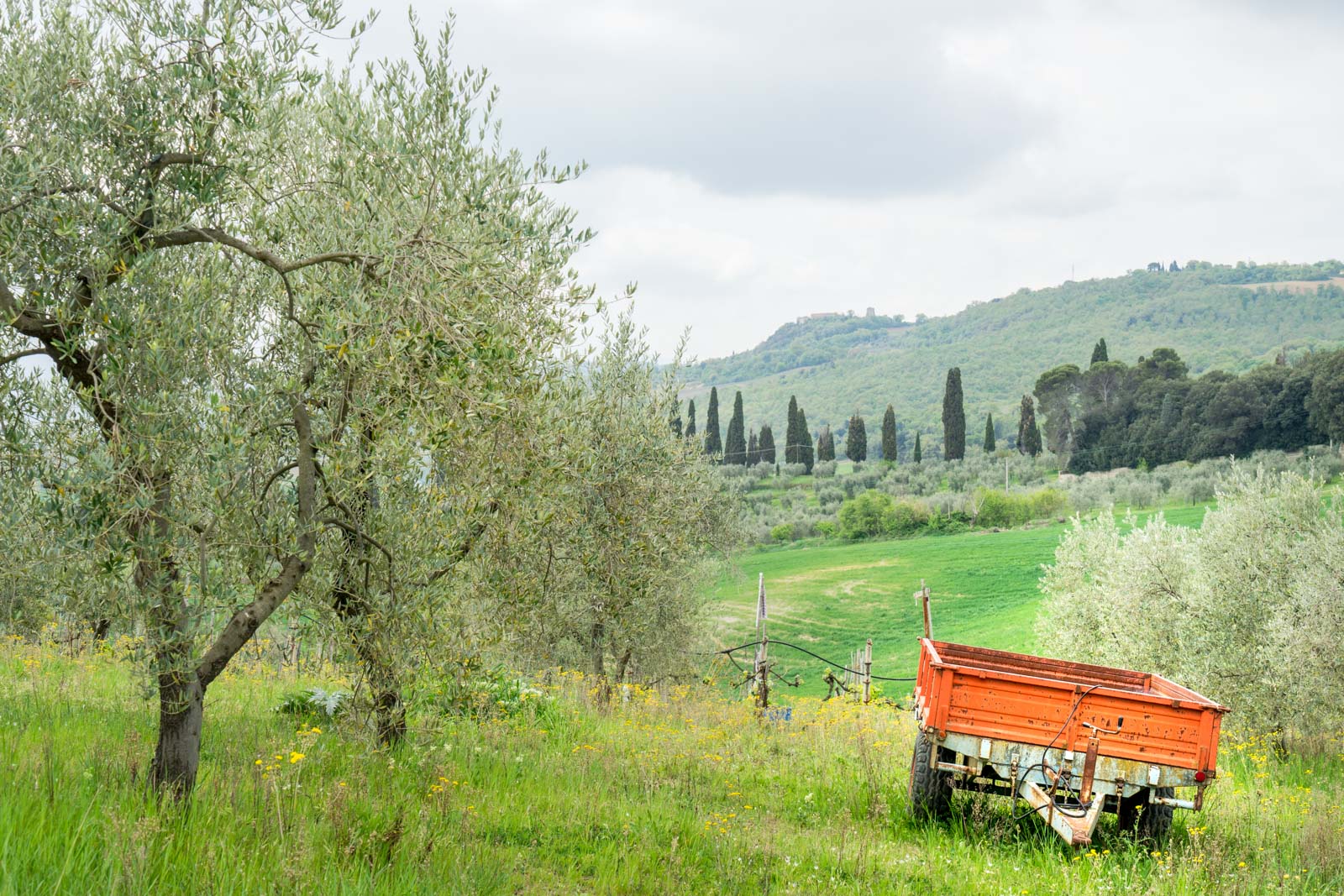 And maybe this is a product of time.
The trees on the crest of a hill that create silhouettes against the sky; the change of hues in the different demarcated fields on a slope; the dirt avenues that lead towards stone walls protecting houses; the straight rows in vineyards and the sightlines created between them.
All of these are now a natural part of the landscape.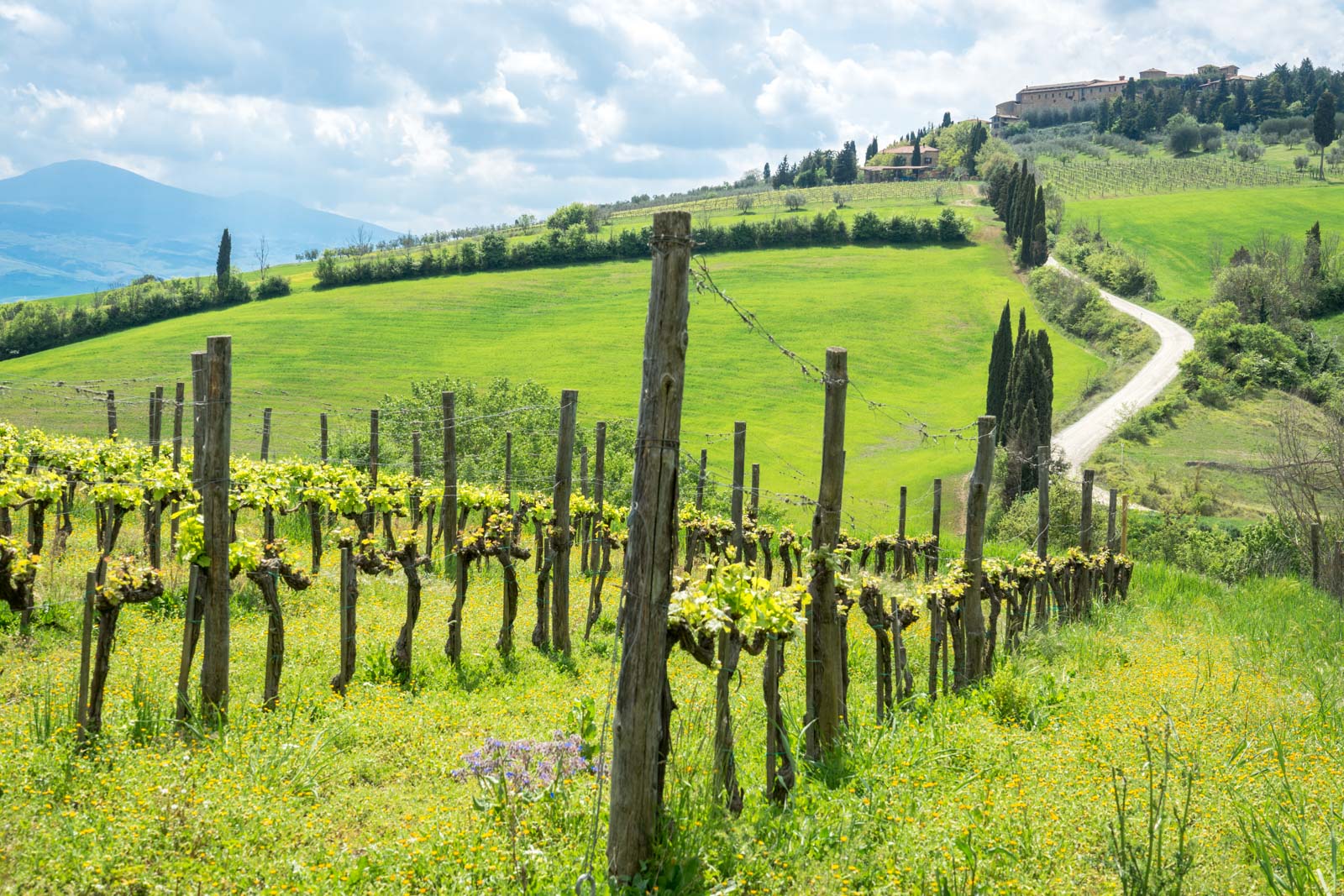 600 years ago when all of this was being planned, there must have been a layer of artificiality to how it was put together but now, like the vines around their trestles, everything has found its organic position on the blueprint it was given.
Best way to see the Val d'Orcia by walking
The Val d'Orcia stretches across a large area – about 60,000 hectares in total.
There are a lot of ways to approach a visit so you can put together a plan that best suits you. It is definitely much easier to explore if you are using a car. I, however, was not driving for my trip.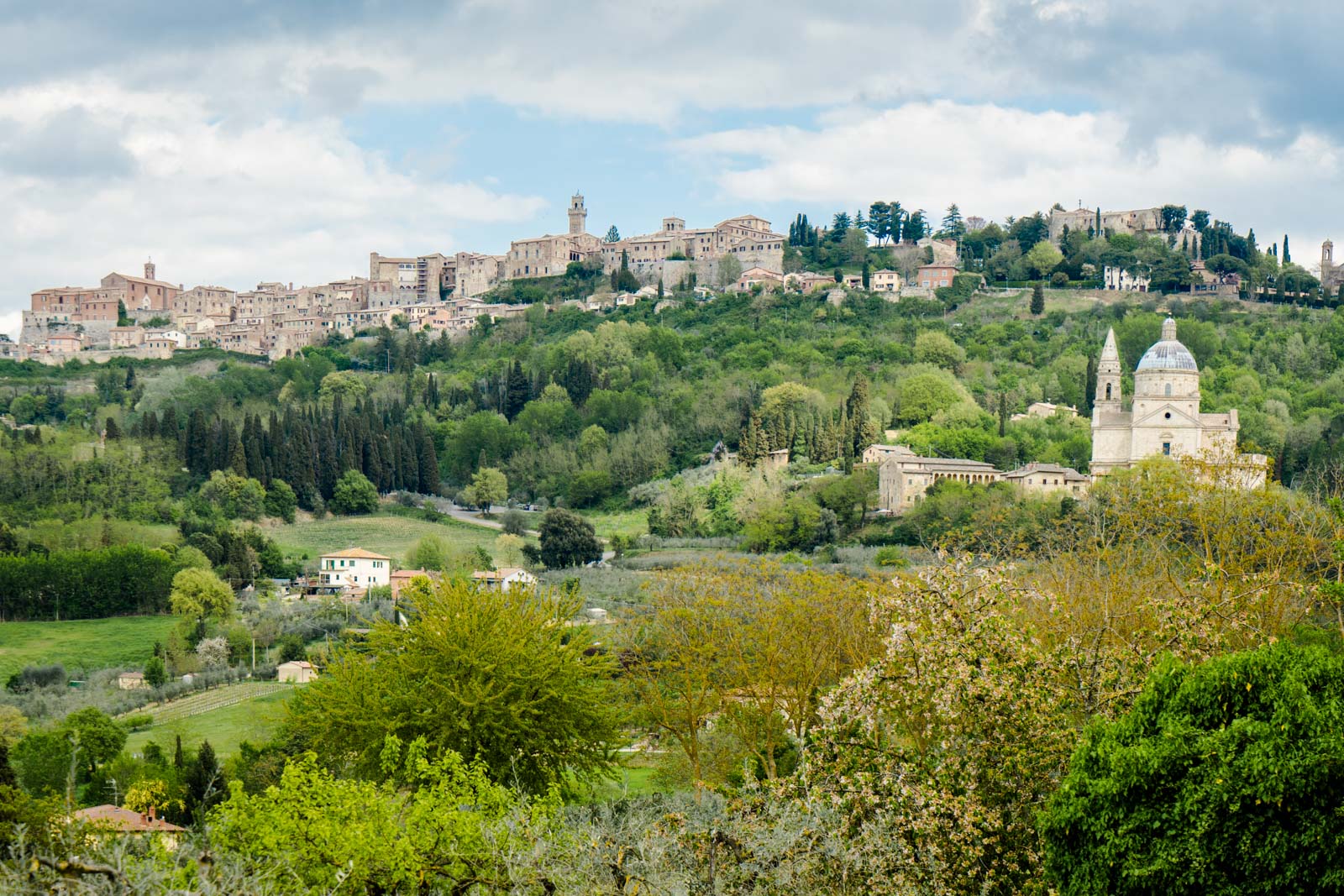 I wanted to go hiking, which is fine, except that public transport can be a bit limited.
So I did some research to work out how my walking might fit with the bus timetables, so I could see as much as possible and not get stranded.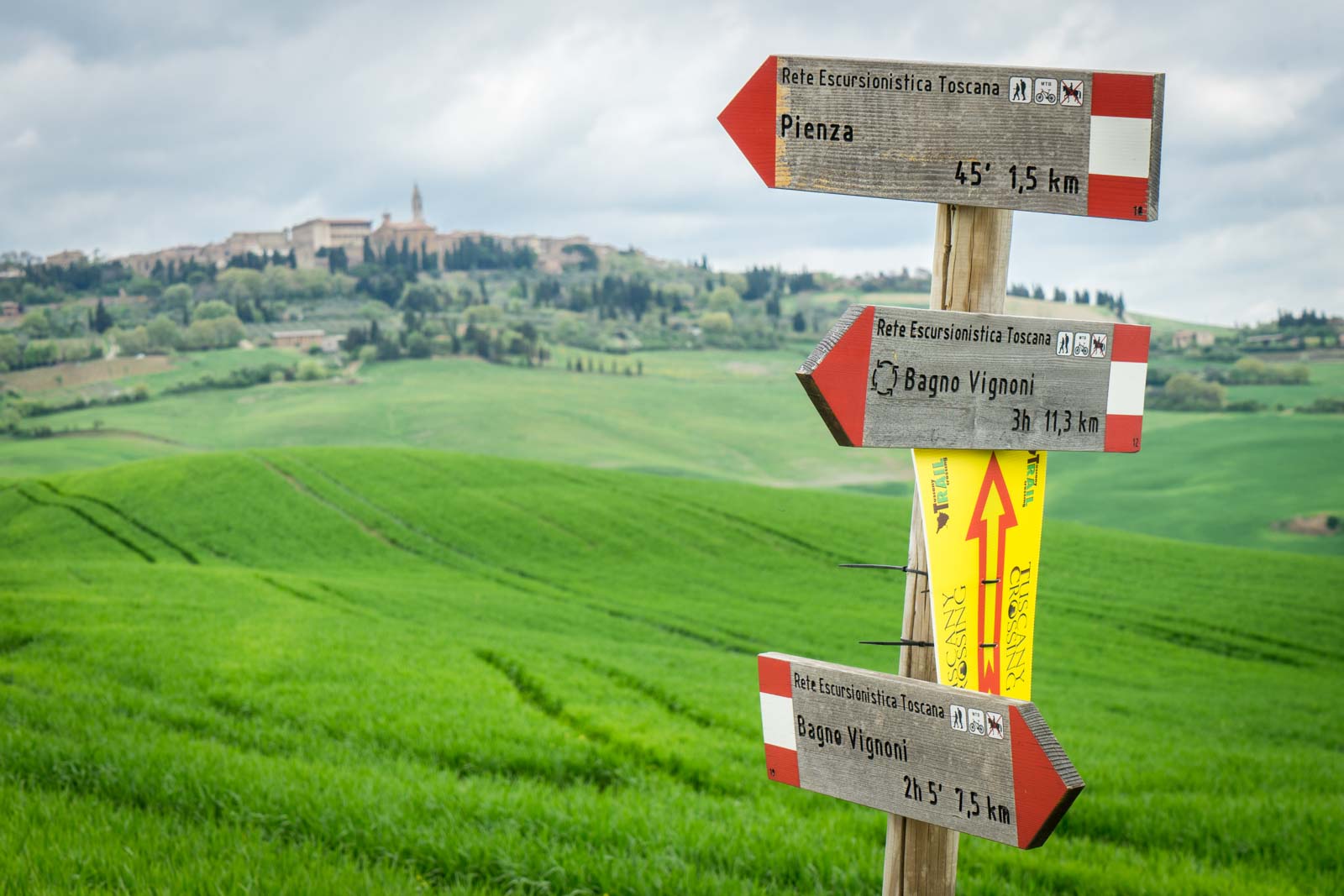 Here is what I did and what I would recommend you could do for a full day of hiking and exploring in the Val d'Orcia. I have put the route I walked on this map, for your reference.
I used the city of Chiusi as my base for accommodation because it's really convenient – on the main train line between Rome and Florence. (From here you can also easily do a day trip to Orvieto.)
From Chiusi, catch the bus FT4 at 0810 (8:10am) that goes to Montepulciano and arrives at 0857 (8:57am). From there, transfer straight onto the bus 112 that leaves at 0903 (9:03) and arrives at San Quirico d'Orcia at 0926 (9:26am).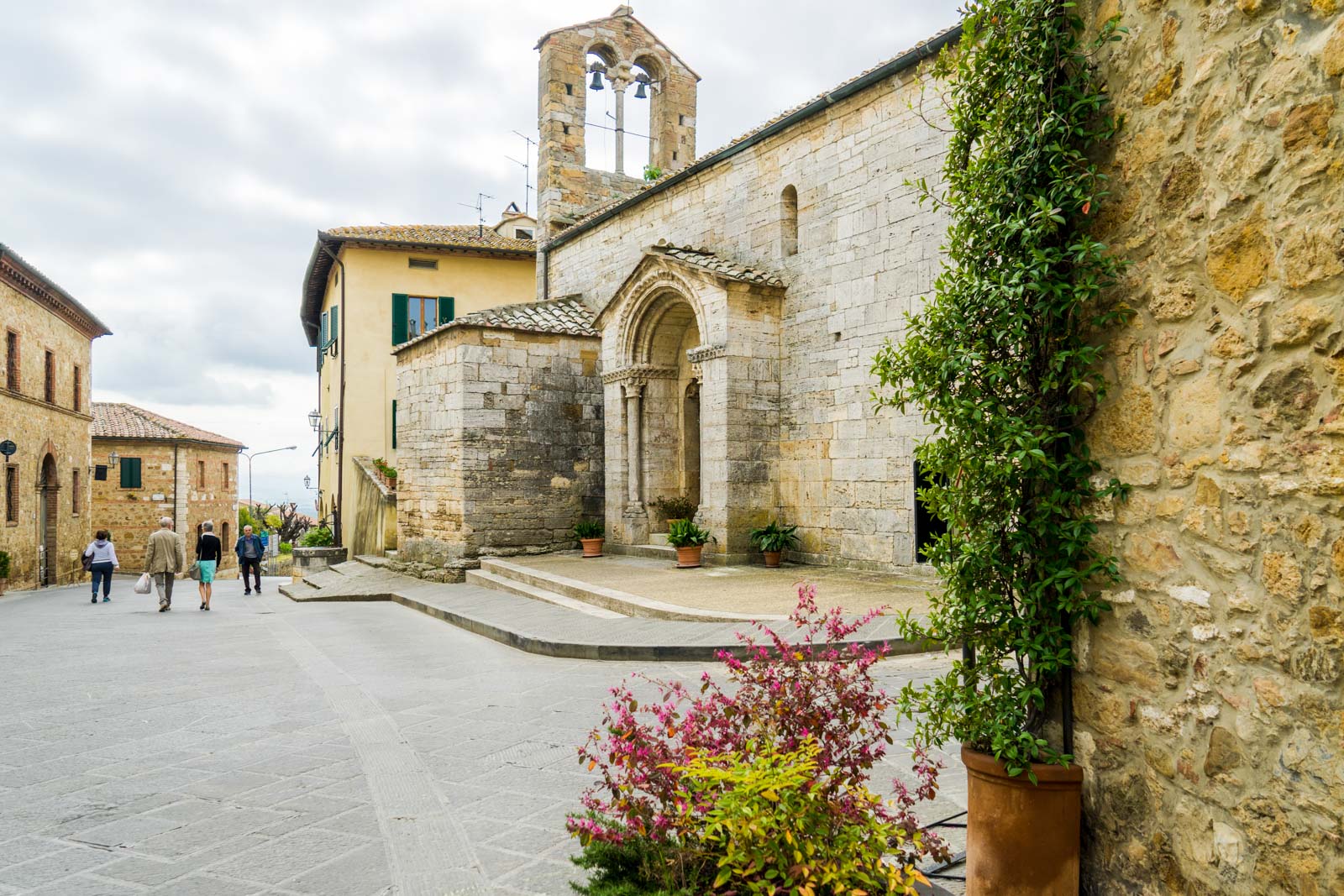 From here, you can begin the walk that I have outlined on the map. It is about 20 kilometres long and will take you most of the day, if you go at a leisurely pace and stop at some of the towns along the way.
A good place for lunch is Pienza. It's also worth taking some time to stop and look around the town which is a World Heritage Site.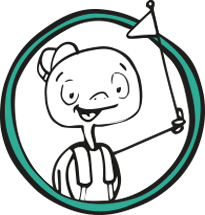 The final stop is Montepulciano, which is one of the largest urban areas in the Val d'Orcia. If you have time, it's a good spot for a late afternoon drink and a snack after the long walk.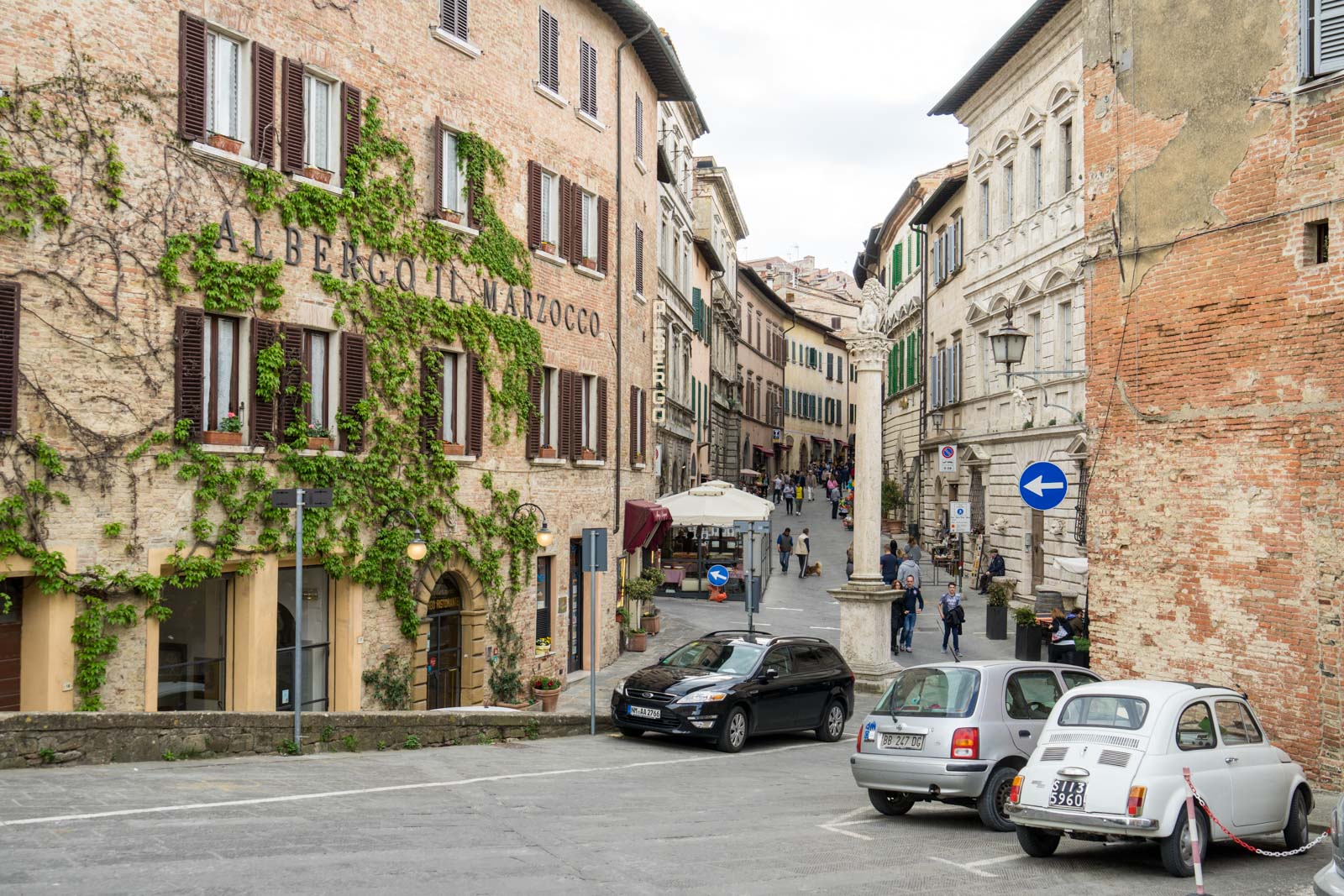 From here, you can get a bus directly back to Chiusi.
They leave fairly regularly but it is worth checking the timetable in advance to make sure you don't miss the last one.
When I did the walk, the last three buses left Montepulciano at 1830 (6:30pm), 1940 (7:40pm) and 2115 (9:15pm).
To check all the bus timetables for the latest schedules, use the local public transport site.
I hope all of this helps. Please let me know in the comments below if you have any questions or suggestions.
Are there tours in the Val d'Orcia?
Yes. If you would prefer not to arrange things yourself, there are a few good options for tours in the Val d'Orcia.
There is this full day tour that shows you the towns – as well as the food and drink of the region.
If you're coming from Rome, then this tour is a great option to see the countryside of Tuscany.
And another option from Rome is this fantastic tour that focuses on the wine and food of the valley.
Where should you stay in Chiusi?
If you're looking for a simple hotel, I would suggest Albergo I Longobardi next to the train station.
For a charming Italian bed and breakfast, try L'Albero Di Gamelì.
And for one of the most luxurious places in town, have a look at Residenza Dei Ricci.