The thing about Florence
Daydreaming as I walk the streets about Florence, I'm suddenly jolted from my daze by a man crashing into me.
The church I'd been looking at is lost from my view as I quickly swing around. Recoiling, I move into a doorway just in time to avoid a second collision with another man and, as it turns out, even more.
A group of about ten men run pass, knocking into pedestrians as they crush through the crowds.
Dark-skinned, probably African in origin, they have no concern for who and what they hit on the way through. They are clearly fleeing from something, although it's not fear you sense from them… more ritual.
"Oi! Oi! (And a few more indecipherable words in Italian)."
It's a small group of Italian policemen shouting after the Africans, although they don't chase them too far. The aim seems to be to disturb them and move them on, rather than actually catch them.
The fleeing men, you see, had been in the streets trying to sell souvenirs, jewellery and posters to the tourists.
The city of museums
The whole incident is rather innocuous in some senses but it does stand out from everything else I thought about Florence. It was a spark of action in a city that seems otherwise lifeless and sedentary.
When I say 'lifeless', I don't mean the city is boring or empty – quite the opposite, in fact.
What I mean is that visiting Florence feels like walking around a museum or a gallery. Every block is an exhibit… a part of history captured in a building or a statue.
It is a city of history (fascinating and beautiful history) but not a living and breathing city. Its best is behind it but thankfully that best is still captivating in the present and, presumably, in the future.
The Duomo stands at the centre of Florence, the prized exhibit from which all other reference points are measured. It took almost 150 years to build and was finished in 1436, a perfect example of the classic gothic style. At one point it was the largest dome in the world.
While the Duomo seems like the highlight of the city – partly because of its size and central location – there are actually about 70 museums in Florence.
They blend in with the churches and buildings of yesteryear, together creating a seemingly never-ending exhibition that one can't ever truly finish seeing.
Within the walls and under the domes of Florence are some of the finest examples of renaissance art in the world.
You visit these places but it seems like stopping in front of a glass cabinet for a few minutes. The true attraction is just being in the city itself.
THE BEST ACCOMMODATION IN FLORENCE
There's lots of accommodation in the historic centre so I would recommend finding somewhere there so you're amongst all the sights.
BACKPACKER
For a cool hostel, I would recommend the modern Plus Florence, which even has a pool.
BUDGET
With comfortable and affordable rooms, Hotel Lorena also has a fantastic location.
BOUTIQUE
LUXURY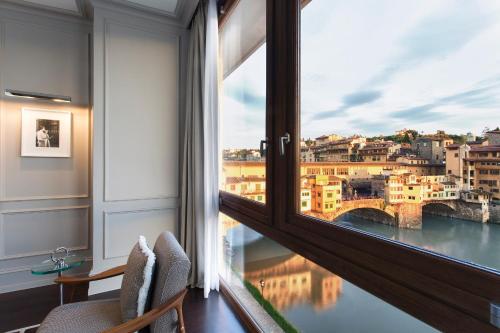 And it's not cheap, but Portrait Firenze is my recommendation for the best luxury hotel in the city.