Ruins from Belgrade bombing
When the bombs rained down on Belgrade in 1999, the city which had seen so much war in its life was suddenly in the crosshairs again.
The people of Serbia were brought into the geopolitical machinations of its leadership and, as buildings exploded around them, they felt the full force of a local conflict becoming an international target.
Under the banner of NATO, more than a dozen countries were part of the bombings which they say was aimed at stopping the Kosovo War.
At the time, there was alleged ethnic cleansing of Albanians in the Kosovo region by Serbian authorities and, despite not having a mandate from the United Nations, NATO believed the correct thing to do was stop any potential war crimes.
For two and a half months the attacks from the NATO forces continued across Yugoslavia – particularly in Serbia. Nobody knew where the next bomb would fall.
You can only imagine the terror of citizens trying to lead a normal life with American fighter jets zooming overhead.
In the larger scheme of global warfare, this happened yesterday and those same citizens still live here. Although it was 14 years ago, Belgrade is still scarred and many parts of the city seem today as though they have just been hit.
Physically – and maybe psychologically – the recovery continues.
I was just a teenager at the time but I still remember the images on the television and the reports on the front pages of newspapers. Yet, then, it seemed a world away.
Where was this strange place called Serbia and why was this area called Kosovo dominating the media? It was of vague interest because I was told it should be but it was not – and has not been – something I gave too much thought to.
Not until now as I stand in front of a large building with its windows blown out, concrete hanging from its floors, and metal poles like bones stripped of flesh.
It's one of two twin buildings on either side of the road, surrounded by graffiti-riddled fences, that are the introduction to Belgrade to many people.
Just a couple of hundred metres from the main train and bus stations, they are on the road leading into the centre of town. The headquarters of the Federal Ministry of Defence, they were hit by NATO forces on May 7, 1999.
About ten minutes walk to the northeast is the main station of the Serbian Radio and Television. It too was hit by the bombing and 16 of its staff were killed.
Although a new building was constructed on the site, the ruins have been left where they were – destruction of the past now lives as harmoniously as possible with the present day.
In a park adjacent to the buildings is a small memorial to those who lost their lives.
In the other direction, again about ten minutes walk from the Ministry of Defence buildings, are more ruins. Although harder to see from the road, they are no less twisted or confronting as the others.
The force of the arsenal unleashed on Belgrade was enormous and nothing that was targeted escaped unscathed. That the buildings weren't completely destroyed is in some ways a more powerful statement than total destruction because the effects are more evident.
Legacy of NATO bombing of Belgrade
I do wonder if those effects are now being used against the very forces which created them. Why, after all these years, have these ruins of war not been demolished or rebuilt?
I try to find an explanation online but have no luck. Financial aspects may be the answer but I do wonder if it has more to do with propaganda than anything else.
In Serbia there were mixed feelings about the regime at the time and the intervention by international forces.
But by preserving the evidence of the hostility of foreign forces, it is a constant reminder of a city attacked, the fear of an assault from the air, and the regard in which the West held this patriotic country of Serbia.
You only need to visit the city's Military Museum and see these exhibits of NATO equipment, captured during the conflict, to discover an example how the campaign is now being used subtly for public relations.
Those who still argue against the NATO bombing claim that NATO – and in particular the USA – constructed reasons to attack.
They claim US President Bill Clinton needed a distraction from domestic issues, that it was because Yugoslavia was resisting Western economic reform, and that the scale of any genocide in Kosovo was exaggerated.
Then again, the counterview is that the figures were correct and at least 100,000 people in Kosovo had already been murdered by Slobodan Milosevic's government. The bombings of Serbia and other parts of Yugoslavia stopped the ethnic cleansing and hundreds of thousands of lives may have been saved.
Regardless – and I make no judgement myself on this – the effects are inescapable on a visit to Belgrade. The locals may not want to talk about it and, if it is mentioned, there tend to be oblique references and many looks towards the floor.
But that doesn't mean you shouldn't try to learn a bit more about it yourself and try to visit some of these sites with a couple of spare hours.
I'm not an advocate of war tourism for gratuitous reasons but an understanding – and firsthand visual experience – of the effects of conflict help put history into perspective.
THE BEST ACCOMMODATION IN BELGRADE
You get great value for accommodation in Belgrade so you might want to consider staying somewhere a bit cool!
BACKPACKER
For a fun and social atmosphere, one of the best backpacker options is Hedonist Hostel.
BUDGET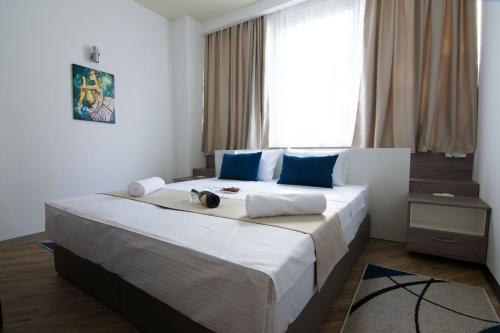 If you would like something affordable with clean modern rooms, I suggest Omia Hotel.
BOUTIQUE
LUXURY
WANT TO KNOW MORE ABOUT SERBIA?
Let someone else do the work for you:
You may also want to consider taking a Serbia tour, rather than organising everything on your own. It's also a nice way to have company if you are travelling solo.
I am a 'Wanderer' with G Adventures and they have great tours in Serbia.
You could consider:
When I travel internationally, I always get insurance. It's not worth the risk, in case there's a medical emergency or another serious incident. I recommend you should use World Nomads for your trip.