For many visitors to Japan, Tokyo is seen as the epicentre of politics and economics. But this, in a broad historical sense, is only a relatively recent development. It wasn't until 1868, during the Edo period, that the capital city was moved to Tokyo.
In fact, it was in the Kansai region of Japan, around the country's third-largest city Osaka, where the power resided for most of modern history. In my last story on Japan, I wrote about how this influenced the development of the region and why it is still relevant today.
Today I want to give you a practical guide to how you can explore the series of cities that sit along the coast of Osaka Bay.
As the Gateway to Japan, these ports have seen international visitors for centuries – from ancient traders, to Asian foreign dignitaries, and European explorers. These days, there is more than ever to discover.
This four day itinerary will take you through the cities of Osaka, Sakai and Kobe. You'll see some of the unmissable highlights – but also some lesser-known experiences that will make your trip more rewarding than an average tourist's. I'll also have some recommendations for incredible local meals.
I've put together this map, which has the locations of each of the places I'm going to talk about.
So, let's get right into it.
Arriving at Kansai International Airport
As you might expect for a region with a long trading history, there are excellent transport links to the cities around Osaka Bay.
The main Honshu Shinkansen (bullet train) passes through Osaka and Kobe and this can be a good way to arrive if you're already in the country. However, the Shinkansen is expensive and you may find it's cheaper to take a domestic flight to Kansai International Airport (KIX).
There are also a number of direct international flights to KIX including from Australia, the US, Canada, Germany and the Netherlands. So, for the sake of this guide, I'm going to start the itinerary from the airport.
If you've arrived on a long flight (particularly an overnight one) you may want to refresh at the airport. KIX is really impressive because it has a nice affordable lounge you can use when you arrive.
After you've been through immigration and customs, head to the 'KIX Airport Lounge' on level two. Access costs ¥310 for 30 mins, which includes free tea, coffee and soft drinks.
The shower costs an extra ¥310. Or it costs ¥510 just to use the shower. (Note: you can bring your own towel or buy one at the lounge.)
The airport is built on an artificial island in Osaka Bay and the best way to leave is by train. There are a few options from the station, including the Airport Express.
If you want to do a lot of sightseeing, I would suggest you have a look at buying a transport pass in advance that covers the Kansai region. The best approach is to buy the Kansai Thru Pass in advance and pick it up at the airport.
You can use the pass to get to Osaka, Sakai or Kobe (as well as many other Kansai destinations) – and I'll discuss at the end of this article which city (or cities) might be the best for accommodation during your trip.
Day One: Sakai
To start, though, we're going to spend day one exploring Sakai, a smaller city just south of Osaka that isn't nearly as famous but is packed full of fascinating history.
Tomb of Emperor Nintoku
The first stop on this trip around Osaka Bay is also the oldest. About 1500 years ago, Japan's emperors and other important dignitaries were buried in enormous tombs in the region around Sakai.
The tombs are called a 'kofun' and are created with a keyhole-shaped island surrounded by at least one moat.
The largest kofun in the country is the Tomb of Emperor Nintoku (Nintoku-tenno-ryo Kofun), which is 486 metres long and 307 metres wide. (It's actually the third-largest tomb in the world after the Mausoleum of the First Qin Emperor in China and the Great Pyramid of Giza in Egypt.)
You can't go onto the island but you can see the enormous mound of the tomb from the outside and walk around the moat. It is surprisingly peaceful and it's incredible to think about the scale and history of this monument.
It's easy to arrive from any part of the region by public transport. If you have bought the Kansai Thru Pass I mentioned in the earlier section, the best station is Mikunigaoka on the Nankai-Koya Line – it's about a 3 minute walk to the edge of the kofun, then you can walk south to the shrine at the front.
Sakai City Museum
From the front of the Tomb of Emperor Nintoku, it is just a short 5 minute walk to the Sakai City Museum.
I wouldn't normally recommend going to a local municipal museum but this one is worth it because it has an excellent exhibition about the kofun in the area. It wasn't until I saw everything here that I really appreciated it all, so I recommend you pop in yourself.
When I went, there was also an amazing 360 VR experience that goes into the history of the kofun and I was told it would be available in English soon, so make sure you ask about that (and I'll update this post if anyone can let me know what they find out).
You'll also realise there are some other kofun just a short walk away so you may like to spend some extra time having a look at them.
Tea Ceremony Experience
You may have already heard about the traditional Japanese Tea Ceremony. It's an extremely important part of the national culture and you can learn about the country by understanding the subtle actions that are part of the process.
The man who is credited with inventing the tea ceremony was called Sen no Rikyu and he was born in Sakai in 1522. In his honour, there are quite a few places in Sakai that offer tea ceremonies that you can experience.
The easiest option for independent travellers is to head to the Sakai Plaza of Rikyu and Akiko. This museum has created two tea ceremony areas for tourists to learn and experience.
In the first area, you'll sit on a seat while the ceremony is performed and explained. In the second area, you'll sit on a tatami mat and try it for yourself.
The main reason I recommend going here is because you don't need a reservation and it's a very casual environment – yet there is still a very traditional approach to the cultural aspects. There are also exhibitions here that give you a bit more insight into the history of Sakai.
To get to the Sakai Plaza of Rikyu and Akiko from Sakai City Museum, you're best using one of the local buses – which will accept the Kansai Thru Pass.
Lunch: Umenohana
You'll find quite a few food options in the area around the area around Sakai Plaza of Rikyu and Akiko. (And if you're interested in learning more about different types of Japanese food, check out my story on that here.)
But I would recommend you have lunch at the restaurant called Umenohana, which is right next to the museum.
It is a chain restaurant but is quite famous for its kaiseki style of dining. This is where a series of small dishes, each artistically arranged, is brought to you one by one. If you haven't done it before, it is certainly worth trying.
Knife-makers
One of the things that Sakai is most famous for is the knife-making industry. The blades forged here are based on the same principles as the samurai swords and they are considered to be some of the best in the world.
Interestingly, knifes are still made by hand in small workshops and each craftsman will focus on particuplar aspect, meaning there are normally three different people who make a knife – someone to forge, someone to sharpen, and someone to put on the handle.
These days, quite a few of the workshops have shops at the front and will offer access for visitors to see the work being done. I had a look at a few of them myself and it's absolutely fascinating to see the work that goes into making a single knife.
Unfortunately, despite my research, I can't find any tours in English that will take you around to see the three stages of making a knife so you'll have to do this independently.
I recommend starting at the Hamono Museum to get an overview of the industry and to ask which workshops might be good to visit that day. I would also then head up to a great blacksmith at Mizuno Tanrenjo to see a demonstration.
It's about a ten minute walk from lunch to the museum and then another ten minutes to the blacksmith. Or you can get the tram up the main street to each stop.
Central Sakai
If you still have a bit of time up your sleeve after all of these activities, I would suggest you do a bit of exploring around the centre of Sakai. Although it is officially quite a big city (and seems to just merge with Osaka), the centre is quite small.
Wander around the streets near Oshoji and Hanataguchi tram stops and you'll find all sorts of interesting little shops and cafes. A popular cafe is called Machiya Cafe Sacay which does amazing local sweets.
You'll probably also find Myokokuji Shrine, Aguchi Shrine and Sugawara Shrine, which are all worth having a quick look at.
If you've got a lot of time, then head west past the main Sakai train station to Ohama Park and the old lighthouse.
Dinner: Mimiu
For dinner, I would recommend a restaurant called Mimiu. It is the place where a dish called 'udon-suki' was created. Udon-suki is hot pot full of udon noodles and a whole bunch of other ingredients including vegetables, chicken and seafood.
As with most hot pots, this is a dish best shared and the dining experience is as enjoyable as the food itself. Therefore, Mimiu is a great option if you are travelling in a small group but probably not the most appropriate if you're on your own.
Day Two: Osaka
On day two, it's time to tackle Osaka and see how much of this vibrant city we can fit into just one full day of sightseeing.
Shitennoji Temple
First up, let's head to Shitennonji Temple which I think is a fascinating (but often overlooked) part of Osaka.
This site is said to be the first Buddhist temple in Japan, established in 593 AD when Buddhism arrived in the country via Korea. It was here in Osaka Bay that the Korean delegation would have arrived with their new religion.
The original buildings are long gone but there are quite a few reconstructed sections that you can go into, including the beautiful main Golden Pavilion with important statues.
Also, make sure you climb up to the top of the five-storey pagoda past the packed rows of dedications to people who have passed away.
If you go a bit further north from the main courtyard with the pagoda, you'll find some older buildings, a pond full of turtles, and a rather beautiful cemetery.
I would put aside about an hour to explore the temple complex – there is a fair bit to see here. You can access it from Shitennoji-mae Yuhigaoka subway station – it's just a five minute walk from there.
Umeda Sky Building
Next, it's time to get an overview of Osaka and the best place to do this is at the Floating Garden Observatory at the Umeda Sky Building. This is a really impressive piece of architecture, built in 1993, that has two 173 metre-high buildings connected by the 'floating' atrium in the middle.
This middle section is where the observation deck is and you'll get a 360 degree view from the platforms on the top level. There is another level just below which is enclosed, in case you don't want to spend too much time outside.
As you can see from my photos, I went at night and it was pretty cool to see the lights of Osaka this way. However, I would recommend you go during daylight so you can see a bit more of the city and get your bearings.
To get to the Umeda Sky Building, catch the subway from Tennoji station to Osaka station and it's a short walk from there.
Entrance to the Floating Garden Observatory is moderately-priced at ¥1000 (US$8.85) so it may not be worth it if you have bad weather. But, on a nice day, you do get some incredible views!
Lunch: Sushi-making course
For lunch, I'm going to suggest something a little different – because I promise it will be one of the most memorable experiences you have in Japan. There's a wonderful course offered in Osaka where you can learn how to make different types of sushi and then eat it for lunch.
The course I recommend is run by Machiko in her own home. It will be a very small group and you will work with Machiko in her kitchen to cut fish, make sushi rice, roll it together, fold pockets, and other techniques to create your meal.
Not only will you learn about sushi and have a great lunch, you'll get an insight into local Japanese life and have a great chat with Machiko.
If you're interested, you can make a booking on her website here. Machiko will meet you at Sakaisujihommachi station, which is on the way to our next stop.
Lunch alternative: Chibo
Although I think the sushi-making course is a fantastic experience, I understand that not everyone will be keen to do it (or Machiko may be booked out!).
For an alternative, I would suggest heading to the Jo-Terrace centre near Osaka Castle (our next stop) and getting lunch at a restaurant called Chibo. It is famous for a local delicacy called 'okonomiyaki', which is a thick savoury pancake filled with different ingredients.
I think it's delicious and it's certainly worth trying. Try to get a seat where you can watch the chef make it.
Osaka Castle
The most recognisable landmark of the city is Osaka Castle and you really shouldn't visit the city without heading out to the castle.
You can access it from a few subway and train stations including Temmabashi, Morinomiya and Osakajokoen. If you're coming from the sushi-making course, the best is Morinomiya.
The first castle was built on the site here in 1583 but it was destroyed in 1615. It was rebuilt but was again destroyed in a fire in 1868. The main tower we can see today is a reconstruction from 1931.
From the outside, it looks like the castle is five stories high, but it actually has eight stories inside. Many of these levels are filled with museum exhibitions about the castle and the lives of its inhabitants.
From the very top level, you can go out on the wraparound balcony and get a great view over the surrounding area.
Other than the main castle building, there are other parts of the site that are worth seeing, including the defensive walls, the southern gate, and the moat.
I would also recommend you make the effort to go into the Sengan Turreton the western edge. It's one of the oldest parts of the compound (from 1620) and offers a fascinating insight into how life would have been here back in those times.
Shinsaibashisuji shopping street
You might find that your time at Osaka Castle takes up most of the afternoon and you don't have a whole lot of spare time. But, in case you do, I want to mention the most famous shopping street in Osaka.
The city is known for its shopping and this might be a good chance to grab a few things while you're in Japan.
If you're interested, then head to Shinsaibashisuji Shopping Street. You'll find department stores, big chains like Uniqlo and Zara, and lots of boutique stores with a variety of prices.
I would suggest you get the subway to Shinsaibashi and then walk south along the street (which, conveniently, will take you towards my suggestion for dinner).
Dinner: Kani Douraku
At the end of Shinsaibashisuji Shopping Street, you'll hit Dotonbori Food Street. At the intersection of the two, you'll notice an enormous moving crab.
This is the sign for the restaurant I would recommend. It's called Kani Douraku and is known for its crab dishes. The best thing is to order the set menu that will come with several courses of crab prepared different ways.
I should warn you, however, that Kani Douraku is very popular. If you just turn up, you may need to wait for more than an hour for a table. It is better to make a reservation in advance, if you can (the website is here).
If you don't want to wait or you don't feel like crab, there are more choices along Dotonbori Food Street than you'll be able to count. So go for a wander and look for something that takes your fancy.
Day Three: Universal Studios Japan
OK, day three and I'm going to recommend something a bit fun today – Universal Studios Japan.
There is something quite magical about Universal Studios Japan – and I'm not just talking about the Harry Potter section that opened a few years ago.
While I don't normally write much about theme parks, there's a wonderful mix of Hollywood and Japanese culture here that makes a visit a bit different to what you might normally expect.
You might think that the US is the king of theme parks – but did you know that when it comes to the most-visited parks in the world, three of the top five are in Japan? (The other two being Disney World in Orlando and Disneyland in Anaheim.)
So theme parks are a big deal here and Universal Studios Japan captures this perfectly. It's easy to spend a whole day exploring the different areas, going on the rides, watching the shows and finding little surprises throughout the park.
Before I tell you about a few of the specific things you can find, a word of warning.
Universal Studios Japan (USJ) can get very busy – particularly with local visitors. So you should try and avoid holiday periods and weekends, if possible. The queues for the new and popular rides can be an hour or two, so you want to try and go on a day when you're not going to spend your whole time waiting in lines.
But, having said that, the park is spread out over a large area so it doesn't feel too crowded in general.
The Wizarding World of Harry Potter
One of the most popular areas at USJ is the Wizarding World of Harry Potter, which has been created to look like the streets of Hogsmeade with the main building of Hogwarts on the hill. In the town, children buy 'magical wands' that let them do tricks at certain spots throughout the streets.
In the castle is the enormous ride 'Harry Potter and the Forbidden Journey', which takes you through a series of 3D video screens that tells a fantastic story along the way.
Minion Park
The other most popular brand at USJ at the moment is the Minions from Despicable Me. There are Minions everywhere – on snacks, in fairground games, and even as popcorn holders.
But you'll find the biggest concentration of them in the new Minion Park, which has a bunch of specialty stores and attractions.
The highlight is the enormous ride 'Despicable Me Minion Mayhem', which is a 4D flight simulator. It's actually quite incredible the way that it makes you feel like you're right in the middle of the action.
Street shows
Throughout the day, there are all sorts of performances and shows that pop up on the streets around the park. Most of these are seasonal and you'll need to have a look at the timings once you get to the park.
For instance, in the lead-up to Christmas, there's an enormous street parade with Minions that takes place in the morning. And, in the evenings, there's a musical theatre performance with a huge light show background.
It's definitely worth finding out when something is on and making an effort to see it – these are huge shows with amazing production values.
Rides
As well as the ones I have already mentioned, there are heaps of rides you can go on throughout USJ. For the biggest and best ones, you should try the 'New Amazing Adventure of Spider-Man' and 'The Flying Dinosaur'. They are both very popular, though, and there will be a bit of a wait for either.
Other rides that have been in the park for longer have shorter lines because the local Japanese visitors have probably already been on them a few times. So you should be able to easily get on the rides based on Jaws, Jurassic Park, Space Fantasy and Hollywood Dream, for example.
Although theme parks are especially good for families, there's enough here for visitors of any age. I can imagine going with a few friends and making the most of the rides and shows for a fun day out.
Getting to USJ is really easy. Just catch the train to the Universal City station, which is about 10 minutes from the main Osaka station.
Day Four: Kobe
For day four, I'm going to suggest a busy schedule that takes you through Kobe and the city's beautiful surroundings.
Geography dictates the shape of Kobe. With Osaka Bay on one side and nearby mountains on the other, the city ends up being long and thin, stretched along the coast. We'll come to the city later in the day but first I want to look to the mountains, which are a part of life here.
Arima-Onsen
Heading up into the mountains, the first place I would suggest going is the resort town of Arima-Onsen. You can get here by train and it takes about 30 minutes from Kobe.
The first thing you'll see when you arrive is the charming small town, filled with local producer who will offer you tastings of their food and drink or show you their handicraft. I would suggest taking some time to wander around and soak up the atmosphere
But the main reason people come to Arima is for a different kind of soaking – the natural hot springs (onsen). There are lots of small hotels throughout the town that have small onsen available for guests or day visitors.
There are also a couple of public onsen in the middle of the town that are affordable and of great quality. And then there are the big luxury ones.
You have try at least one of them for a wonderfully-authentic Japanese experience. If you feel like treating yourself, I would suggest getting a pass to visit the onsen at the Arima Grand Hotel.
It has incredible hot spring baths at the top of the hotel with views out across the valley plus another bath complex on a lower level. Arima is famous for two types of water – one that is known as 'gold' because of the dark earthy colour and the minerals in it.
Lunch: Arima Grand Hotel
There are plenty of nice local restaurants in the town of Arima if you would like to get something casual to eat. However, while you're treating yourself at the hot springs in the hotel, why not have lunch there as well to add to the relaxing experience?
When you buy an onsen day pass, you can choose either the price that includes a ¥2000 (US$17.80) voucher to use at one of the hotel cafes – or the more expensive option that includes a large lunch in the restaurant.
Although that costs a total of ¥6250 (US$55.60), it is good value for what you get and I would suggest considering it.
Mount Rokko
To get back to Kobe, we're going to go the long way… for a good reason. Because it will take us on an adventures through some beautiful views.
The first step is to walk to the start of the Rokko-Arima Ropeway, a cable car that goes up to the top of Mount Rokko. You'll only need a one way ticket, which costs ¥1010 (US$8.90). The ride goes between the peaks of mountains and across valleys, with stunning scenery in every direction.
At the top of Mount Rokko there are a few things to do. There are great viewpoints for photos, some outdoor art, a botanical garden and even a quaint (albeit unexpected) museum of music boxes.
As you can see from my photos, I had bad weather when I went so didn't spend too much time at the top of Mount Rokko but I would suggest your leisurely make through some of the spots that interest you. It's a three kilometre walk to the other side of the mountain top and that's a nice way to explore (or catch the bus to Rokko Sanjo station).
From Rokko Sanjo station, you can catch the funicular (called the Rokko Cable Car) down to the bottom of the mountain. This is another bit of fun with some great views and beautiful scenery along the way. It costs ¥590 (US$5.25) for one way
Shushinkan Sake Brewery
Although sake is made all across Japan, Kobe is particularly famous for production of this Japanese rice wine. This is partly because the agricultural land and the mountains of the region offer good rice and water to make sake.
But these good qualities have been amplified over the centuries because of the excellent transport links for trade.
There are some sake breweries that are open to visitors and one of the most interesting ones is Shushinkan, which makes the Fukuju brand.
Here, you can learn about the production of the drink, see some of the brewery, taste some different types, and pick up some souvenirs. One of the types of sake they make here is served at the Nobel Prize banquets!
Bus number 16 from the bottom of the Rokko Cable Car will get you just a few minutes walk from the brewery. You'll need to get there before 5pm to get a tour of the brewery.
Dinner: Ishida
Another thing that Kobe is famous for is Kobe beef, the delicious marbled meat that comes from the Tajima strain of Japanese Black cattle raised in this region.
It's a delicacy and is not cheap but you're not going to have many opportunities in your life to try it and I would highly recommend making the most of the chance to eat it here.
There are a few restaurants in Kobe that do this beef well and I would recommend trying to get a reservation at one called Ishida.
Not only is the meat amazing but it will be cooked right in front of you to perfection. The whole dining experience is about the spectacle as well as the food.
It's the perfect way to end a big day of adventure in Kobe.
Accommodation around Osaka Bay
Now, at this point, I want to tell you a bit about your accommodation options.
This itinerary around Osaka Bay focuses on three cities – Sakai, Osaka and Kobe – and you could easily stay in one of these places for the whole time and just catch the train each day. Or you could move to a new hotel in each city so you can experience them all properly.
The decision is really up to you, depending on your preferences, and there are no major problems with doing it either way. Once you decide, I have some suggestions for places to stay in each of the cities.
THE BEST ACCOMMODATION IN SAKAI
The accommodation in Sakai has a bit more of a traditional feel than the big cities, with more relaxed neighbourhoods.
BACKPACKER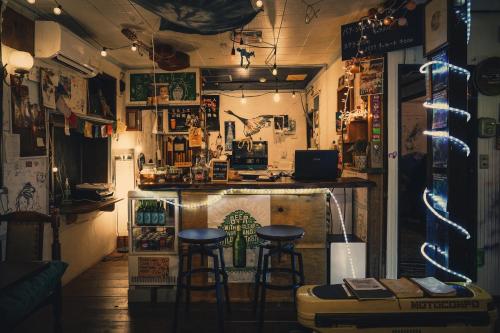 For a good backpacker option near Sakai, I would suggest staying at the character-filled Air Osaka Hostel.
BUDGET
LUXURY
For another good option in the centre of town that is a bit more luxurious, Hotel Agora Regency is worth a try.
TRADITIONAL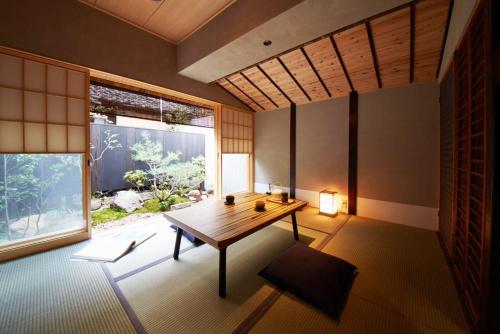 THE BEST ACCOMMODATION IN OSAKA
Basing yourself in Osaka outs you in the heart of the action, with easy access to all the sights around Osaka Bay.
BACKPACKER
BUDGET
If you're looking for a budget hotel Hotel Le Botejour is basic but comfortable and well-located.
LUXURY
I think one of the better luxury hotels in Osaka is the Hotel New Otani with views of the castle!
UNIQUE
And for something a bit different, Waqoo Shitaderamachi offers accommodation based on local Buddhist traditions.
THE BEST ACCOMMODATION IN KOBE
Staying in Kobe gives you all the benefits of a big city but there are far fewer international tourists, which means you're getting a more authentic Japanese experience.
BACKPACKER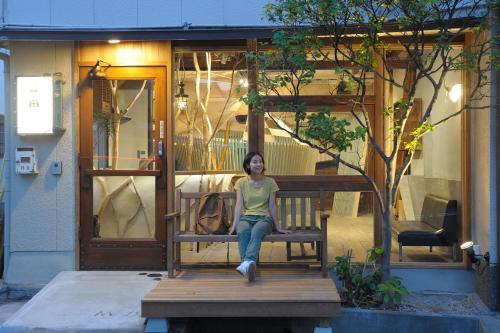 If you're looking for a backpacker option, I recommend the really cool and comfortable Guesthouse Maya.
BUDGET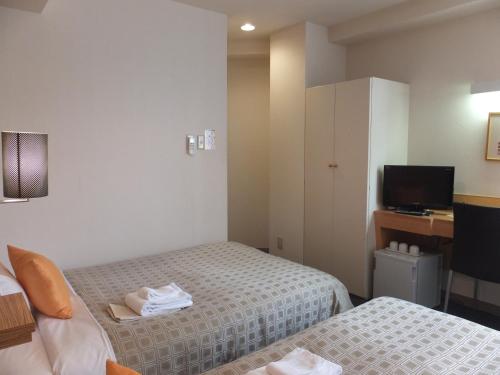 There aren't many budget hotels but Hotel 1-2-3 is decent enough.
WESTERN
For a lovely western-style hotel with amazing views, Portopia is a great option.
LUXURY
And if you want to splurge, you can't go past the 5-star luxury of Hotel La Suite.
Extra days around Kansai
So, there you have it – a detailed guide to making the most of the main cities around Osaka Bay.
However, there is much more to the Kansai region than just these three cities and a lot of it can be accessed very easily as day trips using your Kansai Thru Pass or as overnight stays.
If you want to add on some extra time, then there are three main places in Kansai that I would recommend. You can find out a bit more information in the stories I have written about them here:

Most of these places are possible to visit independently and there's pretty good tourism infrastructure. However, you do definitely get a lot more information if you take a day tour or have a guide for some portions. They'll probably also show you some things you would miss otherwise and help you make the most of your time.
There are lots of options for tour and guided experiences in the Kansai region. Have a look here to see what's available when you're planning to visit.
Have a great time and please let me know in the comments if you have any suggestions of your own. As I said at the start, this is not a region that people tend to explore in too much detail but there is lots here to see and do and you won't be disappointed with what you find.
Time Travel Turtle was supported by Kansai Area Tourism but the opinions, over-written descriptions and bad jokes are his own.