Avenida 9 de Julio, Buenos Aires, Argentina
It was when I was about halfway across the road that the lights changed and the cars started to charge. Never mind that I was stuck in the middle of seven lanes of oncoming traffic.
This is Buenos Aires and if you've got two feet and no steering wheel, then you've got no right of way. That was how I learned the hard way to be careful when crossing the widest avenue in the world.
Well, I say "the widest avenue in the world" because that's what I've been told several times by local Argentinians.
They're very proud of the girth of this road and you can sense that someone is about to tell you about it because their chest puffs up a little bit, the ends of their mouth curl with patriotism and their eyes deepen to stress the importance of the information you're about to be given.
The street is called "Avenida 9 de Julio", which literally means "the 9th of July Avenue" – the date of the Argentina's Independence Day.
At its widest, the avenue has twenty lanes of traffic if you include the side roads that ran parallel and also need to be crossed to make it safely to the other side.
Crossing, as I mentioned earlier, can be dangerous and a lot of pedestrians do it in two stages, taking refuge at the islands on the way.
Some brave souls choose to do the whole street in one go and sprint across, leaping from the footpath as though the green light was an Olympic starting gun.
Thousands of cars rush down Avenida 9 de Julio every minute of the day, conjuring up images of a broad river of traffic cutting a swathe through the city. It is the Amazon of Buenos Aires. And, as is often the case with rivers, commerce has sprung up along the banks.
At most intersections, small economies now exist, with several mini enterprises touting for business from the drivers waiting at red lights.
Vendors sell water, food and snacks. But some also sell toys like kites and bubble-blowers.
Why someone would want a child blowing dozens of soapy bubbles in the back seat of a moving car, I'm not sure, but I assume there must be a market if they keep selling them every day.
There are also men who carry large advertising posters out onto the street every time there's a red light and hold them in front of the cars.
It's really quite a clever idea – it's much more noticeable than a billboard, it's obviously much cheaper, and there's the flexibility to constantly change or update it.
There's one part of Avenida 9 de Julio where an outline of Eva Peron looks down at the traffic from the side of a building. The portrait of the former first lady is more than 30 metres tall and was unveiled earlier this year, after being commissioned by Argentina's President.
The building was chosen because it was where she delivered a historic speech sixty years earlier. It's probably no coincidence, though, which street is below her.
Both Eva Peron and the avenue have something in common – they represent the endurance of this country on the path of patriotism.
THE BEST ACCOMMODATION IN BUENOS AIRES
If you stay close to the city centre of BA, you'll be near many of the main sights and have easy access to other neighbourhoods.
BACKPACKER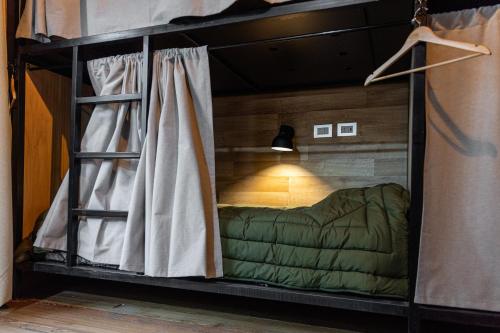 For a backpacker option, Che Juan Hostel is modern and comfortable with good privacy.
BUDGET
With great value and a central location, River Hotel is a good option if you're on a budget.
BOUTIQUE
For true style, I would recommend BE Jardin Escondido, which is where Francis Ford Coppola stays.
LUXURY