Last Updated on
Sarazm, Tajikistan
Tales of the history of Central Asia usually focus on the Silk Road. It's not surprising, considering how important this trading network was to the region (and the world). It also helps that we have magnificent cities left over from this time, such as Samarkand in Uzbekistan.
But close to Samarkand, just over the border in Tajikistan, is the legacy of a different history. One that is much, much older.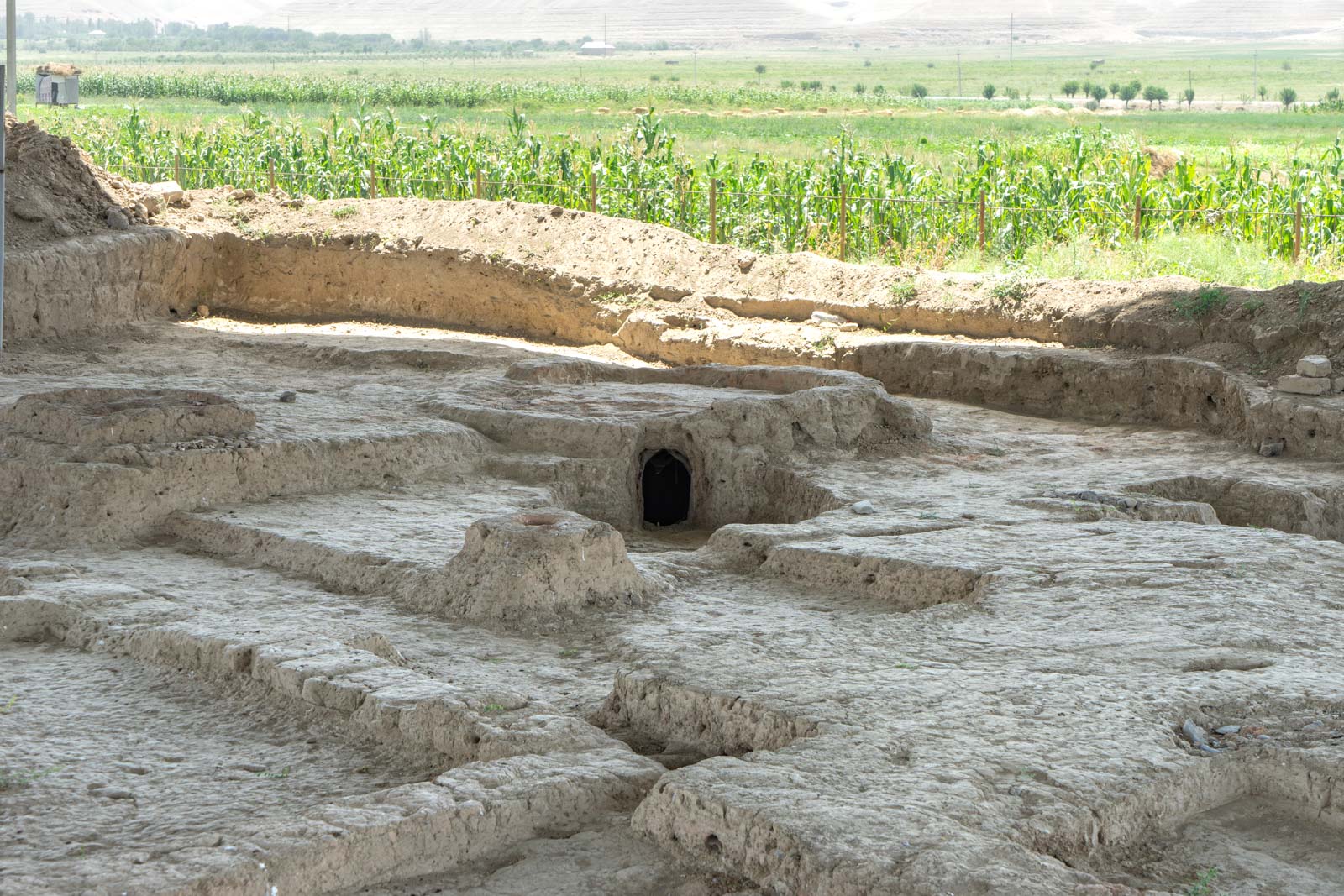 At the archaeological site of Sarazm, we can find the remains of what is probably the oldest city in Central Asia. Although it's hard to give an exact date, it was likely established around 3500 BC (about a thousand years before the first pyramids were built in Egypt, to give you some context).
Visiting Sarazm
I arrive in Sarazm not long after crossing the border from Uzbekistan into Tajikistan. Now that this border crossing has reopened (it was closed for about six years from 2012), it's very convenient to visit Sarazm as part of a larger trip through the heritage of the region. The drive after clearing immigration is only about five minutes.
The ancient city of Sarazm would once have stretched out over an area of about 90 hectares. But now, 5500 years later, it's all covered and hidden underground – except for the sections that have already been excavated.
There are several areas that have been dug up by archaeologists and are now protected by corrugated iron roofs. In each section, you can see the walls of the buildings and the elements inside them.
There's a bit of guesswork about what it all would once have been – but archaeologists are good at looking for clues and putting together a picture of this ancient civilisation.
For instance, one of the excavated sections has a sign that reads, "The main building was founded in the first floor and consists of a central hall and four equal corridors. In the centre of the hall were some fireplaces and in the southwest part of the hall was excavated a lot of bones of horned animals. Perhaps this building was used as a temple for sacrificing animals during religious ceremonies".
A layout of a city, houses and businesses, places of worship, humans creating the environment that they need to live as they transition from nomads, from hunters and gatherers, and into the advanced species that would build the epic urban centres here in the millennia to come.
Who lived in Sarazm?
Not that the people of Sarazm were even close to primitive, especially within a few centuries of founding the city.
They were not only adept at agriculture and domesticating animals (these being some of the most important skills for creating a permanent settlement in those days), but they were also advanced producers of goods that could be traded. There's evidence artists here made pottery with the newly-invented slow-rotating wheel, for example.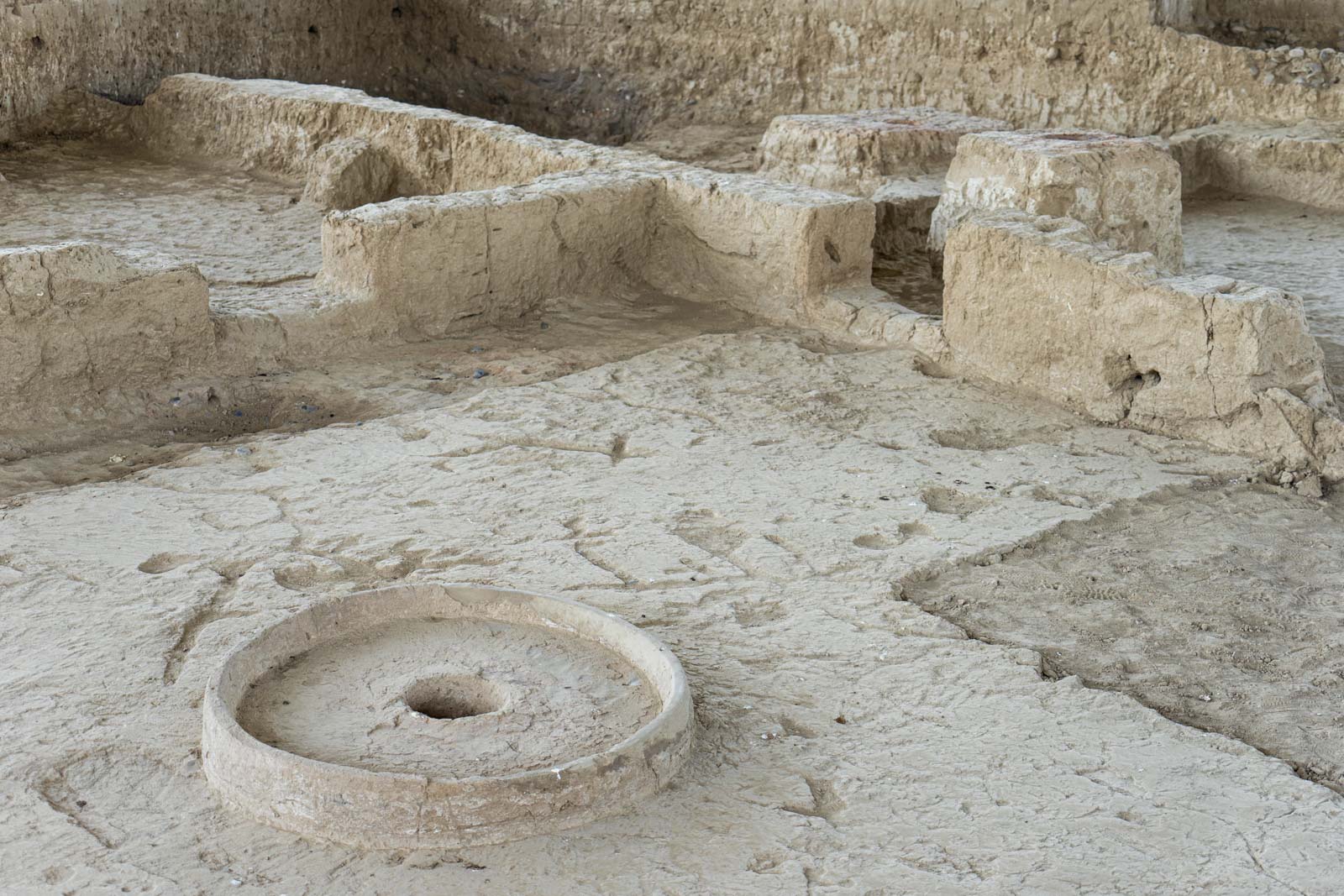 But archaeologists have also found ceramics at Sarazm from as far away as Iran, Turkmenistan, and Pakistan. This shows that it was part of an important trading network, many thousands of years before the period that we would define by the Silk Road!
In fact, it's likely that Sarazm was at the heart of this trading route because of the skill that its people were best known for – metallurgy!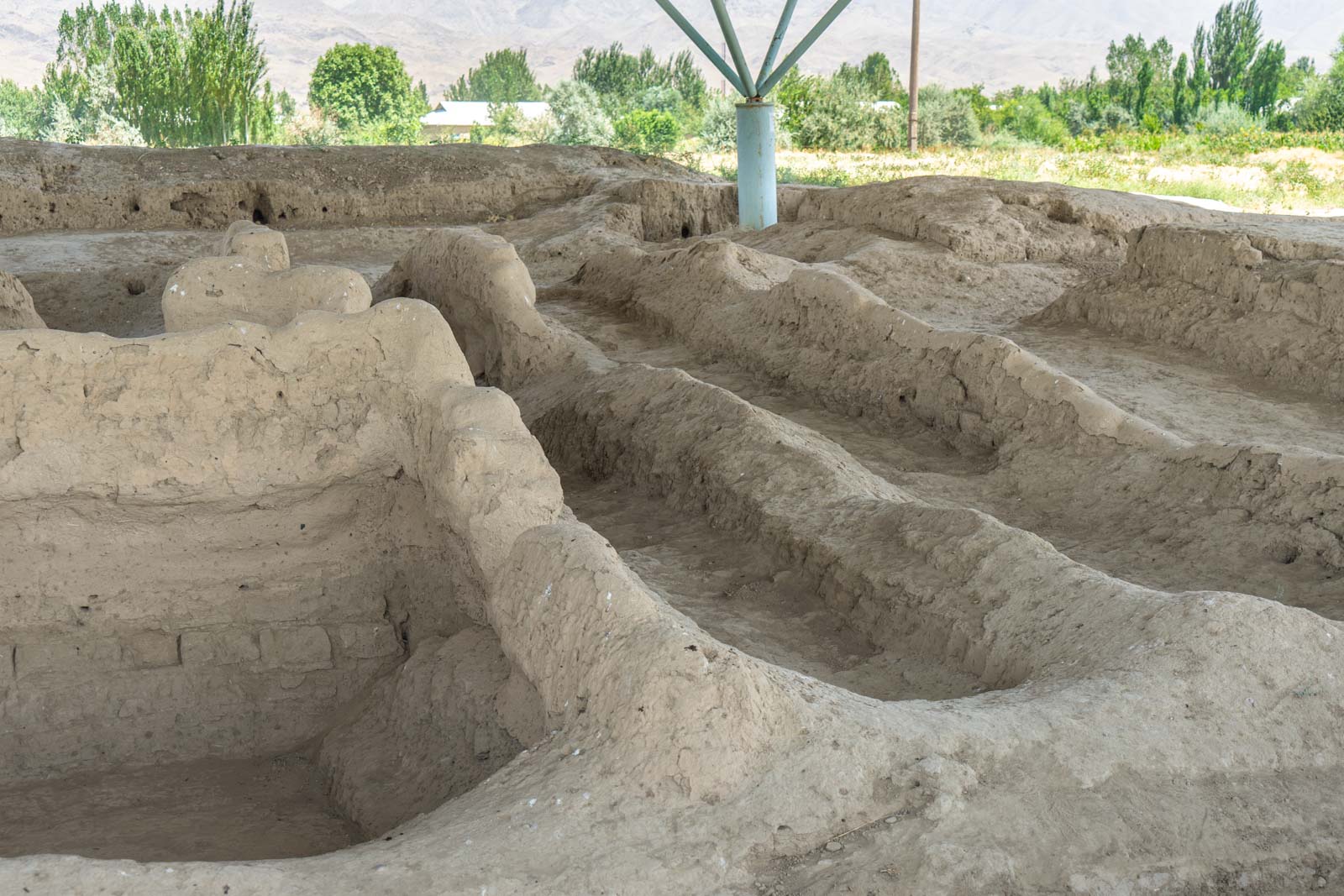 The region around the city was rich with minerals… and is probably the main reason the city was founded here in the first place. But what Sarazm realised well before 'vertical integration' was a fancy corporate term, was that they didn't just have to sell the minerals.
They could also produce the metal and the goods that were made from it. So, Sarazm become a centre for the production of items like daggers, axes, and jewellery. And these were then traded across the broader region.
The trading brought wealth, and the trading brought culture. This could be seen in the artwork discovered in Sarazam – pottery with beautiful paintings on the outside, stone objects and jewellery, and walls painted with cultural scenes and geometric patterns.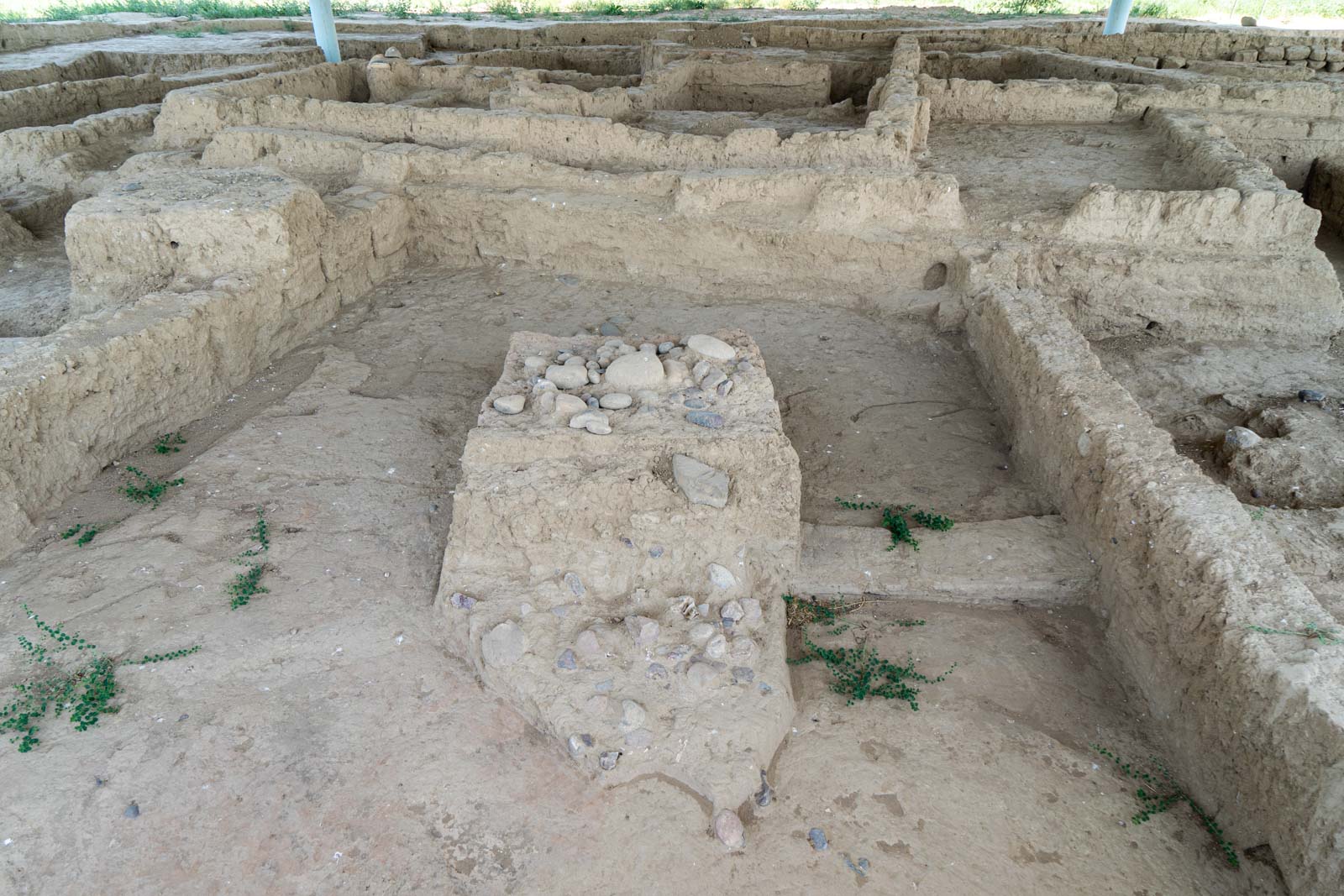 You won't find these artworks at Sarazm today. In a large part this is for their own protection because the site is out in the open and, although there is a nominal entrance, it's easy for anyone just to walk in and out.
But the artworks have also been moved because the site is in a relatively remote location with few visitors. The most important pieces from Sarazm have been taken to Tajikistan's capital, Dushanbe, to be displayed there.
Artefacts of Sarazm
You'll find some items in the National Museum of Tajikistan, the modern building in the centre of Dushanbe. There are things like axes, marble vessels, and a precious marble bowl.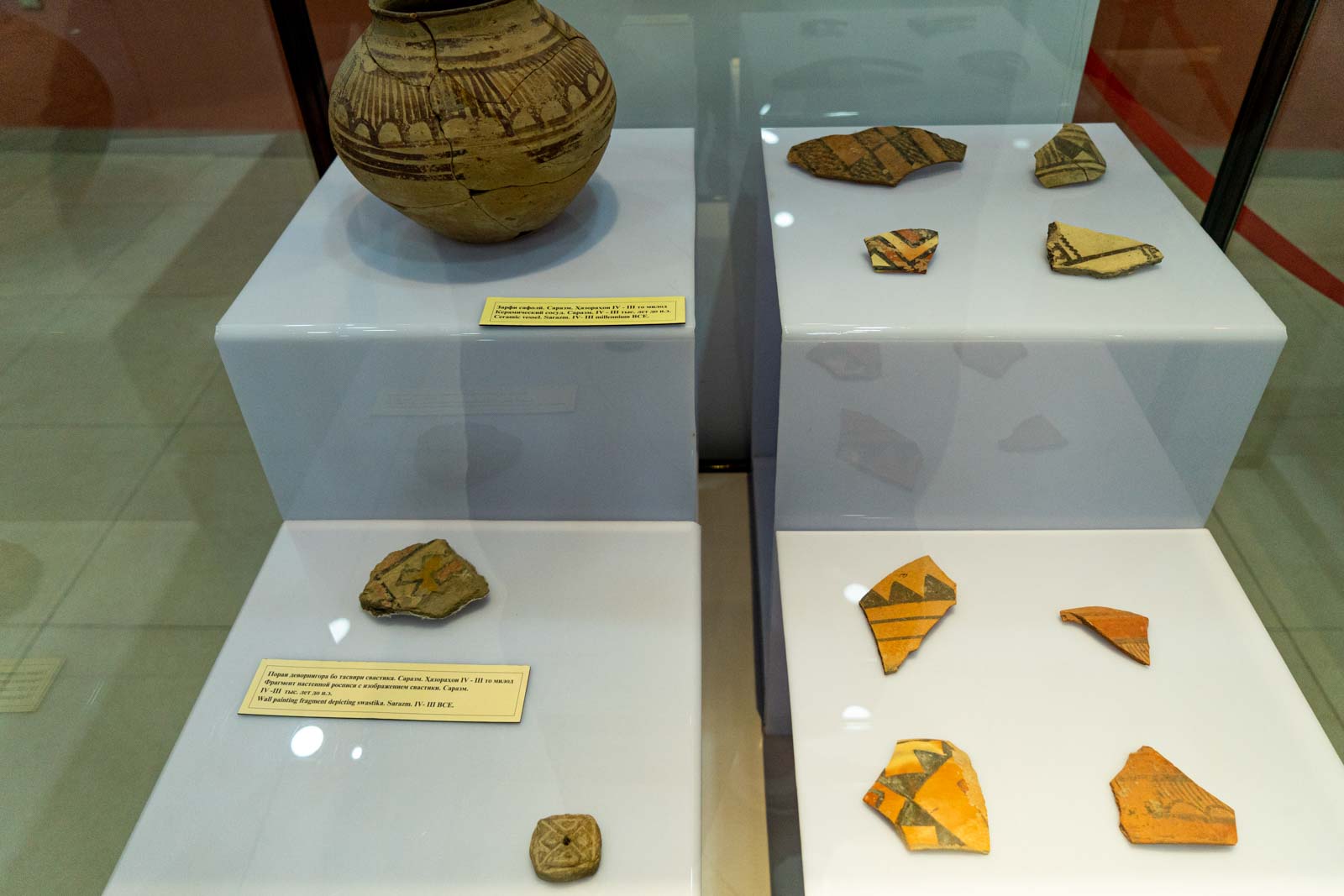 But the most important exhibit is in the National Museum of Antiquities, an old building that needs a bit of a facelift but has an excellent collection of artefacts.
Here you can see the 'Lady of Sarazm', the skeleton of a woman who was buried in the 4th century BC and covered with colourful lapis beads and seashell bracelets. Her body and the jewellery has been moved and recreated here.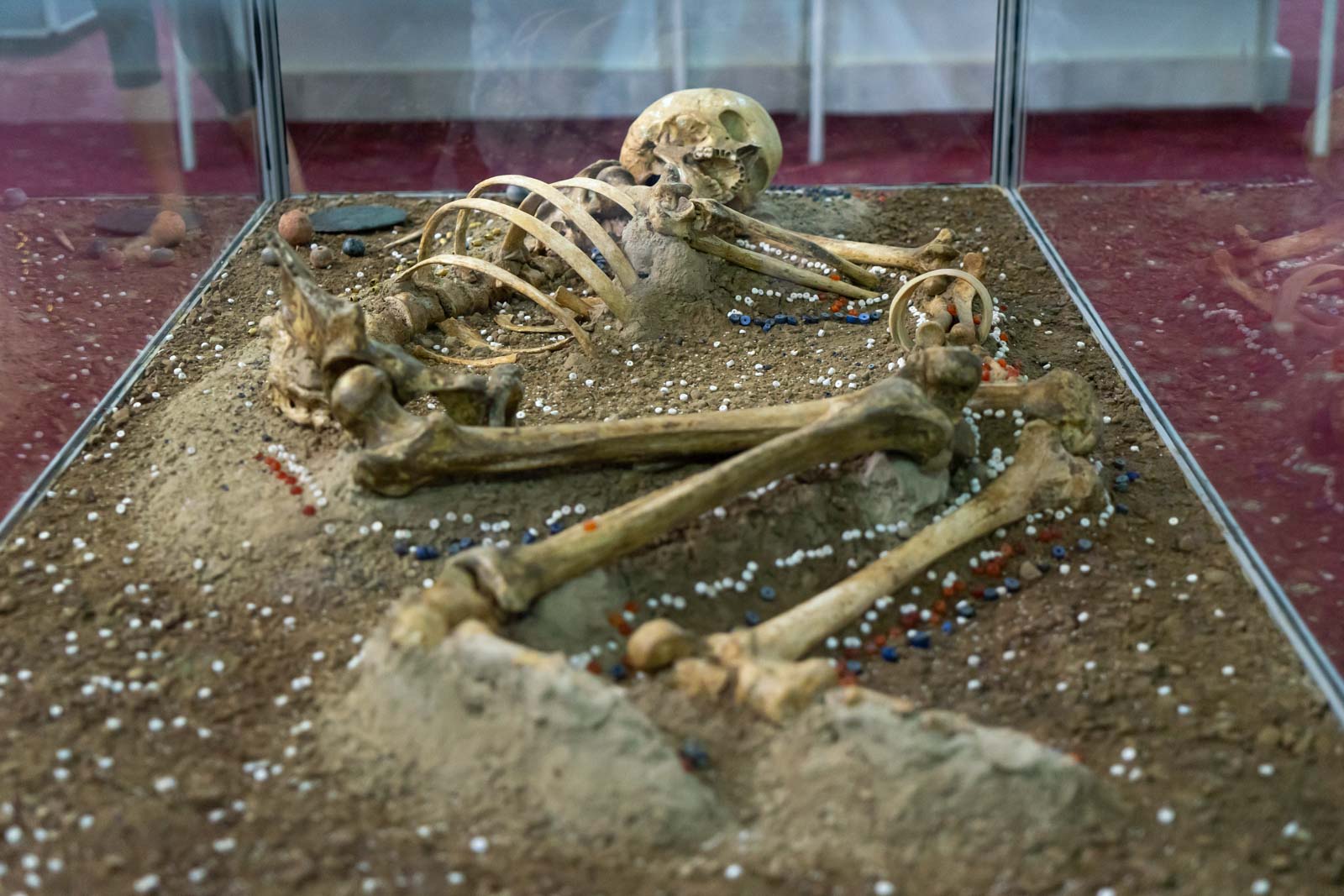 There are other items on display and it's one of the nice things about starting a trip to Tajikistan with a visit to Sarazm. Not only does it give me a chronological introduction to the country, but it gives me some context to the things I'll see along the journey.
I don't escape Sarazm as I make my way through the country. It's referenced in Penjikent, it's part of the World Heritage that I'm trying to explore, it's in museums in Dushanbe and beyond.
Sarazm may not be as opulent as the Silk Road cities in Uzbekistan but it is, in a foundational way, just as (if not more) important.
Other things near Sarazm
From Sarazam, it's only about 15 minutes drive to Penjikent, a city with a population of about 35,000 people, that is the normally the first port of call for travellers coming in from Uzbekistan.
Although it's not quite as old as Sarazm (and has not been listed as a World Heritage Site), Penjikent also has the remains of an ancient city here, on the hills that look down over the modern city along the banks of the Zerafshan River.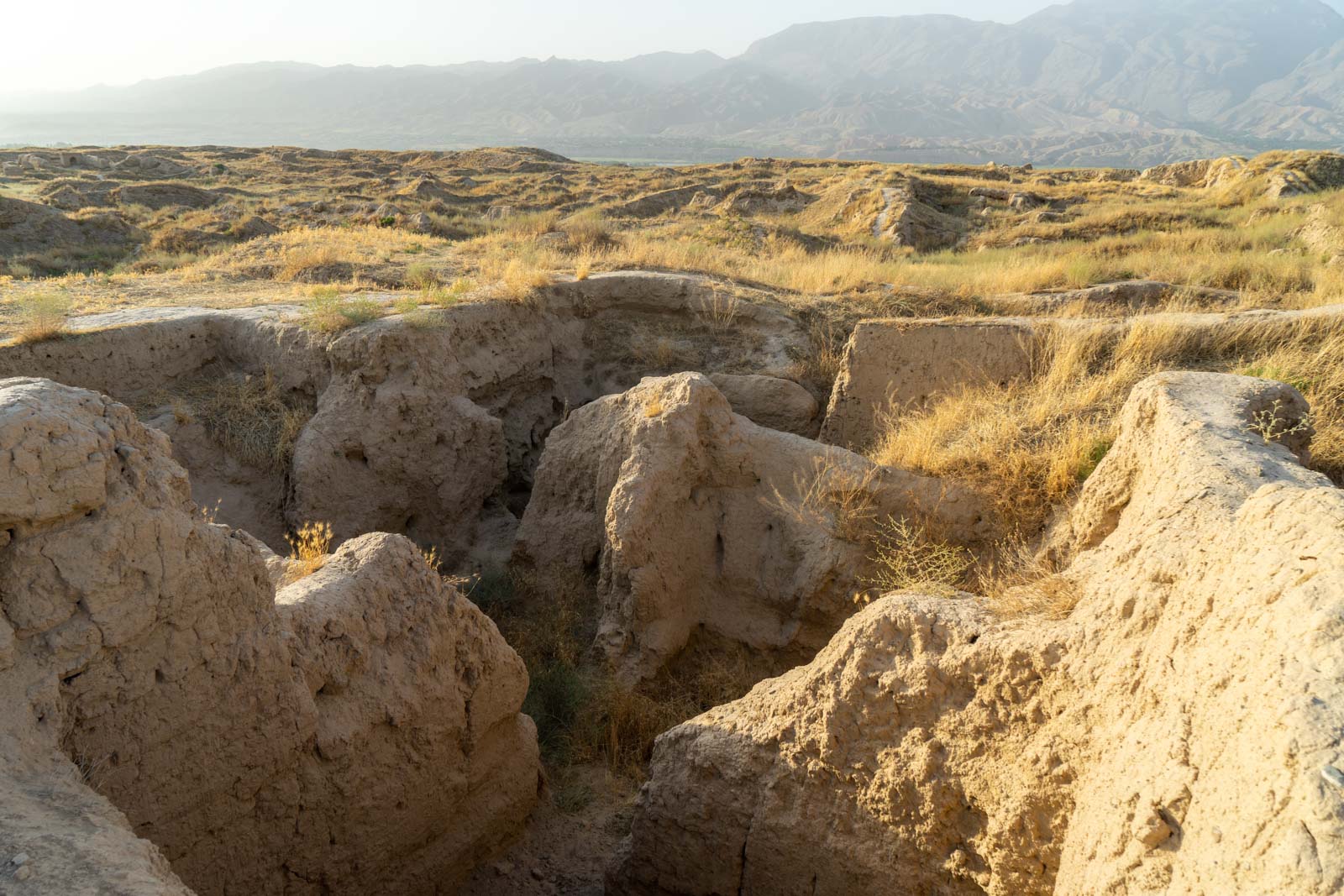 It was one of the busiest cities on the Silk Road between the 5th and 8th centuries AD and has been dubbed the 'Pompeii of Central Asia'.
As well as large temples and other public buildings, the city would've had big houses for wealthy citizens, all of which would have been brightly painted.
It's a bit hard to imagine it today, as you walk around the grassy knolls with the shapes of ancient buildings dug out. But it's still worth visiting to see the site and some of the better excavations.
I think the highlight of Penjikent is really the main bazaar, which is not nearly as large as some of the others you'll find in Central Asia, but has a wonderful character to it.
Walking into the central covered building of the Penjikent Bazaar feels like you're going back centuries. In the open air stalls around it, there's lots of good food to grab for your journey ahead, deeper into Tajikistan or across the border to Uzbekistan

This publication is made possible by the support of the American People through the United States Agency for International Development (USAID) Competitiveness, Trade, and Jobs Activity in Central Asia. The contents of this publication are the sole responsibility of Time Travel Turtle and do not necessarily reflect the views of USAID or the United States Government.
WANT TO KNOW MORE ABOUT TAJIKISTAN?
To help you plan your trip to Tajikistan:
Let someone else do the work for you:
You may also want to consider taking a tour of Tajikistan, rather than organising everything on your own. It's also a nice way to have company if you are travelling solo.
I am a 'Wanderer' with G Adventures and they have great tours in Tajikistan.
You could consider:
When I travel internationally, I always get insurance. It's not worth the risk, in case there's a medical emergency or another serious incident. I recommend you should use World Nomads for your trip.