World Heritage Site, Třebíč, Czech Republic
Religion has caused so much conflict over the years. So it's always nice to find examples where different faiths have lived together in harmony. Even if not everything seemed fair at the time.
In the small Czech city of Třebíč in the Czech Republic, three locations have been collectively named as a World Heritage Site – the Christian church of St Procopius Basilica, the Jewish Quarter and the Jewish Cemetery.
All are within metres of each other and have been for centuries… during a time of great global conflict between the two religions.
St Procopius Basilica
St Procopius Basilica came first. It was built between 1240 and 1280, after originally being part of a Benedictine monastery.
It was regarded to be so important that the city of Třebíč was founded around it to support the commercial needs of the residents.
It stands on a slope above the town, with views down to the river that cuts through the urban centre. From below, you can see the grand shape of the building, Romanesque with some Gothic features.
Going inside (which you can only do as part of a tour), you first pass through the door with incredibly-detailed stone carvings all around.
Inside, the church has the feel of harsh stone that is typical of the time but is decorated with golden artworks and glows purple from the stained-glass windows.
St Procopius Basilica is one of the first examples of Western architecture in Central Europe and for that reason alone would be a significant site. What makes it even more interesting is the neighbourhood that grew up right next to it.
The Jewish Quarter
In the middle of the 14th century – less than a hundred years after the basilica was completed – the first Jews arrived. They set up their new community in a part of Třebíč next to the river at the foot of the hill on which St Procopius Basilica.
Over the coming centuries, cruel social policies may have led to suffering for the Jews in this part of Europe – but it has left us with an authentic and homogenous cultural ghetto.
Jewish people were not allowed to live in other parts of the city so, as the population grew, they had to be creative with what they had. Houses were expanded – in whatever direction was possible – and the buildings ended up with complicated layouts.
To get into many homes, the residents had to actually walk through somebody else's house. By the late 18th century, there were an average of 17 people living in each house!
Despite all of this, though, there was very little racial tension in Třebíč.
Considering the overall situation in Europe, this was a relatively tolerant city. The policies to keep the homes of Jews and Christians separate were just that – policies. It didn't necessarily reflect the mood of the general public here.
And so, when Jews were granted equal rights in the 1860s, many of them stayed in Třebíč bit move to larger and nicer houses on the other side of the river.
The richest families tended to move to big cities like Vienna. Only the poorest stayed where they were
Today the Jewish Quarter has been preserved and restored – especially since it was listed as a World Heritage Site in 2003. Most houses have residents – but some have converted parts of their homes into shops, cafes or artist workshops.
There are also important historical sites like the Rear Synagogue, which was built in 1669.
The Jewish Cemetery
Up the hill above the Jewish Quarter, a short walk but far enough to feel separate, is the Jewish Cemetery.
These days it is quiet and peaceful and has the atmosphere of somewhere that is cared for but with a light touch, so as not to disturb nature too much.
The floor is covered with a thick growth of leaves, surrounding the tombstones that rise up from within the green carpet. Trees grow amongst the graves and their branches create a canopy of shade above.
The cemetery is large and spreads out along a slope with paths leading through it all. I find it calming to walk around and I take my time.
Most of the tombstones – particularly the older ones – have writing in Hebrew so I can't read what they say. I guess the dates on them are old, though. Almost as old as the houses I have just seen.
And that's ultimately what makes Třebíč so interesting. To have different parts of a city for different religions might seem odd for us today, but the tolerance between the Jewish and Christian residents is also something you might not expect in such an environment.
The symbols of this era have been well-protected and are all so close to each other.
Where is St Procopius Basilica in Třebíč?
St Procopius Basilica is on the northwestern side of the city, on the opposite side of the river to most of the development.
The official address is Zámek 1, 674 01, Třebíč, Czexh Republic.
When is St Procopius Basilica open?
Are there tours to Třebíč?
Třebíč is not the most exciting city in the Czech Republic and I can promise you that you won't have missed out on much if you skip it on a trip here.
But, at the same time, you won't be disappointed if you stop in and have a look around. It's just another interesting layer in the story of Central Europe's history.
THE BEST ACCOMMODATION IN TREBÍČ
The city centre is not that large but there is still a decent range of hotels to choose from, if you would like to stay overnight.
BACKPACKER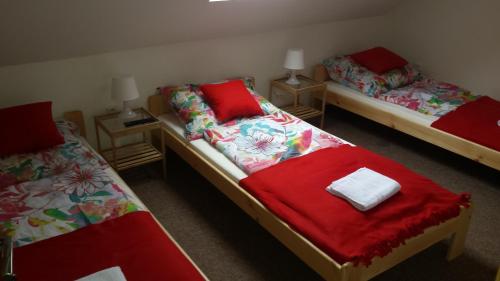 If you're looking for a budget option, then Bakin Bar has dorm beds available.
BUDGET
For something basic but comfortable and cheap, have a look at Hotel Alfa.
MODERN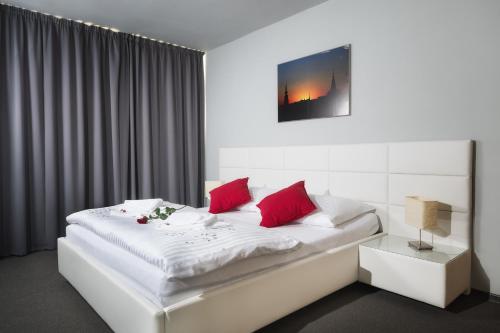 For a nice and modern hotel and a good rate, I would suggest trying Hotel Atom.
HERITAGE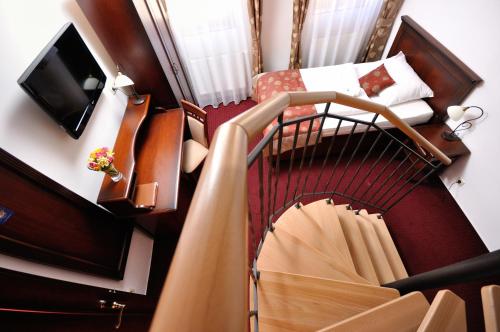 And if you're looking for somewhere with heritage value, then Hotel Joseph 1699 is the best in town.
WANT TO KNOW MORE ABOUT THE CZECH REPUBLIC?
Let someone else do the work for you:
You may also want to consider taking a tour of the Czech Republic, rather than organising everything on your own. It's also a nice way to have company if you are travelling solo.
I am a 'Wanderer' with G Adventures and they have great tours of the Czech Republic.
You could consider:
When I travel internationally, I always get insurance. It's not worth the risk, in case there's a medical emergency or another serious incident. I recommend you should use World Nomads for your trip.