The best things to do in Meknes, Morocco
This old imperial capital still has vestiges of its grand past – but it's also a wonderful way to explore an authentic Moroccan city.
There are lots of things to see in Meknes, from the bustling medina to a creepy prison – so here are my tips for what to do in Meknes when you visit.
It's been several hundred years since Meknes was the capital of Morocco. I don't think it minds, though. It seems pretty comfortable with its place in history.
The residents of Meknes may not have forgotten its once grand imperial position but many tourists appear blissfully unaware. It is not one of the cities that you often hear mentioned when visitors start to list the places they want to see in Morocco.
If it is, usually it's a side trip from Fez. Meknes is only about 60 kilometres away and there is a good connection by either road or train. Many tourists choose to pop over for the day and have a quick look around before heading back to the bigger bustling city.
Don't let the attitude of others influence you, though. Unless you are really tight for time, Meknes is worth an overnight stay.
It has one of the finest collections of historic sites in Morocco, all easy walking distance from each other and within a laidback old town mainly free from hassling touts and jostling crowds.
It is the kind of city you wish all the other Moroccan ones could be a bit more like.
To help you with your trip to Meknes, I have put together a list of the places I would recommend visiting when you're there. These are my top things to do in Meknes.
Bab Mansour
Bab Mansour is one of the enormous gates that mark the entrance to the old city through the fortified walls. This one is by far the most impressive and, hence, has become the most famous.
The colourful and detailed mosaics are still clear to see above the entrances and the marble columns are from the nearby Roman ruins of Volubilis.
There's a legend that when the sultan asked the gate's architect whether he could have done a better job, he said yes and was promptly executed. However, it's quite likely that the gat was actually finished after the sultan's death so this story couldn't possibly be true.
It isn't possible to go through the gate, although some of the interior is used as a small art shop. There is no entrance fee and it is easy to see from the outside.
Place Hedim
The Bab Mansour gate faces onto Place Hedim, the main square in the old part of the city. Place Hedim is much smaller than Marrakech's Jemaa el Fna square and also much less interesting. However, there will likely be a few people selling things, charming snakes and running games.
I wouldn't recommend trying to find the square as a sight in itself but you'll have to pass through it to get to some of the attractions worth visiting. It is a nice place to stop and have a coffee at one of the cafes along the edges. The are also good Moroccan food options.
The people-watching is fun from here and it's a relaxing vibe and a good chance to rest the legs. A coffee will set you back about 10dh and a meat tagine about 40-50dh.
Dar Jamai museum
At the other end of Place Hedim is the Dar Jamai museum. The building is a palace built in 1882 by a powerful family called Jamai. Even without the exhibition inside it, the museum is worth visiting just to see the architecture.
The room upstairs with rugs and cushions for the harem is particularly impressive.
The exhibits are housed in different rooms and are mainly pieces of art from various centuries. There are ceramics, jewellery and even an old prayer platform. The main rooms all face towards a lovely central garden that is relaxing and cool on a hot day.
It takes about 30 minutes to walk through the museum and look at the whole collection. Entrance is 10dh.
Mausoleum of Moulay Ismail
The mausoleum is the most important building in Meknes and is a must-see. It is just a few minutes walk from Bab Mansour away from Place Hedim.
Moulay Ismail was the ruler who created the imperial city of Meknes, so it's no surprise his resting place is so opulent. From the outside, it just looks like a large building but you then walk through several courts to an open air courtyard and then into the tomb itself.
Once you take off your shoes, you can walk around this lavishly-decorated part of the inner mausoleum and look into the room where Moulay Ismail was laid to rest.
There is no entrance fee but there will probably be a man who watches your shoes and points you in the right direction. You can tip him just 1 or 2dh.
Habs Qara prison
Just near the mausoleum is one the creepiest sights in Meknes. You wouldn't know it from above but the little skylights in the empty square outside it are actually providing the only sunlight to an enormous underground prison.
In the space below, Moulay Ismail kept up to 60,000 prisoners chained to the walls. They were normally used to build the palaces of Meknes during the day and then forced to sleep standing up at night.
You can see the prison for yourself. Above ground is an elegant 'Ambassador's Pavilion' where diplomatic meetings where held with emissaries from other countries. You buy your ticket there and then walk down a narrow set of stairs to the large open space with stone arches.
It is quite dark and there is not much to see except the vast space itself. Entrance is 10dh.
Heri es-Souani granaries
A little bit out of the old town, past the Royal Gold Course (which is protected by a huge wall), are the Heri es-Souani granaries. The site is made up of two main areas.
The first is the interior part which feels a bit like the Habs Qara prison except not as creepy. It was used to store huge amounts of grain (not people).
The exterior part of the complex also has rows of stone arches but it was used to as a royal stable to keep horses and other animals.
It is possible to walk here from the main part of town but takes about 30 minutes at a brisk pace. You might be better jumping in a taxi. Entrance to the granaries and stables complex costs 10dh.
Bou Inania Madrasa
Back in the centre of town, one of the most interesting sights to see in the medina is the Bou Inania Madrasa. This old Islamic school was founded in 1350 and is not to be confused with the one of the same name in Fez.
It is a beautiful piece of architecture with the detailed tiled and carved artwork on the walls that is expected of these institutions.
The madrasa is a little bit tricky to find in the maze of the medina but is obvious once you get to it. As well as the main courtyard on the ground floor, you can climb up to see the bedrooms and classrooms on the upper level and then also climb up to the rooftop for a view across Meknes. Entrance is 10dh.
Medina
Of course, the final thing to mention is that the old medina of Meknes is a sight in itself. Like those of other cities, it can feel a bit like a labyrinth and it is easy to get lost (although that is half the fun).
You won't be hassled here nearly as much as anywhere else and most people are very friendly and will be happy to point you in the right direction.
There is good quality shopping here and it will often be a bit cheaper than the tourist prices in Fez. There is a concentration of shops near the main square aimed at the international crowd but the deeper you go into the medina, the more local the shops will become.
If you would like to have a guide, here are a few suggestions of day trips that also include some other nearby sights.
THE BEST ACCOMMODATION IN MEKNES
There are quite a few nice riads around the medina where you'll find a good range of accommodation.
BACKPACKER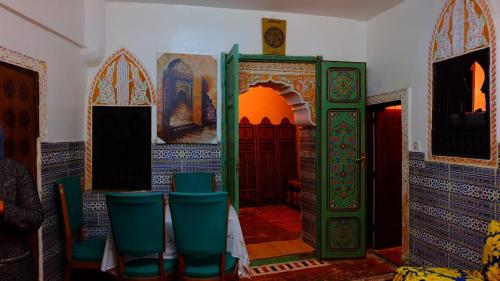 With cheap rooms near the train station, Mille Et Une Nuit is a good riad for backpackers.
BUDGET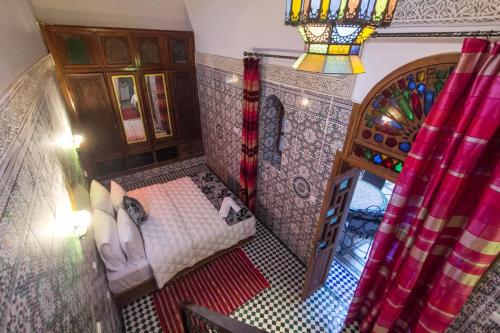 For a budget option, Dar Meknes Tresor has comfortable rooms and a delicious breakfast.
BOUTIQUE
For something a bit more modern, Riad Zidania has renovated rooms and a wonderful terrace.
LUXURY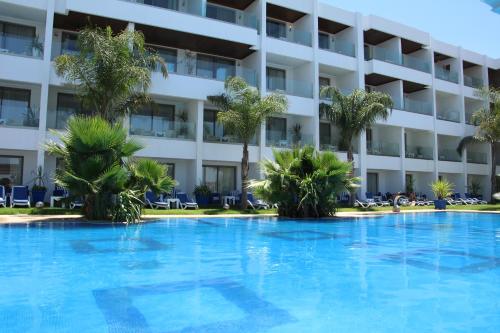 You'll find very comfortable luxury at the four-star Zaki Suites Hotel on the edge of the medina.
WANT TO KNOW MORE ABOUT MOROCCO?
Let someone else do the work for you:
You may also want to consider taking a Morocco tour, rather than organising everything on your own. It's also a nice way to have company if you are travelling solo.
I am a 'Wanderer' with G Adventures and they have great tours in Morocco.
You could consider:
When I travel internationally, I always get insurance. It's not worth the risk, in case there's a medical emergency or another serious incident. I recommend you use World Nomads for your trip.