Portuguese fortification of Mazagan, El Jadida, Morocco
Two women are standing in the street shouting at each other, their loud passionate voices ringing out and drawing a crowd. A young man runs up to join them, shoving one woman and defending the other. The shouts become even louder.
I can't tell what they're arguing about – the language is foreign to me. Perhaps it's some kind of territorial dispute.
This is not how I expected to discover the old city of El Jadida on the Moroccan coast but perhaps, in some ways, it's fitting. After all, El Jadida is the product of a fight for land in North Africa.
It was built in the 16th century by the Portuguese and was then called Mazagan. (It was renamed El Jadida, which means 'the new', in the 19th century by the Moroccans.)
The city was one of the earliest European colonial outposts in this part of the world as the affluent countries moved south, looking for riches.
The location was important because, at this stage in history, one of the key trading routes for the Europeans was down the west coast of Africa and on to India. Control of the ports along this path brought with it a great advantage. And, for this reason, it was critical to protect these settlements.
El Jadida was constructed as a fortified town on the coast next to a large bay. It's about 100 kilometres south of Casablanca and takes about an hour and a half on the train from there.
While there's a relatively large modern city that sprawls out, the historic section is easy to spot. The enormous stone walls around it, designed to protect the Portuguese from attack, have also protected the layout and authenticity from the advances of modernity.
Although the screaming women are the first thing I see after I've walked through the small gate into the city, I quickly hurry in a different direction so I don't get caught up in a Moroccan street brawl.
I duck down an alleyway and emerge in a small square where some boys are playing soccer. There's still some shouting going on but at least it's not in anger this time.
I take another alley and things are much quieter here. Although the old city of El Jadida is obviously popular with tourists, there are very few shops and restaurants here. I'm surprised that most of the streets just have doors to houses along either side.
The cistern and the Catholic church are really the only remaining buildings from the Portuguese times. The rest of what you can see here came later as Moroccan influences started to creep in during the 18th century.
This doesn't take away from the atmosphere at all, though. This blending of styles and historical periods within the original layout is actually one of the things that makes El Jadida so special.
On the sea side of the town, I climb up a ramp to the top of the fortifications. These walls with their bastions and ramparts are also from the original Portuguese settlement and are incredibly well preserved.
You can walk along the top of the wall and see canons pointing out to the water. There are great views across the rooftops, out to sea and into the small harbour where fishing boats are moored.
I peer over to the outside of one of the walls. It's a long way down. This would be a hard place to attack – and I guess that's the whole point!
It never was successfully invaded, in fact. The Portuguese handed it over in 1769 as part of a peace treaty with Morocco. Not that it was a completely peaceful transition, mind you.
The Portuguese were forced to leave through the gate that led out to sea without taking any of their possessions. They left mines at the main land entrance which exploded when the locals tried to come in.
Partly because of this destruction, the old town was left abandoned for about 50 years before it was decided to make it liveable again.
On my way out, I pass again the street where the two women had been arguing. I look for them but they're gone now and everything is quiet.
A man sitting outside a shop suggests I look at his souvenirs (I don't). El Jadida once more at peace.
THE BEST ACCOMMODATION IN EL JADIDA
Although you can visit as a day trip from Marrakech or Casablanca, there are some great places to stay in El Jadida.
BACKPACKER
There aren't really any hostels here, but you'll get a great price for a single room at Dar El Jadida.
BUDGET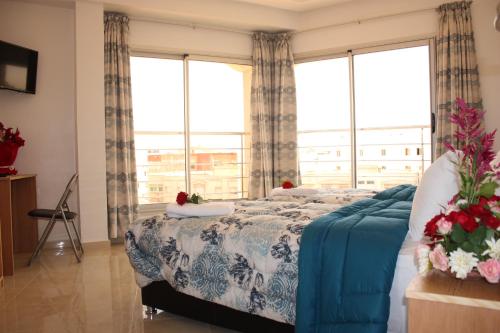 For a clean and comfortable budget room, I would recommend Hotel La Place.
BOUTIQUE
LUXURY
WANT TO KNOW MORE ABOUT MOROCCO?
Let someone else do the work for you:
You may also want to consider taking a Morocco tour, rather than organising everything on your own. It's also a nice way to have company if you are travelling solo.
I am a 'Wanderer' with G Adventures and they have great tours in Morocco.
You could consider:
When I travel internationally, I always get insurance. It's not worth the risk, in case there's a medical emergency or another serious incident. I recommend you use World Nomads for your trip.