Hiking around Karlstejn Castle, near Prague, Czech Republic
As Prague grows in popularity, the Czech capital is becoming more crowded by the year – particularly in the warmer months. It's easy to see why people are visiting.
The centuries of history, the beautiful architecture, the modern culture, the cheap food and free-flowing drinks. It all makes for a great holiday.
But you need to look beyond the central streets to discover the whole offering. The Czech Republic has some incredible nature and you don't need to go too far to find yourself amongst it.
There are some natural wonders a little bit further away from Prague, like the Bohemian Paradise… but today I want to tell you about a wonderful hike that you can easily do as a day trip.
The instructions and descriptions are all below. It'll take you through some spectacular scenery but also introduce you to a castle, a quarry, an old church and some small country towns.
There aren't any hiking tours that will take you to this spot, but there is this great bike tour of the same area, which includes the train from Prague.
If you have the time on a visit to Prague, I strongly suggest you try to do this, to see more than just the city.
I'm not going to give exact hiking instructions for every step because most of the paths are marked – but you can refer to this map I've made to see the suggested route.
Karlstejn Castle
To get to the start of the walk, catch the train from Prague's central train station to a town called Karlstejn. (The journey is 40 minutes long and costs 55Kč (about US$2.10).)
You may notice some bars and cafes opposite the train station in Karlstejn. I grabbed a morning coffee here to start the day and, having got used to the Czech Republic, was not too surprised to see most other people having a breakfast beer.
Walk up the hill through the town, past the charming little shops with souvenirs and drinks, up to Karlstejn Castle.
The castle is a tourist attraction in itself so it's likely to be quite busy here.
Karlstejn Castle was built in 1348 by Charles IV, one of the most important historical figures of the country. As well as being the King of Bohemia, he was also the Holy Roman Emperor, and he had a large impact on many of the buildings in Prague.
The castle was designed to hold the crown jewels and was used a country retreat from the capital.
You can walk through the exterior parts of the castle without a ticket and check out the views from the walls. If you're interested in having a look inside, I've got some information here to help you:
Where is Karlstejn Castle?
Karlstejn Castle is at the top of the hill in the small town of Karlstejn, which you can drive to or catch the train from Prague. You can see it on a map here.
How much does Karlstejn Castle cost?
You can walk into the external areas of the castle for free. To do the main tour, it costs 270CZK (US$10.70) for adults and 180CZK (US$7.10) for concession. A family ticket for 2 adults and a 4 children (maximum) is 860CZK (US$34).
When is Karlstejn Castle open?
The opening times for Karlstejn are different during the year and it's worth checking the website if there are any changes.
It is open in the last few days of December and first week of January (1000 – 1500) then closed the rest of the month.
In February it's open just Saturday and Sunday (1000 – 1500).
In March it's open Tuesday to Sunday (0930 – 1600).
In April it's open Tuesday to Sunday (0930 – 1700).
In May it's open Tuesday to Sunday (0930 – 1730).
In June it's open Tuesday to Sunday (0900 – 1730).
In July and August it's open every day (0900 – 1830).
In September it's open Tuesday to Sunday (0930 – 1730).
In October it's open Tuesday to Sunday (0930 – 1630).
In November it's open Tuesday to Sunday (1000 – 1500) until the 12th and then it's open only Saturday and Sunday(1000 – 1500) until December 26.
Are there tours to Karlstejn Castle?
If you are mainly interested in seeing Karlstejn Castle, I would recommend looking at one of these tours to make the trip easier:
Otherwise, let's continue with the hike!
At the northern edge of the castle, you'll find the start of a path that leads down into the forest.
It goes down through the trees into a valley and then opens up onto a road for a while. You can continue to walk along the road for a while or veer off slightly to the right to find a walking track that takes you through the forest.
You'll reach the small town of Mořina and go through the outskirts before heading off to the left and up a hill through fields. This brings you to the first quarry.
Velka Amerika Quarry
Who would have thought a quarry could be so beautiful? Velka Amerika was dug up in the early part of the twentieth century for limestone and it's just been left mainly untouched since then. Water has filled the base, creating a lake that is up to 18 metres deep at some points.
The Velka Amerika quarry is about 800 metres long and you'll approach it from the east. I would suggest walking on the southern side, all the way to the western end.
There is a safe road along this side (that doesn't give any views) or there is a track along the edge which gives you a great view but is a bit dangerous. Be careful if you go that way.
The best place for photos is at the western end, where there are lots of places to stand.
From here, follow the path that continues to the west. You'll pass another quarry called Mexiko on your left but it's hard to see unless you scramble up through the trees to one of the viewpoints.
After a little while, you'll hit yet another quarry. This one is called Small Amerika and there is a nice area to stop here for a rest and look down on the lake at the bottom.
You will probably have noticed that there aren't many people around anymore. The casual tourist has disappeared and now it's just a few hikers left along the paths. There's quite a long walk now of at least an hour until the next stop but it's through beautiful forest and along peaceful undulating tracks.
Svatý Jan pod Skalou
Eventually you'll get to the small town of Svatý Jan pod Skalou, nestled in a valley with green hills around. Literally, the name means 'Saint John under the rock'.
The highlight here is the church called the Nativity of St John the Baptist. It was built in 1657 in the Baroque style and it's worth having a look inside. The church is quite simple but what makes it so interesting is that some of the rooms are made out of caves and are cool and dark.
There are a couple of cafes and restaurants in Svatý Jan pod Skalou and I think this is a good place for a late lunch, if you've got here in time. You can sit outside and have a beer (or two) with your meal and have a nice rest before finishing the walk.
The final stretch of the walk is mainly along roads – although they're not particularly busy ones and there are some pretty landscapes along the way until right at the end when you start to come back into an urban area.
This is the town of Beroun, which has a population of about 20,000 people. From here, you can catch a train back to Prague. (The train takes about 45 minutes and costs 68Kč (about US$2.70).)
The whole excursion will probably take most of the day if you take it easy, stop along the way, and explore a bit of Karlstejn castle. It's a perfect way to see some of the beautiful scenery of the Czech Republic while still basing yourself in Prague.
If you're looking for some other ways to explore the area, this bike tour is a lot of fun (and a great alternative to the hike).
There are some other fun options here that I would recommend:
Please let me know if you give the hike a try and if you have any comments about the route.
THE BEST ACCOMMODATION IN PRAGUE
Prague has very affordable accommodation – and it has amazing luxury. You'll be able to find whatever you're looking for.
BACKPACKER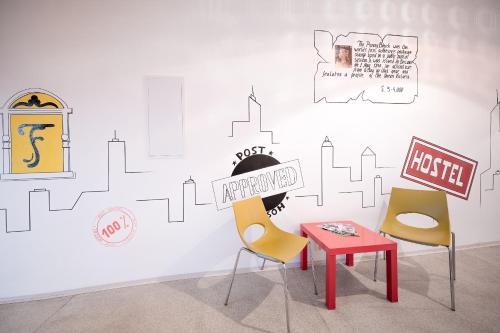 If you're looking for a budget option, I would suggest the Post Hostel which is modern and friendly.
BUDGET
BOUTIQUE
LUXURY
And if you want to splurge for somewhere really cool, have a look at the BoHo Prague Hotel.
WANT TO KNOW MORE ABOUT THE CZECH REPUBLIC?
Let someone else do the work for you:
You may also want to consider taking a tour of the Czech Republic, rather than organising everything on your own. It's also a nice way to have company if you are travelling solo.
I am a 'Wanderer' with G Adventures and they have great tours of the Czech Republic.
You could consider:
When I travel internationally, I always get insurance. It's not worth the risk, in case there's a medical emergency or another serious incident. I recommend you should use World Nomads for your trip.