Last Updated on
Budweiser Factory, České Budějovice, Czech Republic
What's in a name? When it comes to Budweiser, the answer is years of bitter trademark disputes across the world.
Most people – myself included – probably think of the American beer when they hear the name. Budweiser (the US company) spends millions of dollars in advertising at sporting events that are telecast around the world.
It's no wonder that's the first association we make.
But in actual fact, in the majority of countries, if a beer is called Budweiser it's probably coming from this relatively innocuous brewery in the city of České Budějovice in the Czech Republic.
The name says it all. In German, České Budějovice is called Budweis. The name quite literally says that it is from this city. So how did a US company end up using it?
Well, it started when a brewery from this Czech city started exporting its beer to the US in 1871. Five years later, in 1876, the American distributors started using the name Budweiser.
It wasn't for another couple of decades, in 1895, that another Czech brewery was formed in České Budějovice. It called itself Budweiser Budvar.
A seemingly innocent enough name, referencing the city it was based in, but it was the beginning of legal action that is still going on more than a century later.
I'll come back to the lawsuits in a minute. To understand a bit more, though, let me take you into the heart of the Czech Budweiser.
Budweiser Budva factory tour
I am staying in the city of České Budějovice for a couple of nights during my travels through the Czech Republic and I decide to take a tour of the Budweiser factory one afternoon.
The centre of the city has a historic feel, with a market square of colourful facades topped with metal spires. But if you walk for about 30 minutes you hit a more industrial area on the outskirts where the brewery is located.
I sign up for the daily public tour and, as I'm led through the compound, I can see all the action.
Forklifts whizz by, machinery whirs away, and crates of beer are stacked up everywhere.
It's clean and efficient and there's something modern about the technology… but it also has the feel of European tradition to it.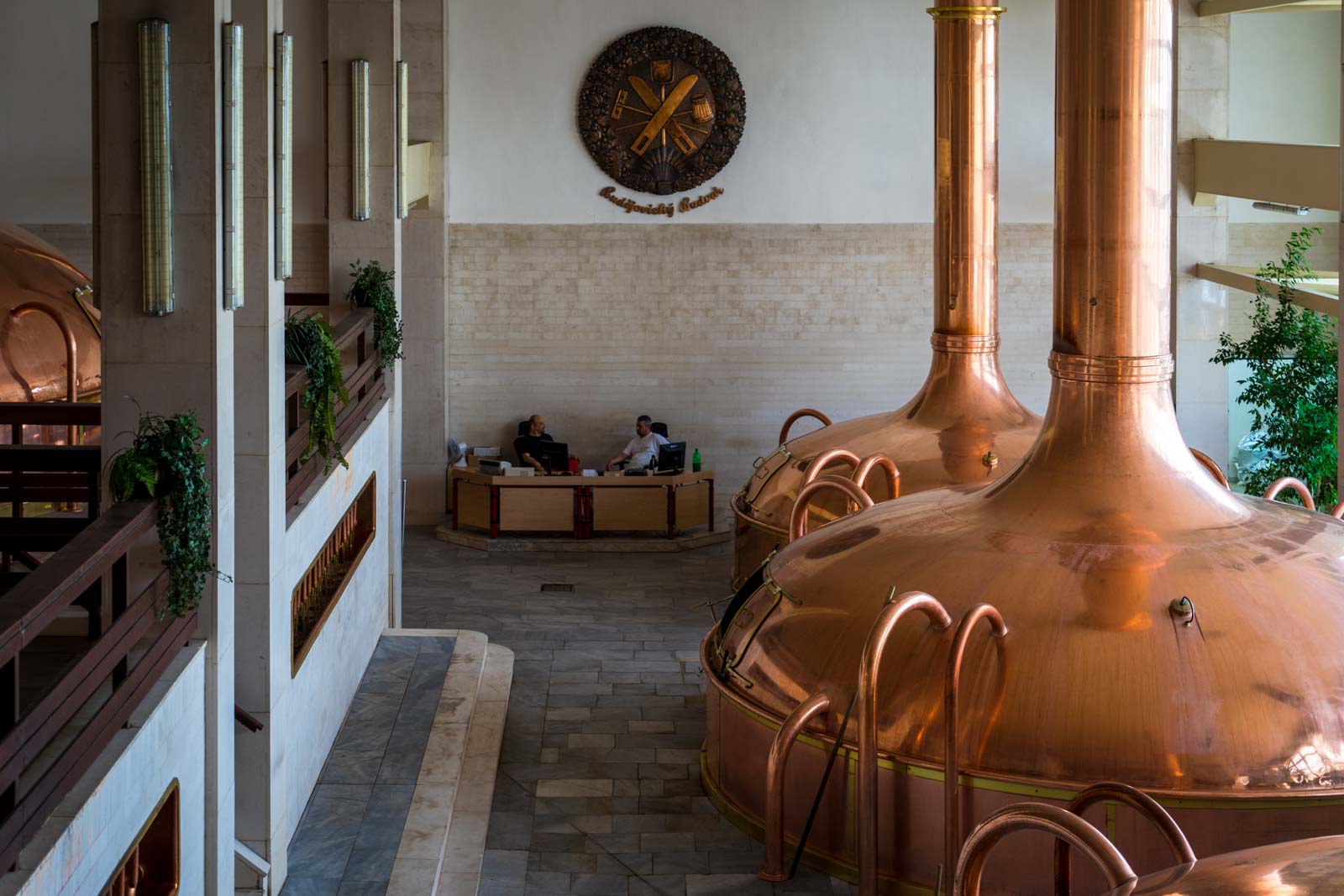 In the brew house, for instance, the historic copper tops of the tanks stand between walls with a slightly Soviet feel.
In a cellar with more tanks – these ones used to mature the beer – the corridor is concrete with fluorescent lighting and I feel as though I'm in an Eastern European dungeon (not that I've ever been in one, for the record).
In the cellar, everyone in the tour is given a cup of beer straight from the tanks – before the final processes like bottling and pasteurisation have taken place.
Pure, fresh. Untouched by the techniques that allow it to be exported, before it has any labels glued on that will associate it with the legal conflict beyond these walls.
It's just beer and it's the taste that matters. The genuine article, perhaps.
My favourite part of the tour comes in the packaging hall. The enormous room is filled with sound and movement, as conveyer belts rattle bottles along at high speed.
There's a jangling ricocheting through the air, as glass constantly taps glass.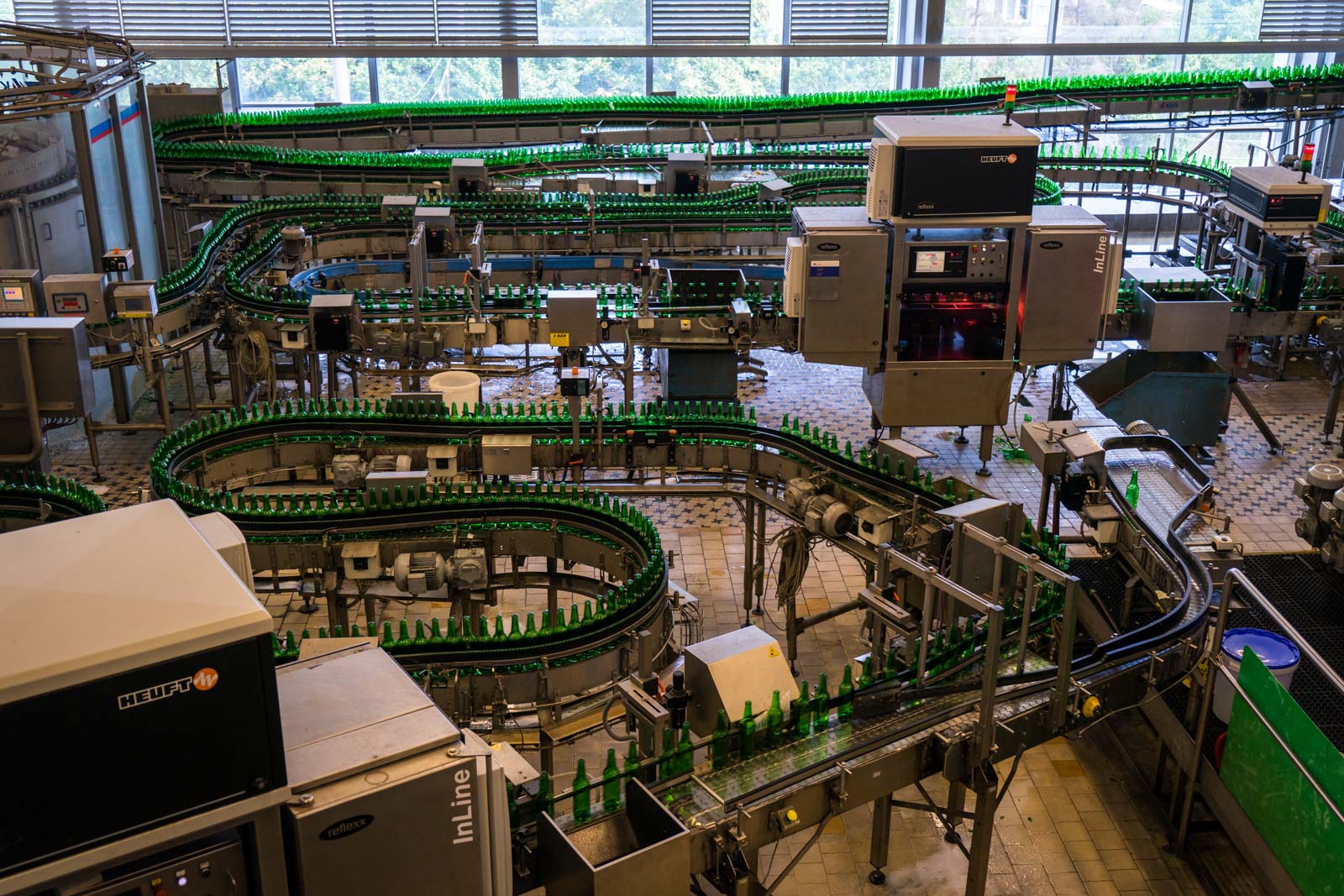 The tour group watches it all from an elevated metal walkway that crosses from one side to another. I look over, down towards the machines, and it's almost like a mini city, with large highways, smaller roads and parking stations… except with bottles instead of cars.
The bottles pass through different machines that perform different tasks – washing, filling, labelling, closing, packing. Until there's a final product.
40,000 bottles can be processed here in an hour!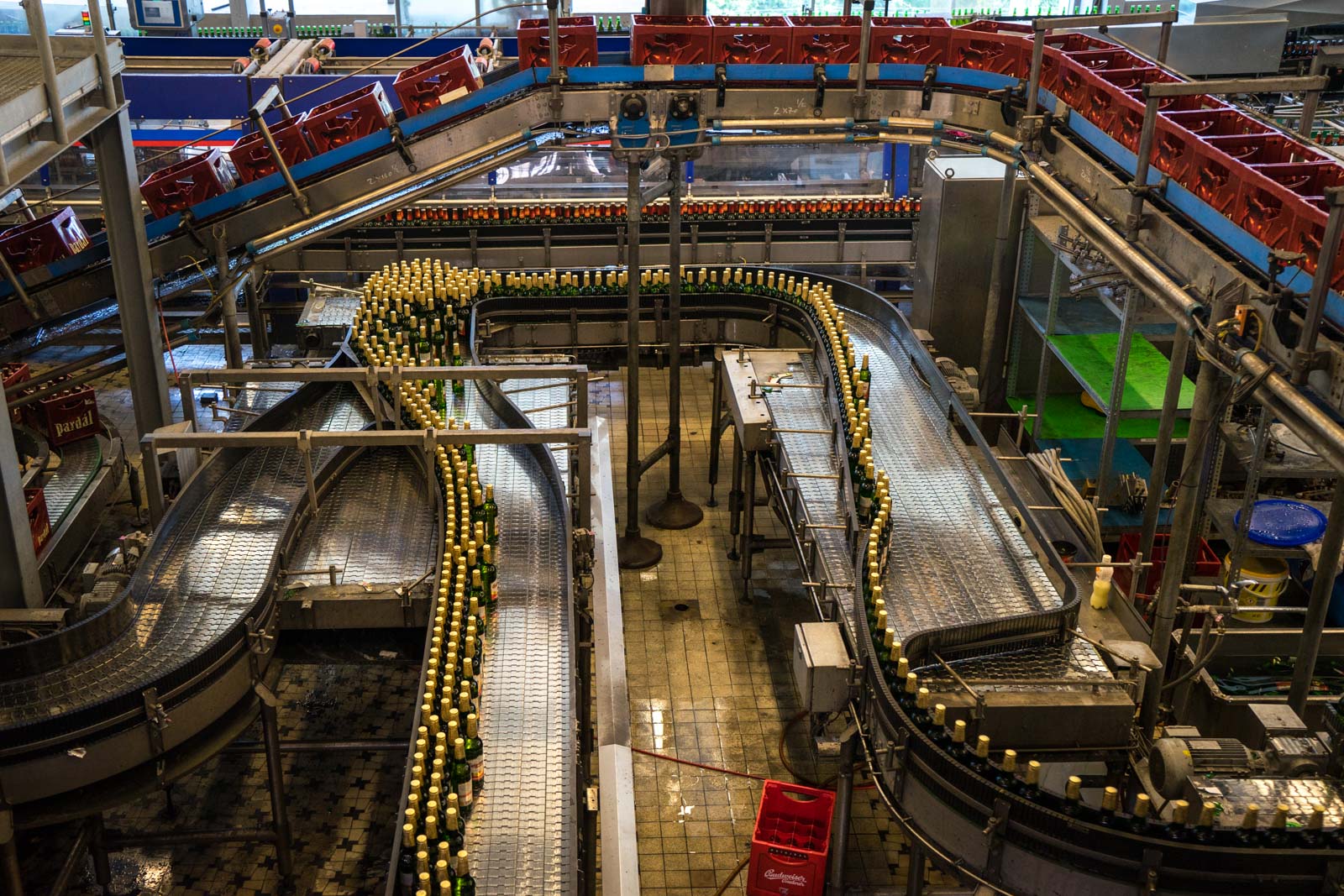 Budweiser vs Budweiser Budva
The Budweiser Budva brewery here in České Budějovice is a large operation but it has elements that remind you it's still a local company.
For instance, the water for all the beer comes from the same site, from the ground below. About 40 litres is brought up every second from an artesian well that is 320 metres deep.
The American beer… well, it is made in 12 breweries in the US, 14 breweries in China and in 9 other countries. Not really comparable.
And that brings me back to the trademark dispute. It has been going on for more than a century, since 1907, and has involved more than 100 individual court cases across the world.
The current state of play is that the two companies have the right to market their product as 'Budweiser' in different countries.
For instance, if you drink a Budweiser in Australia, the UK or Canada, it will be the American one. If you drink a Budweiser in most of Europe, it will be the Czech one.
When the competitor is selling their product in a country where they don't own the trademark, they call it something different.
Ultimately, if you know what you're getting, it doesn't make a difference. But I do feel sorry for those who drink the American beer, thinking they are getting the Czech one.
That's the one thing I do have a strong opinion on, having spent a bit of time in the Czech Republic. The beer here is great and the world would be a better place if you could easily get it everywhere!
How do you get to the Budweiser brewery?

The address of the Budweiser brewery is K. Světlé 512/4, 370 04, České Budějovice. Click here to see it on a map.
It takes about 30 minutes to walk from the main train station or the centre of the city. Or use tram #2 to get there by public transport.

When is the Budweiser brewery tour?

From March until December, there is just a tour each day at 1400 (2pm).
In July and August, there is an extra tour at 1100 (11am).
In January and February, there are no tours on Monday or Sunday.

How much does it cost for a Budweiser brewery tour?

The tour costs 120Kc per person (US$4.70), with a concession ticket costing 60Kc (US$2.35). Children aged 6 or under are free.
The tour includes a guide in English, German or Czech. It takes about an hour.

Where should you stay in České Budějovice?

If you're looking for a budget option, I would suggest Cuba Bar and Hostel in the centre of the city.
For something a bit local, Pension Macelis is a good option because it has a popular beer garden on site.
For a cool and stylish option, you should try U Tří Hrušek Suites & Apartments.
And if you're after a bit of luxury, have a look at Zvon Design Suites.

Need more information?

For more information, you can visit the official website here.
WANT TO KNOW MORE ABOUT THE CZECH REPUBLIC?
Let someone else do the work for you:
You may also want to consider taking a tour of the Czech Republic, rather than organising everything on your own. It's also a nice way to have company if you are travelling solo.
I am a 'Wanderer' with G Adventures and they have great tours of the Czech Republic.
You could consider:
When I travel internationally, I always get insurance. It's not worth the risk, in case there's a medical emergency or another serious incident. I recommend you should use World Nomads for your trip.