Like much of Southeast Asia, Vietnam does not have as many World Heritage Sites as it deserves. However, it does have considerably more than most of its neighbours.
What is nice about the collection of World Heritage Sites in Vietnam is that there is a good variety in those that have been chosen. There are some impressive natural sites, some older cultural places and a couple of more recent (although certainly not 'modern') locations.
In general, the sites show off either the dramatic landscapes of the country or the evolution of the cultural history during the days of local empires. There is certainly nothing that relates to the turbulent times in the 20th century when communism and war defined Vietnam. (Perhaps those will come later when enough time has passed. Keep in mind, it's the national authorities who nominate sites and that period is not something they are trying to remember at the moment).
Some of the World Heritage Sites in Vietnam are quite famous and are the kinds of places that tourists would want to visit anyway – I think here of Ha Long Bay and Hoi An, for example.
Sites like the Hue Imperial City and the Trang An Landscape are less popular but still get a fair amount of visitors. And then there are some that have virtually no tourism and are not known at all by foreigners (or even locals, for that matter).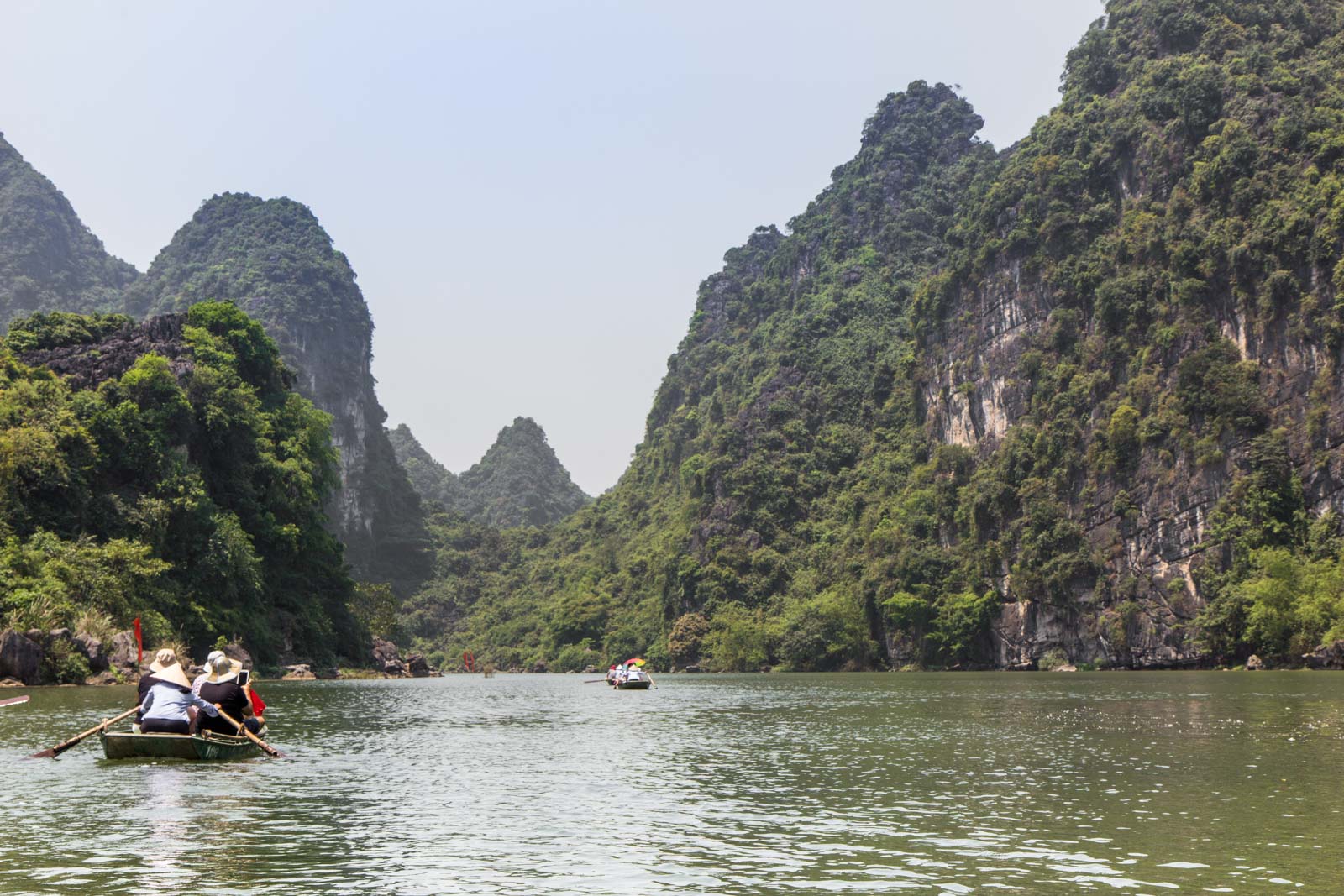 Let me run you through each of the sites and give you my advice on whether they are worth visiting. Each has a significance and is interesting in its own way… but does that mean you should spend some of your holiday time seeing them?
To start, I have put together this map so you can see where each of them is located. I'll go through them from north to south.
Ha Long Bay
One of the most famous sites in Vietnam, Ha Long Bay, is also a World Heritage Site. It's easy to see why when you visit – it's an absolutely beautiful landscape and there aren't many other places in the world that look like it.
The bay is dominated by the dramatic limestone karsts covered in green that rise up from the water. From a distance they're like an armada of stone and, close up, like the tips of Neptune's trident rising up.
Most people visit as part of a boat cruise for a night or two. It's certainly a wonderful way to see the bay, floating amongst the mountains, experiencing the sites from different perspectives. Unfortunately, the process of booking one of these boat trips can be a bit tricky if you're not prepared.
The other problem that you'll notice is that so many boats are having a detrimental effect on the environment. Some work is being done to address this but constantly seeing so many other tourists on cruises doesn't take away from the atmosphere a bit. Still, a must-do when you're in Vietnam.
Imperial Citadel of Thang Long
There are lots of interesting things to see in Vietnam's capital city, Hanoi, but only one of them is a World Heritage Site. It's also one that you would be very unlikely to visit – the Imperial Citadel of Thang Long.
The citadel is near the Mausoleum of Ho Chi Minh but you would hardly notice it there, hidden away behind a large wall. Once you do go in, you may find it rather underwhelming.
The reason the site is significant is because it has been a seat of power for 13 uninterrupted centuries. It started with a Chinese fortress in the 7th century and then different successive empires took over and built a new base.
The problem is that there isn't much to see. Most of the buildings there are modern and have no historical significance. There are a few original constructions, including an important set of steps. And an archaeological dig on site will presumably find some more artefacts.
The good thing is that it is very convenient to visit because it is close to other tourist sites. And, in fact, it does have one point of interest which has nothing to do with the UNESCO listing – the house and bunker where the communists planned their campaigns during the Vietnam War!
Trang An Landscape Complex
I'm just going to put this out there – I really like the Trang An Landscape Complex as a place to visit. It's one of the more unusual World Heritage Sites in Vietnam. I refer to it as the 'Inland Ha Long Bay' because it has the same limestone karsts and the same kind of environment – but it's based around small rivers rather than a bay.
The best way to explore the area is with one of the small boat trips that you can take long the waterways. It's a tiny wooden boat with just a few passengers and rowed by a local woman (I don't know why they are all women). You'll cut through caves in the mountains and float around Trang An for a few hours.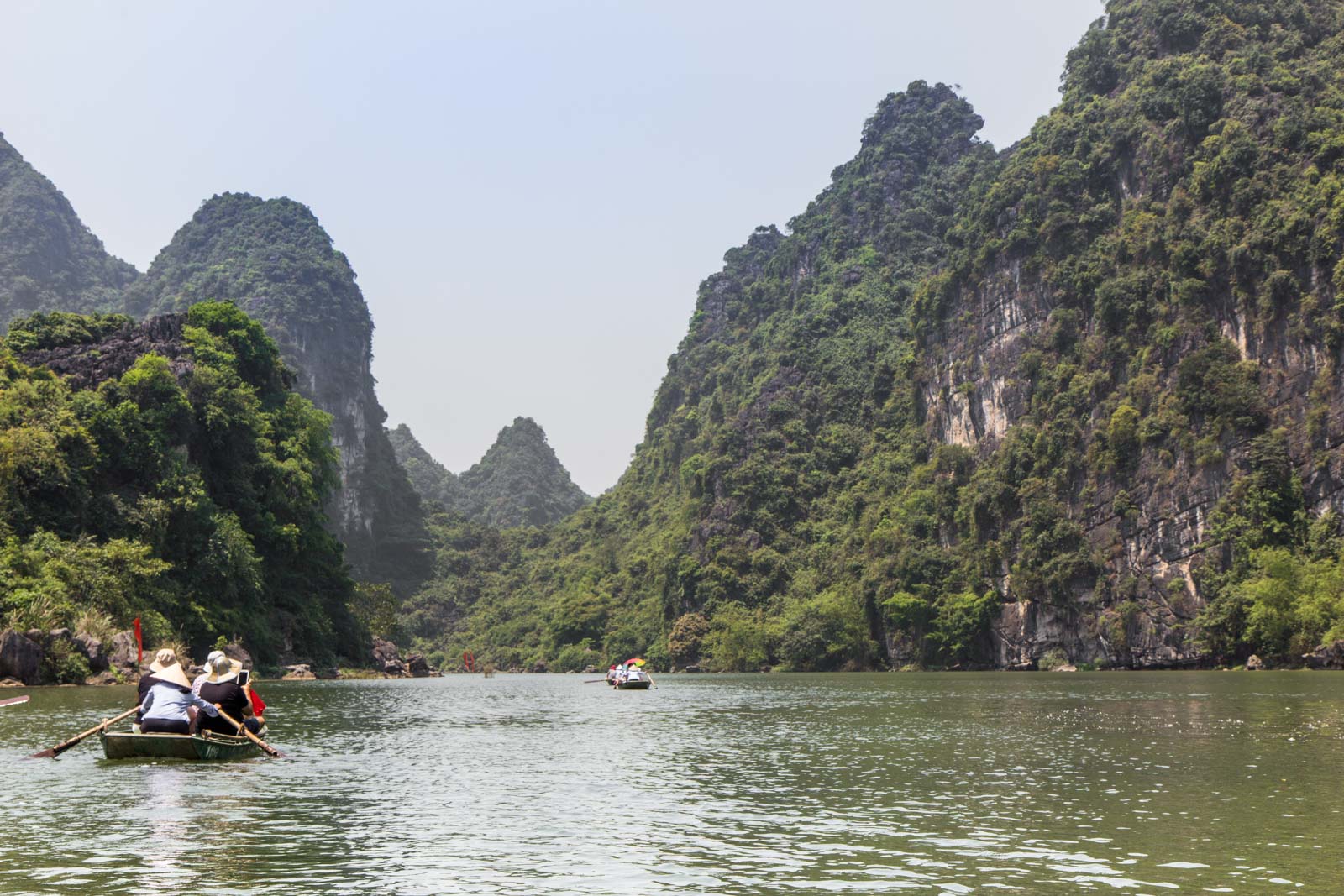 The closest city is Ninh Binh and it's easy enough to do it as a day trip from Hanoi with a tour or on the train. However, I would suggest spending the night as you're passing through, north or south. As well as the boat ride, you can explore by bike or on foot and see more of the area.
Citadel of the Ho Dynasty
If you haven't heard of the Citadel of the Ho Dynasty, don't worry. I am pretty sure nobody has. It is in the middle of nowhere and is rather unimpressive.
It was built in the 14th century as the capital for the Ho Dynasty. The things is, though, that dynasty only lasted for six years so there wasn't time to build anything too dramatic. And almost everything that was constructed during that time no longer exists.
The main thing you can see at the site is the large stone wall that surrounded the citadel and the big gates on each side. You can walk along parts of the wall and that is quite fun. In the middle of it all, the land is now mainly used by farmers. In fact, I found that watching them work and have a chat with a couple of them was the most enjoyable part of the visit.
If you're trying to get here by public transport, it is also quite tricky. There are buses that stop here but they are not particularly convenient. I would suggest you skip this site unless you have a particularly keen interest.
Phong Nha-Ke Bang National Park
One of the undiscovered gems of Vietnam is the Phong Nha-Ke Bang National Park. Sure, it has a fair amount of visitors these days but it is certainly not on the main tourist trail.
The park is significant for its caves. In particular, it has the world's biggest cave – so huge that you could fly a Boeing 747 through it. Unfortunately only a very limited number of people are allowed into that cave and it costs thousands of dollars and you need to plans many months in advance.
Thankfully, there are plenty of other caves you can see. One of the most popular is Paradise Cave. It is 34 kilometres long (although you can only walk through the first kilometre on your own). The cave wasn't discovered until 2005 when a local farmer stumbled across it.
I would suggest staying in Phong Nha and doing one of the tours from there that takes you to a few of the caves. This is one of those World Heritage Site you won't regret going to!
Complex of Hue Monuments
The most imposing of the cultural sites in Vietnam is the Imperial City in Hue. This enormous complex was the capital for the Nguyen Dynasty, which was the first to united all the land is modern-day Vietnam. The Nguyen Dynasty did this in 1802 and then ruled for the next 143 years.
The Imperial City is within a set of enormous walls that form a square with each side about two kilometres long. It can take a long time to explore the area inside, walking between different sections and having a look inside the palaces and temples. Unfortunately a lot of the site was destroyed during the Vietnam War but there are quite a few original buildings and others have been restored or rebuilt.
A lot of people pass through Hue on their travels (often just on the way to Hoi An) but it's certainly worth stopping to see this site, even if you don't spend too much time in the rest of the city.
Hoi An Ancient Town
There is no denying the charm of Hoi An and the old centre of it has been designated as a World Heritage Site. It was a big trading hub between the 15th and the 19th centuries and so it was full of wealth and cultural influences.
Funnily enough, it was the economic decline of the town in the 19th century that saved it. Because there was no need to expand or build new developments, it was left how it was – and now we get to enjoy it today, wandering through the streets, sitting by the side of the river, shopping in the markets.
Be warned, though, Hoi An is very crowded. It's not that big and it's one of the most popular tourist spots in Vietnam. It is certainly worth visiting but you may need to explore more than just the centre to appreciate it.
My Son Sanctuary
One of the parts of Vietnamese history that people know little about is the period of the Champas. They built this temple complex from the 4th century and added to it and worshipped at it until they were attacked in the 11th century and fled.
The My Son Sanctuary with all the temples is very close to Hoi An and most people visit as a half-day trip from the town. A lot of the structures are still standing while you'll be able to see other ones being restored.
This may not be one of the famous World Heritage Sites in Vietnam but I really like it and it's something a little bit different. It's not as impressive as other temple complexes in Cambodia or Thailand but it's from a similar period so it's interesting to compare.
And ultimately that's why I love visiting these World Heritage Sites. Not every one of them was amazing… a couple weren't really worth the effort. But I did learn something at each site and it added to my understanding of Vietnam. There were also a couple that I would not have visited if they weren't World Heritage Sites but I am extremely glad I did!