Last Updated on
Street art at Patarei Prison, Tallinn, Estonia
One of the most terrifying experiences I had in Tallinn was inside the abandoned Soviet prison on the outskirts of the Old Town.
Patarei Prison was used for decades and you can only imagine the horrors that took place inside. The torture, the executions, the starvation, the insanity.
Walking through it and exploring with nobody else around sends shivers up your spine.
I have written about what it's like to wander through Patarei Prison and see the abandoned prison complex in all its creepy authenticity.
I would recommend you check out that post and have a look at some of the photos, if you're interested in knowing more.
In this post, though, I want to share a more modern and creative side to this notorious compound in the capital of Estonia. Because, in some ways, what is happening at Patarei is representative of what is happening in Tallinn itself.
While there are reminders of the Soviet era everywhere in the city – from the architecture to the culture – there is an emerging artistic subculture amongst the younger generation.
These are the people that in some other cities might be called 'hipsters', although I'm not sure that would be an entirely accurate description here.
But they have an interest in modern design, in tech, in cool cafes, in pop-up bars… and in art. You know the crowd I mean.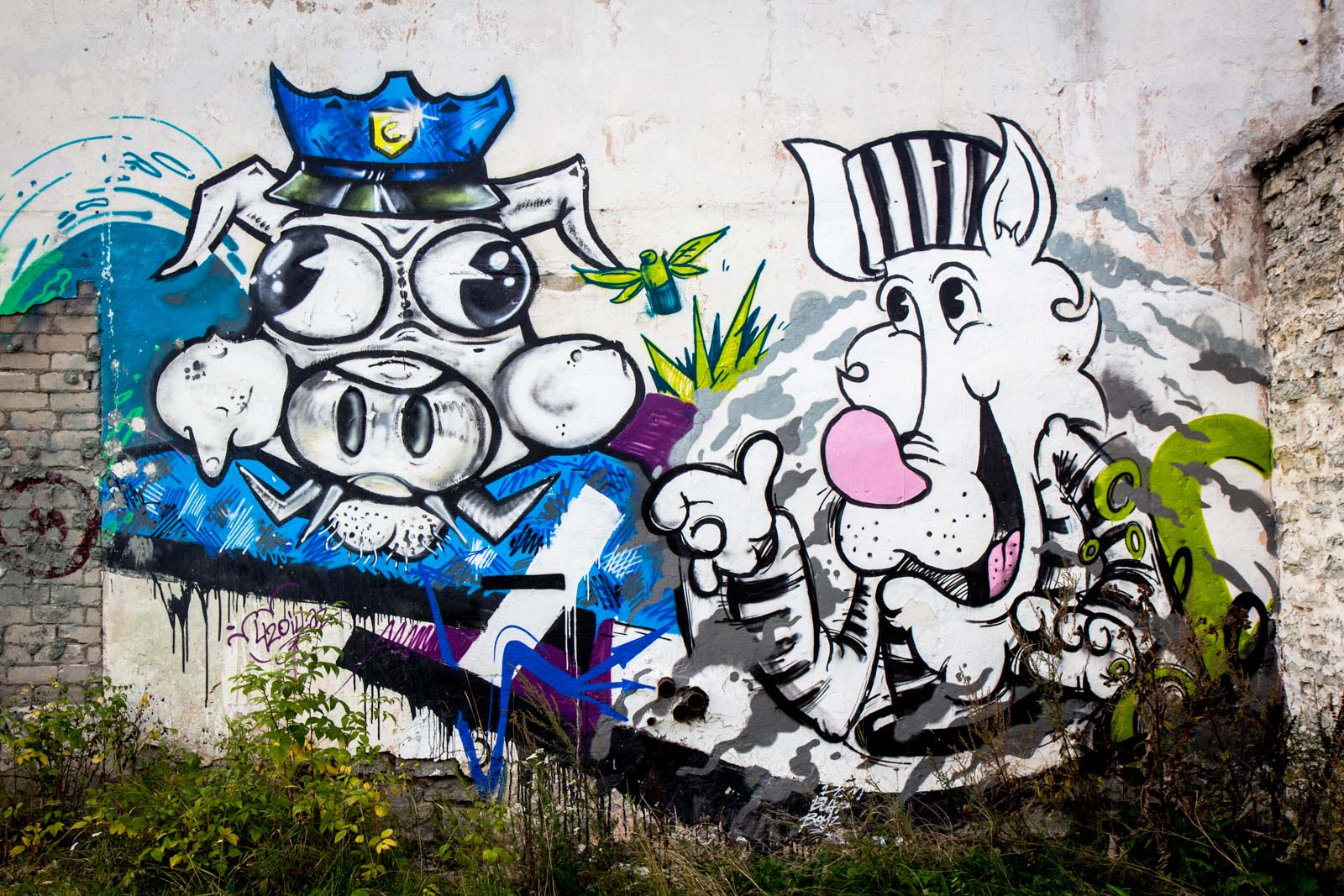 At some point, some of them decided that the abandoned prison just a short walk from their homes could be a canvas for their work.
It's not clear exactly when it started – it's probably hard to pinpoint anyway. But this community followed each other and art began to appear on a compound that was a symbol of such terror and repression.
There's now a beach bar (the prison is situated on some beautiful coastal real estate because of its original purpose as a fortress) and a cafe in the warmer months.
I've been told there are even a few offices for small companies in one of the exterior buildings.
But the thing that strikes me straight away are the artworks on the walls as you walk towards the internal entrance.
Even once you're inside the prison, there is one area where there is more art.
Some seems to have been intentionally left there to be enjoyed. Some appears to have been left from previous pop-up exhibitions.
Regardless of how it initially came to be, it all seems to fit the mood of the abandoned Soviet compound which has remained untouched for more than a decade.
I think the best thing for me to do is just share some photos of these artworks.
Some of them tell their own story. With others, you may need to guess the intent.
Whether they are related to their location or what it represents, I personally think they all tell different parts of the same narrative.
On the walls of a building that once locked up people who tried to speak out, the generations that follow are able to express themselves with colour, creativity and humour.