Last Updated on
Horyuji Temple near Nara, Japan
Horyuji Temple is the oldest wooden building in the world and one of the oldest temples in Japan. It's no wonder it was Japan's first World Heritage Site!
Have you ever wondered where the oldest wooden building in the world is? I know it's a question that has kept me awake many a night 🙂
But don't fear, today I have the answer.
Not far from the Japanese city of Nara, in the Kansai region, is a temple complex called Horyuji.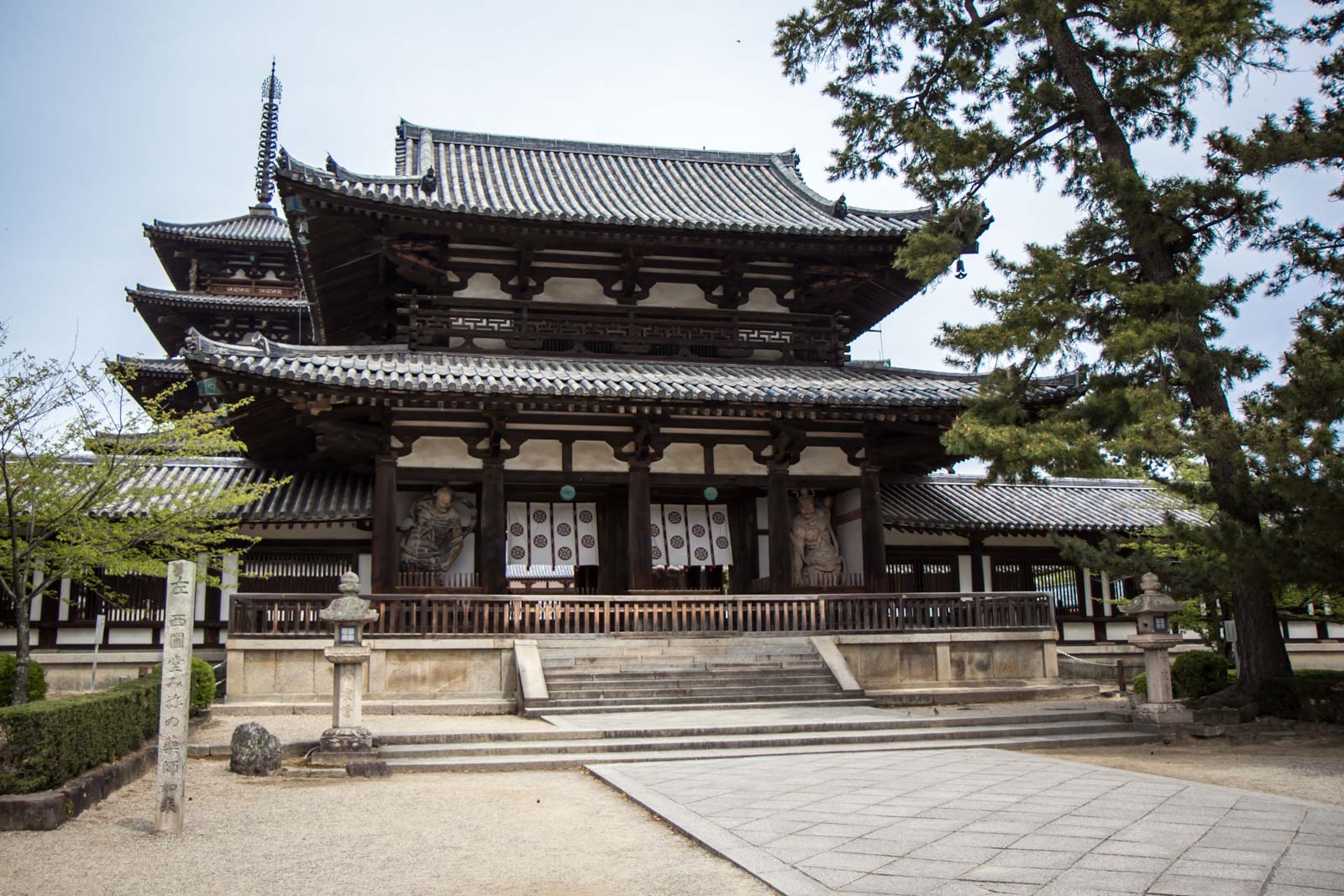 In some ways, it's in the middle of nowhere – the town around it is nothing to speak of, just an uninspiring mix of shops, homes and vending machines.
But the jewel in this town is the temple complex which holds inside it some of Japan's most important national treasures.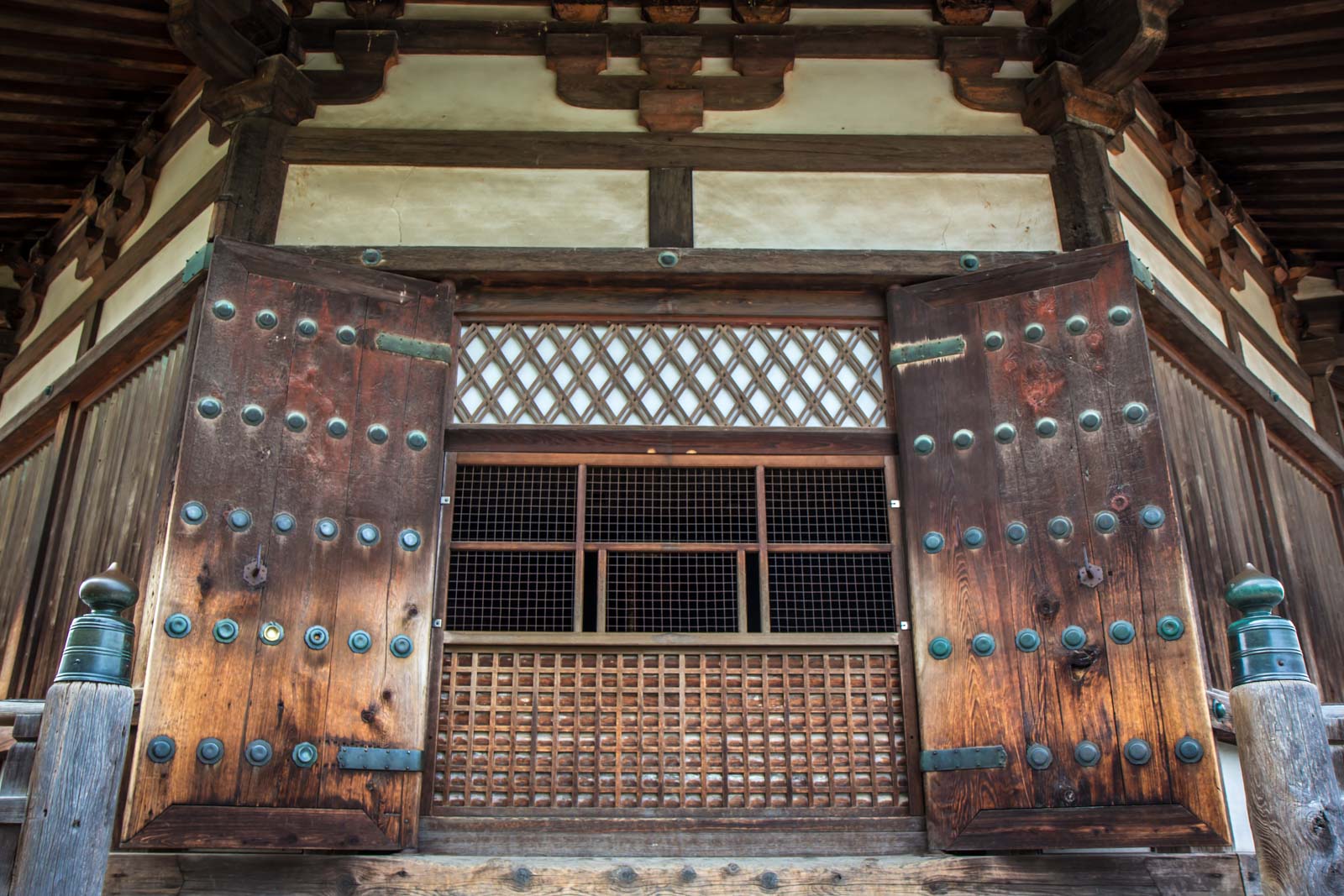 The five-storey pagoda and the main hall were both originally built around the year 600AD but after a fire were rebuilt around the year 700AD. 26 other building in the complex were built before 800AD.
All of them together are undisputed as the oldest wooden buildings in the world – the pagoda, being the first built, would take out the title for the absolute oldest.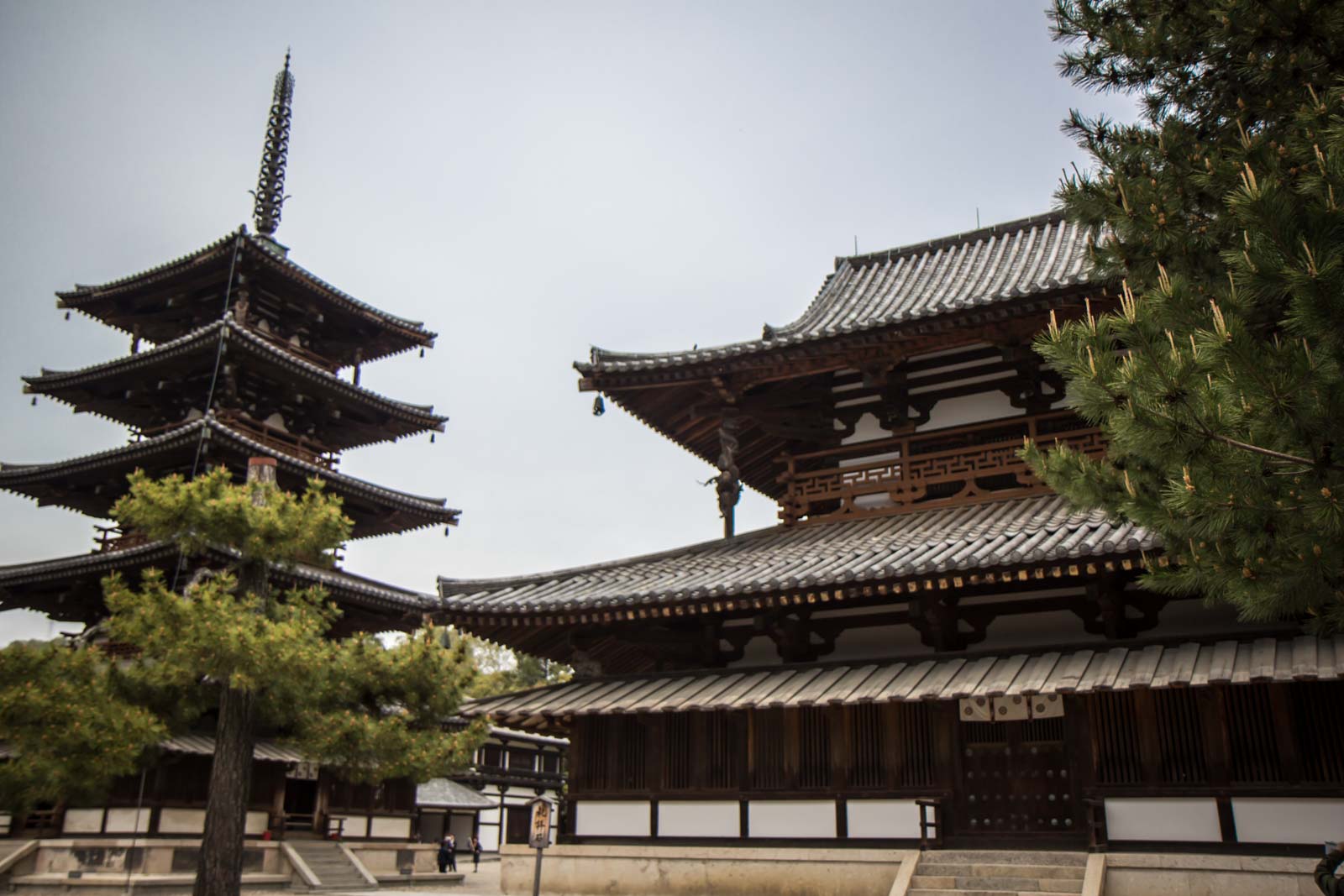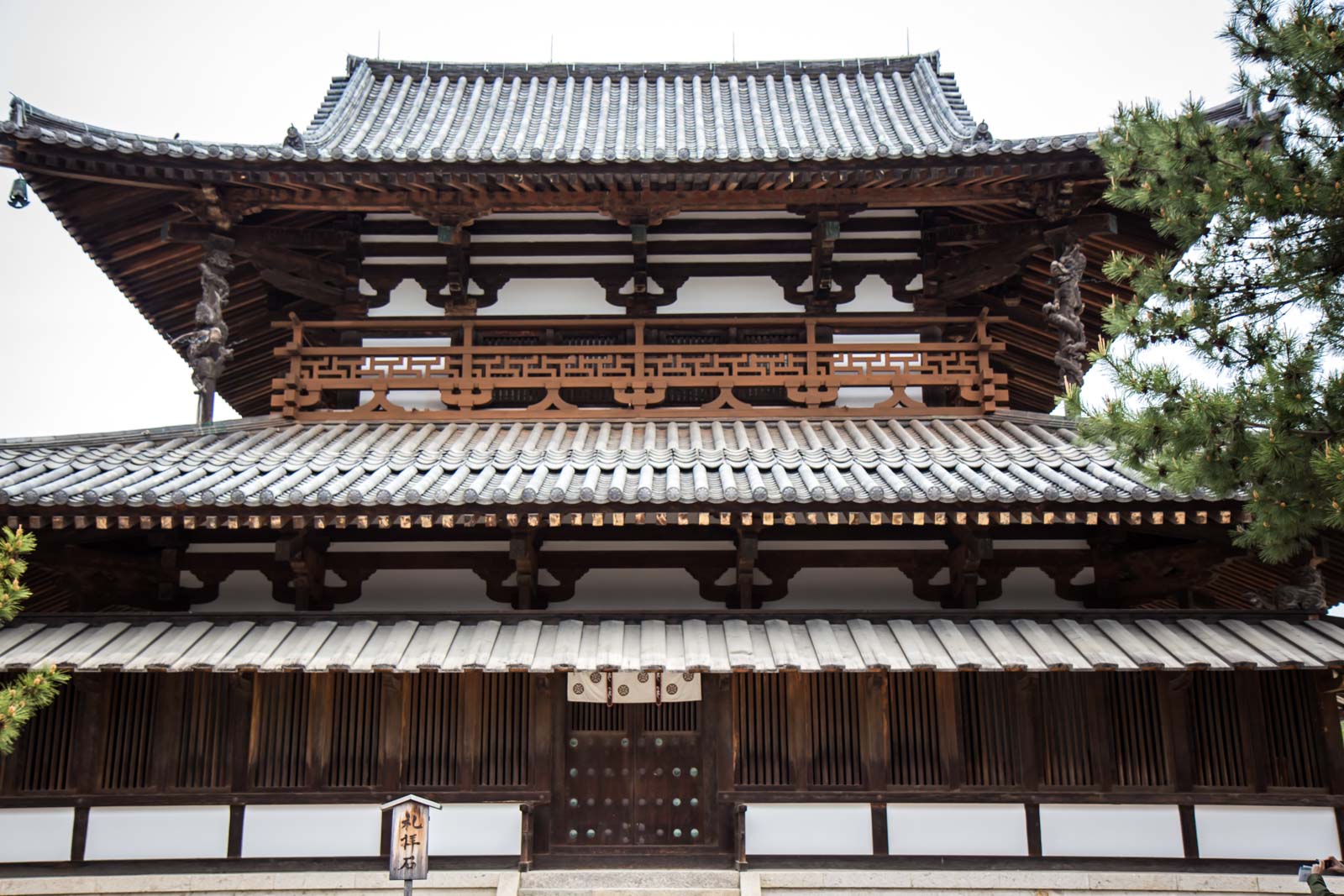 You have to remember that this is all happening during a period of the world's history that is hard to imagine for us today.
Mohammed is walking the earth; the Mayan civilisation is flourishing in South America; and the Anglo-Saxons are taking control of Britain after the fall of the Roman empire.
Meanwhile the Japanese are building wooden temples that are still standing more than 1300 years later!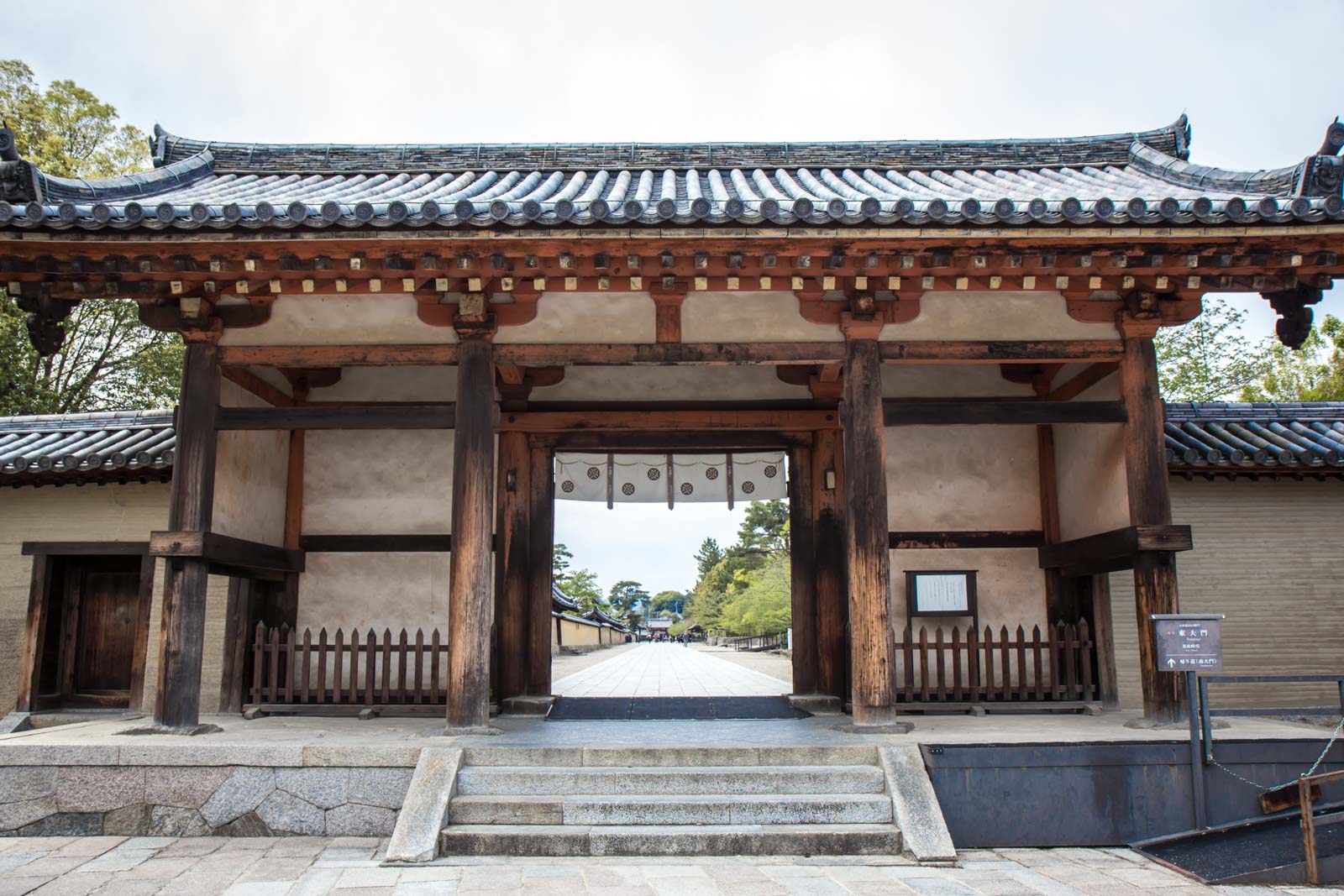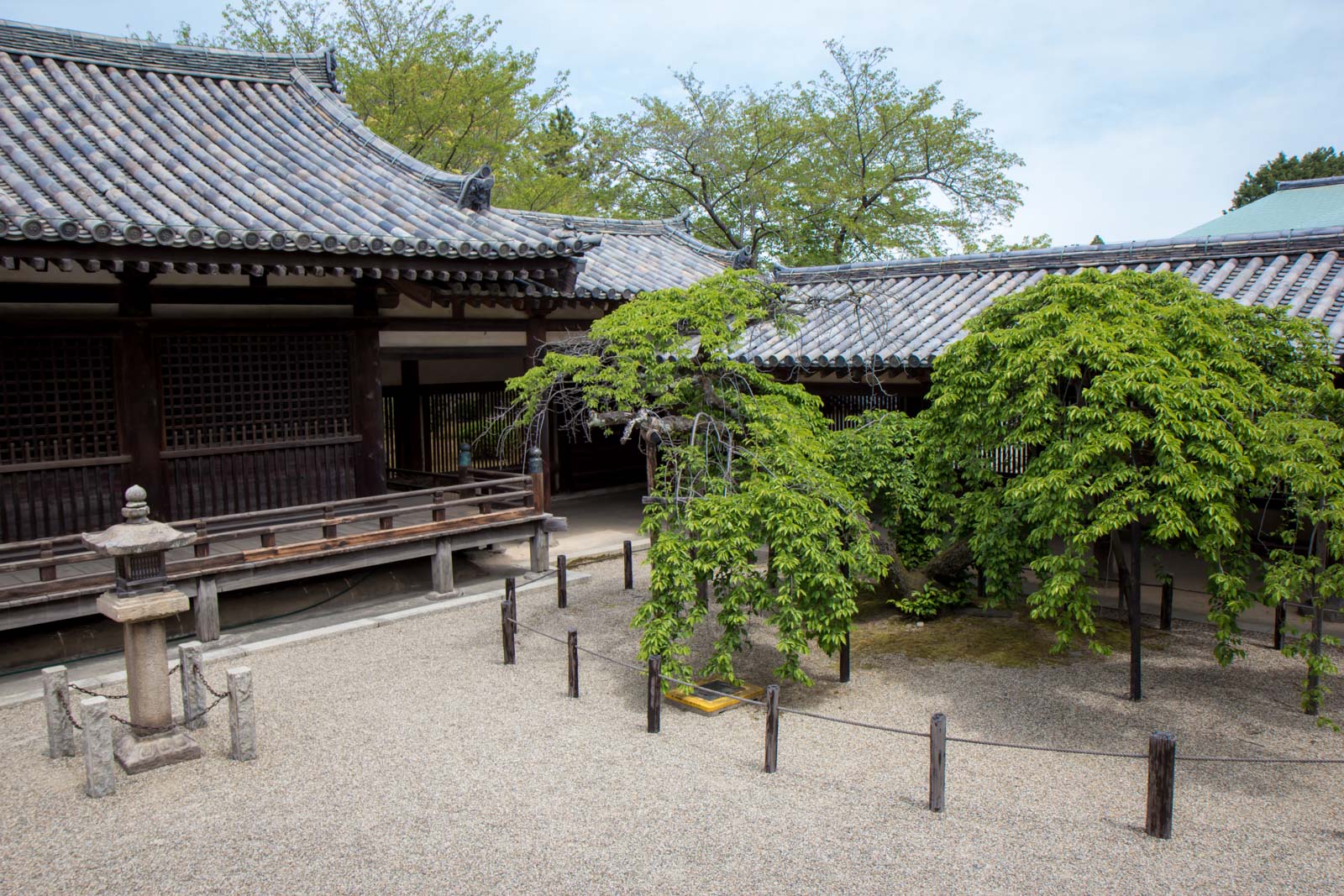 While Islam is spreading across the Middle East and North Africa, and Christianity is battling for supremacy in Europe, Buddhism makes its way from China to Japan.
These buildings at Horyuji are also considered to be the first Buddhist monuments in Japan and had a huge influence on religious architecture for the centuries to come.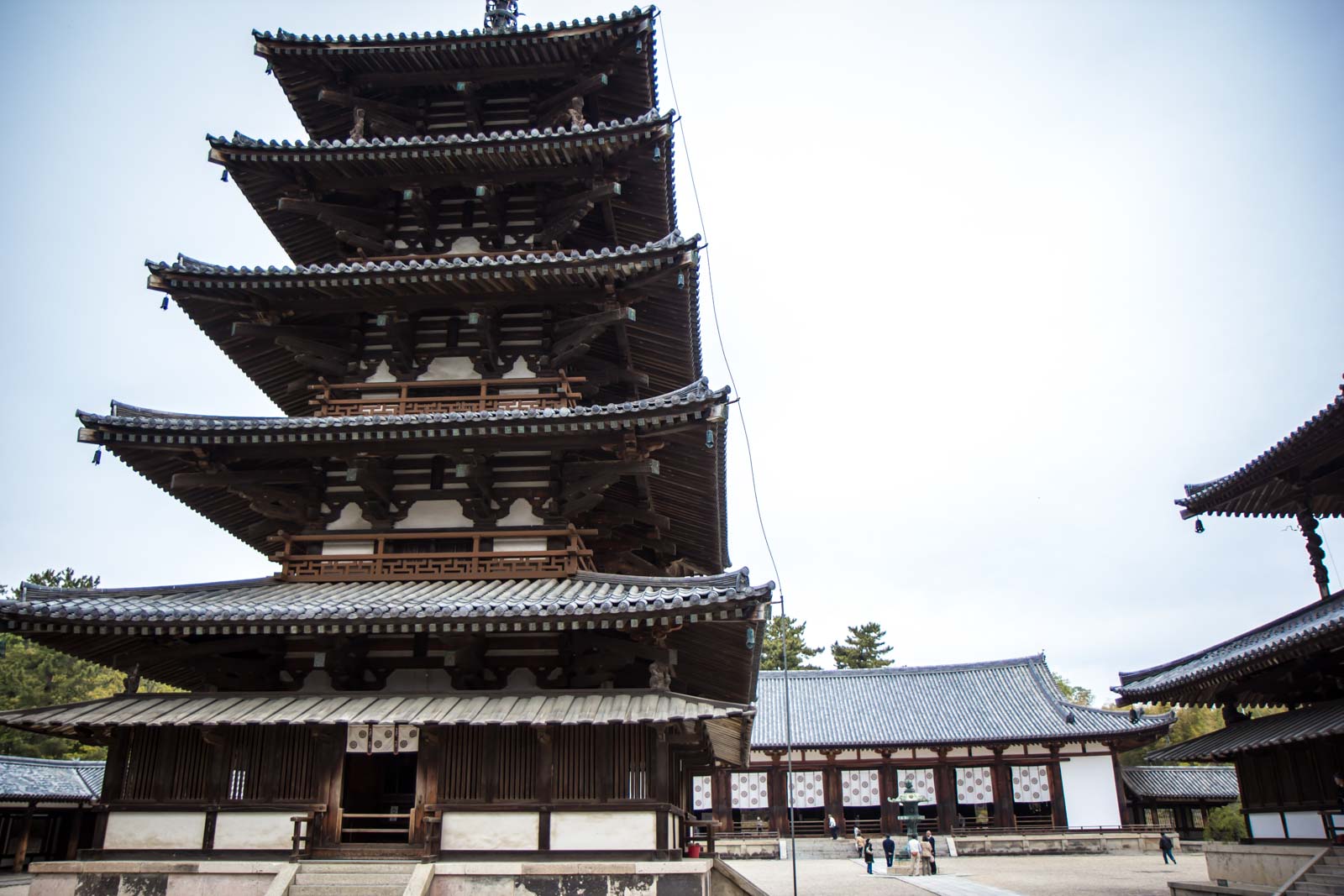 They were able to be built because of the support of a man called Prince Shotoku, who was considered to be a great statesman and a founder of Buddhism in Japan.
The story of how Horyuji Temple came to be is engraved on the back of the halo of the Yakushi Nyorai Buddha statue, which is in the temple's main hall.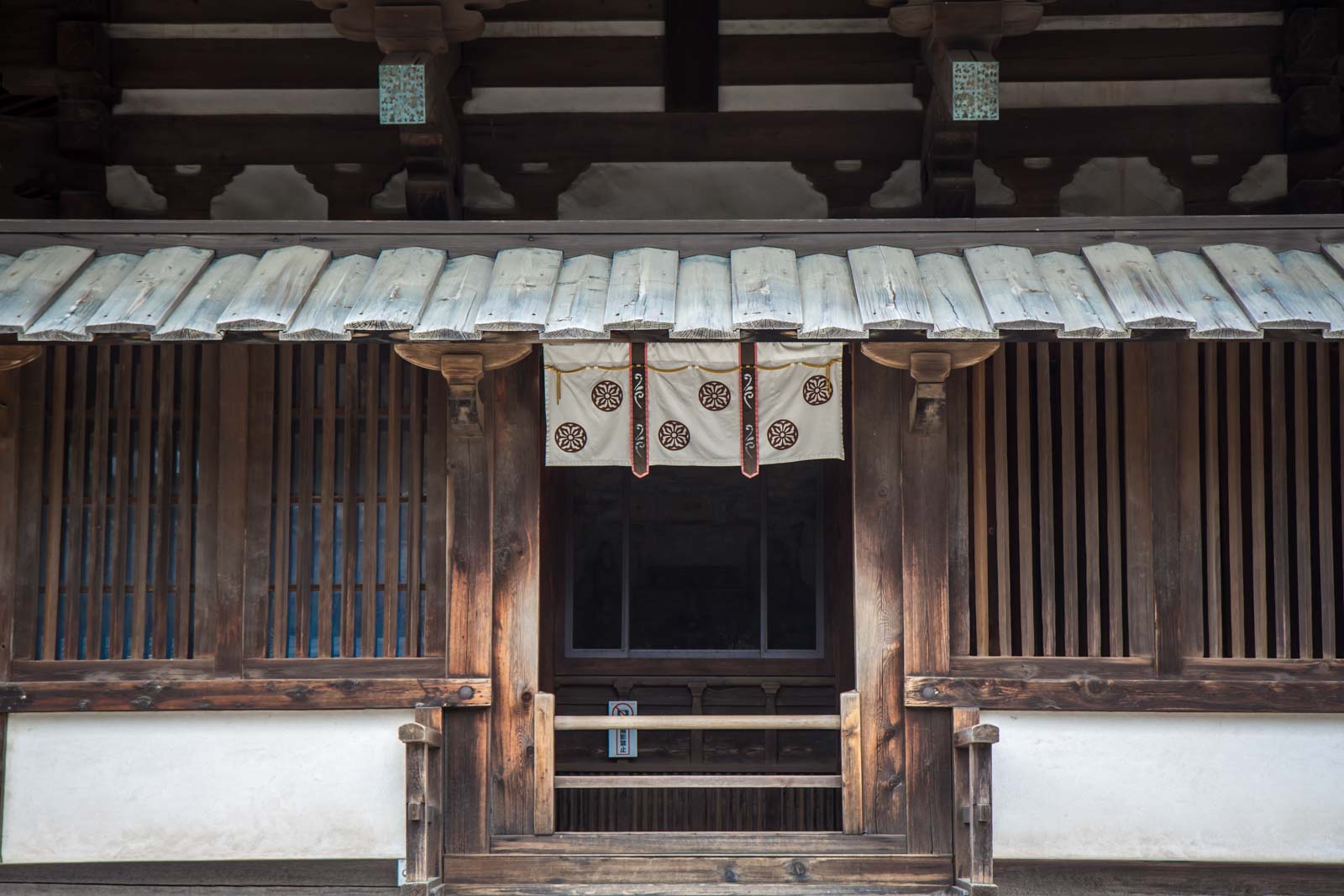 Horyuji may not be as famous as the nearby temples in Nara or Kyoto.
It's strange, in some ways, because it is a much more important site. In fact, Horyuji contains over 2,300 important cultural and historical structures and other items.
It is more than just a collection of temples – it is a library or a gallery of the story of Buddhism in Japan.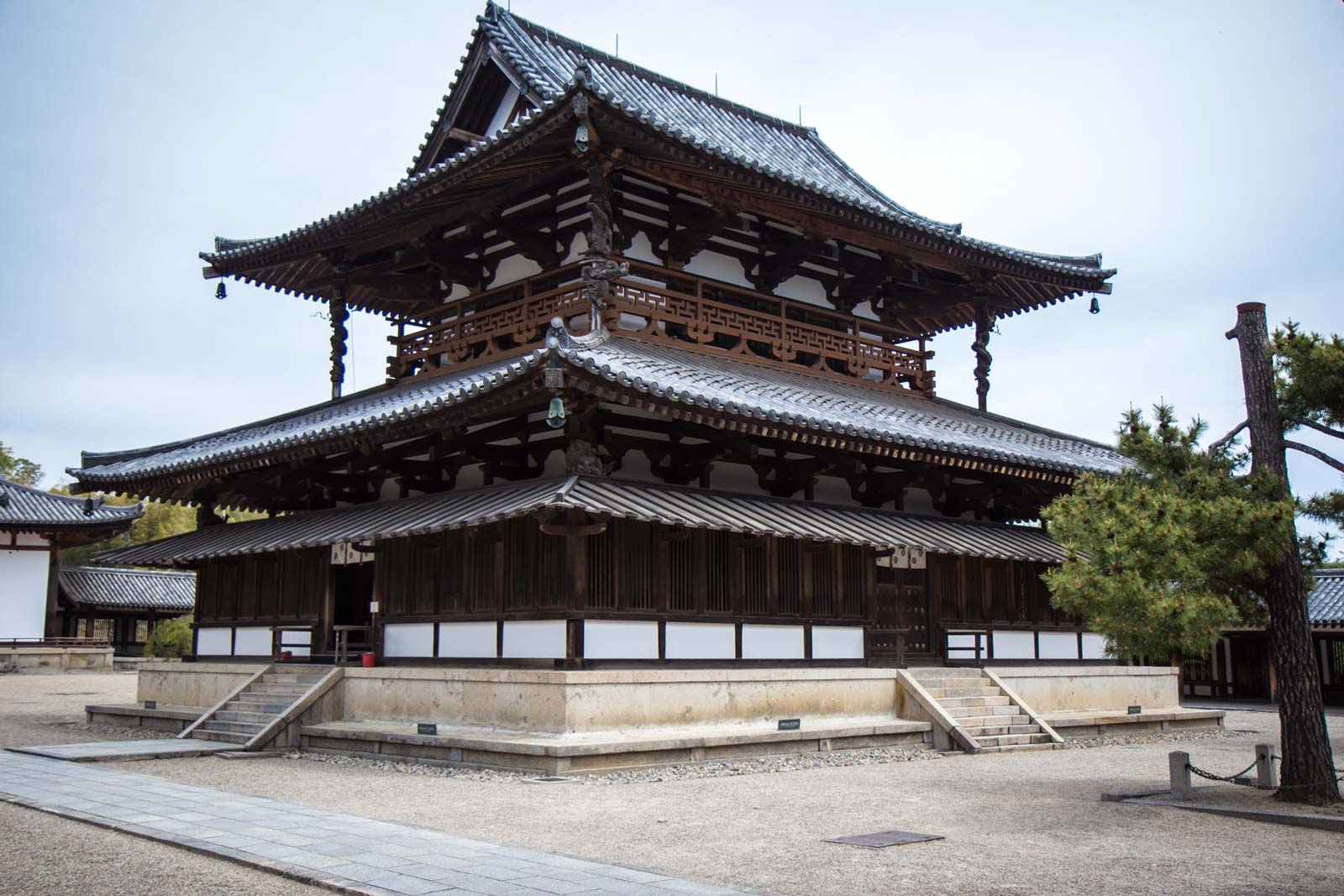 Perhaps part of the problem is that Horyuji doesn't have the same striking views from the top of a mountain, or pink cherry blossom framings, that you can find in Kyoto or Nara.
But there's a reason this was the first site in Japan to be recognised by UNESCO and included on the World Heritage List. When you visit and see it for yourself, I promise you'll start to appreciate the significance.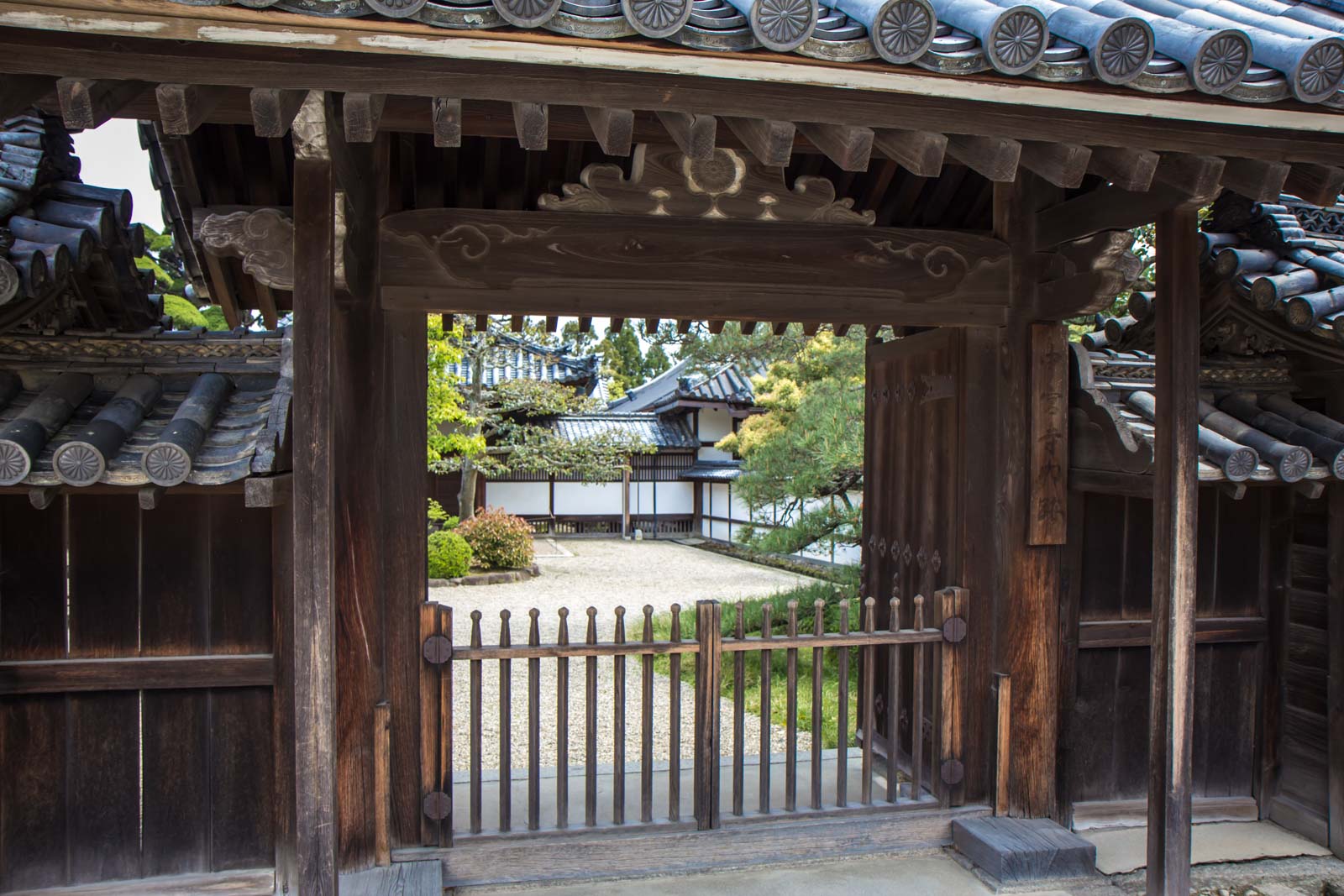 On the day I visit, there are more Japanese school groups than foreign tourists here. Perhaps it's not that well-known internationally.
It's not normally on the front page of the cultural brochures but, without what it represents, those pages might be empty.
Visiting Horyuji Temple
It's actually really hard to find a guided tour that will take you to Horyuji so I don't have any specific ones to recommend, I'm afraid. However, I assume you'll also be interested in seeing Kyoto and Nara, so I'll share a few recommendations for tours in those cities:
But, don't worry, you can visit Horyuji Temple independently quite easily.
It's very easy to get to Horyuji Temple by public transport. To get to Horyuji station, it's 13 minutes from Nara station or 30 minutes from Osaka station on the JR Yamatoji Line.
From Horyuji station, it's an easy 15 minute walk, or the NC bus will take just 5 minutes.
From February 22 until November 3, Horyuji Temple is opne from 8:00 - 17:00.
From November 4 until February 21, it is open from 08:00 - 16:30.
A full admission ticket is ¥1500 (US$13.30) and a concession ticket is ¥750 (US$6.65).