Belem Tower, Lisbon
During a recent trip to Portugal, I passed through Lisbon. Unfortunately I was only there for a few waking hours and only slightly more sleeping hours.
In many ways, it was disappointing. I had never been to Lisbon before and didn't know much about the city but in the short time I was there, transiting as it was, the city inspired me.
It teased me with its beauty and its bonhomie.
The only 'sight' I really had time to see was Belem Tower, the fortress that rises up from the Tagus River.
The first iteration of the tower was built in the early 1500's. It was designed as a fortress to stop any attack on Lisbon.
Enemy boats which tried to make their way up the river would be met by a canon barrage from Belem Tower. Not always successfully, as it was to turn out… but at least it looked and sounded threatening!
I had decided to walk there, along the side of the river, from the centre of Lisbon. Past the shipyards, under bridges, and between bikes that weaved around me.
Until suddenly Belem Tower appeared, seemingly in the middle of the river. It was actually built on an island even further out in the water but changes in the river's course of the centuries have brought it closer to the bank.
Despite my time constraints, I had headed to this spot in particular because of its status as a UNESCO World Heritage Site.
As regular readers will know, I am trying to cross as many off the list as possible as I meander my way through the world (only 900 or so more to go! Until they add some new ones this year, that is… sigh).
If I'm being honest (which is the whole point of this blog), it was a little underwhelming. It's certainly very pretty and photogenic but I wasn't overly impressed by its history or its grandeur… at least not in comparison to many of the other sites I've visited.
Still, it's another box ticked. Onwards.
THE BEST ACCOMMODATION IN LISBON
I would recommend choosing accommodation in a neighbourhood like Baixa, Bairro Alto, or Alfama, where you'll be close to all the action.
BACKPACKER
If you're looking for a budget option, the Lost Inn Lisbon is right in the heart of the city.
BUDGET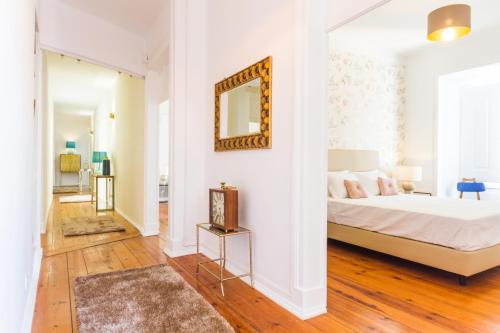 For cheap private accommodation, there are some lovely guesthouses like City Lofts Lisbon.
BOUTIQUE
If you're interested in something with a bit more style, I would recommend the Lx Boutique Hotel.
LUXURY